Travel
Cape May harks back to Victorian days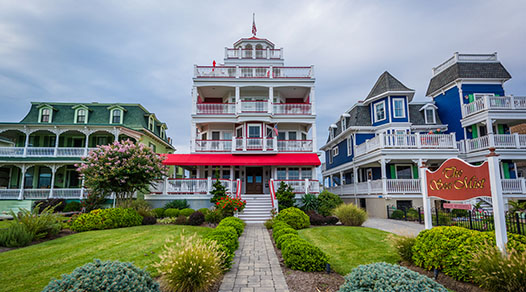 Cape May's Beach Avenue dazzles with restored Victorian mansions, including the Sea Mist, center, built in 1873. Beachgoers can rent apartments in the iconic waterfront landmark.
© Jon Bilous | Dreamstime.com
After strolling along a lovely stretch of Atlantic Ocean beach that fronts Cape May, New Jersey, my wife Fyllis and I decided to check out some of the town's other attractions.
We dropped by the towering lighthouse, which has beamed warnings to ships since 1859. We visited a World War II lookout tower built to help aim coastal artillery at German submarines that ventured too close to shore.
We strolled through Cape May Point State Park, a mix of dunes, marsh and forest that's a resting place for sea and shore birds during their annual migration.
All of this was before we immersed ourselves in the primary appeal that brings many visitors to the area: its renowned collection of Victorian architecture.
Native Americans lived on the peninsula when English explorer Henry Hudson showed up in 1609. He was followed by Cornelis Mey — a Dutch adventurer, captain and fur trader who, charted the region in the early 1600s and for whom the town is named.
By 1630, the Dutch West India Company purchased land from the Native Americans and established a fishing and whaling settlement.
New popularity in modern times
Fast-forward about two centuries, and Cape May began to adopt its role as a popular summer resort due to convenient water transportation by sloops and steamboats from nearby cities.
Private wooden cottages and hotels were constructed. When a massive fire destroyed about half of them in 1878, the town was rebuilt as the architectural treasure it is today.
Because the ornate Victorian style was in vogue at the time, many structures exhibit that vernacular, with intricate detailing, gable roofs, round towers and other wild, and at times whimsical, adornments. Bold colors add the finishing touch.
Because of this concentration of Victorian architecture — more than 600 beautifully preserved buildings — Cape May is designated as a National Historic Landmark District, the only American city so recognized.
Fyllis and I spent hours meandering through this eclectic collection of fun and fanciful homes, shops and B&Bs. We oohed and aahed at the so-called Painted Ladies — brightly colored, multi-hued homes that stand out even amid the colorful setting because of their elaborate, playful details.
We explored the Emlen Physick Estate, a magnificent 18-room mansion built in 1879, Cape May's only Victorian house museum. The family kept cows on the property, and when I asked to visit the restroom, I was directed to what originally served as a milking shed.
Harriet Tubman Museum
A personal favorite was the modest but moving Harriet Tubman Museum, which shares stories of slavery in New Jersey, abolitionist activism and Tubman herself.
She lived for some time in Cape May, working in hotels and as a family cook to help fund her missions to guide enslaved people to freedom in the north.
Exhibits include an 1824 map that pinpoints African-American families and Black-owned businesses in Cape May, photos of Tubman, and hand-written notes by William Still.
Still was an African-American abolitionist who assisted hundreds of enslaved people to freedom and kept meticulous records about many of their escapes. What we found even more moving were heavy metal shackles of the kind that were used to bind enslaved people.
Tourists with other interests also have much to explore and enjoy at Cape May. We spotted flocks of migrating birds that show up each spring and fall, and tested our palates at wineries, breweries and distilleries.
A stroll down the Washington Street Mall introduced us to a line-up of nearly 100 one-of-a-kind shops, galleries and eateries. "Della's 5¢, 10¢, $1 and up" store offers merchandise reminiscent of the 1940s, along with an old-fashioned soda fountain.
That's but one of the numerous sites in Cape May that transport visitors back in time.
If you go
Some of Cape May's hotels, motels, inns and Airbnbs are located in Victorian buildings.
The Virginia, where we stayed (25 Jackson St.; 1-800-732-4236), combines historic ambiance with luxurious modern amenities. It was built in 1879 by ships' carpenters. Many locals and visitors alike rate the renovated 24-room hotel, which also offers several nearby cottages, as "the place to be" in town. Rates begin at $130 a night.
Its sister hotel, Congress Hall, was built in 1816 and reconstructed after the fire of 1878. The hotel's Blue Pig Tavern (200 Congress Pl.; 609-884-8422), named after a gambling club that once stood on the property's expansive lawn, features local sustainably raised food and a comfortable wood-paneled environment. The fare ranges from hamburgers and fish-and-chips to seared Atlantic salmon. All are served with side dishes, and many entrées are large enough to share.
If your preference runs to casual spots favored by town residents, overlook the name of The Ugly Mug (426 Washington St., 609-884-3459), which is related to the huge selection of steins hanging over the bar. Its food choices include pizzas, salads and seafood.
The best source of information for planning a visit is Cape May Mac (Museums, Arts, Culture), a nonprofit that offers numerous tours of historic sites, gardens and more. A year-round schedule of festivals and events ranges from music and craft beverages to crafts and collectibles. For more information, visit capemaymac.org.
Cape May is a four-hour drive from Washington, D.C. A ferry from Lewes, Delaware will save you an hour of driving, but take a bit longer (the ferry ride takes 80 minutes). Roundtrip ferry rates start at $67 for a car, plus $14 and up for individual passengers. Rates are higher on weekends and holidays. Visit cmlf.com for details.
For more about the Jersey Cape, visit escapetothejerseycape.com or call 1-800-227-2207.