Housing
Caregivers bring help and peace of mind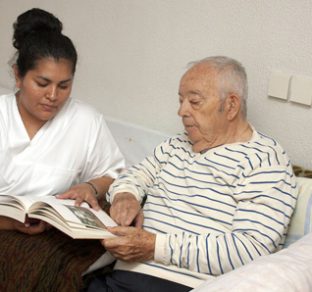 At 95, Jose Vargas is still very active — despite the dialysis he receives three times a week and his wobbly gait.
"I am not an invalid," he insists. In fact, on a good day, he goes for walks and swims for exercise.
Vargas credits his certified nursing assistant (CNA), Yvonne Oldacre, with his continued activity. He found her through the home care agency ElderCaring, where Oldacre has worked for nine years. She has spent the last two of them helping Vargas.
Oldacre says her job is her passion. "I love taking care of people," she said. "I get so much wisdom from them."
Home care services offered by agencies like ElderCaring encompass a wide range of health and social services, delivered at home or in other facilities.
These individuals typically need medical, nursing, social or therapeutic treatment, and/or assistance with what are known as "activities of daily living" (ADLs). This term includes six broad categories of needs, including bathing, dressing, eating, toileting, walking and continence.
Who needs home care?
Generally, home care is appropriate whenever a person prefers to stay at home but needs ongoing care that cannot easily or effectively be provided solely by family and friends. More and more older people, electing to live independent, non-institutionalized lives, are receiving home care services.
Such services are generally available 24 hours a day, seven days a week. Depending on a person's needs, these services may be provided by an individual or a team of specialists on a part-time, intermittent, hourly or shift basis.
Caregivers providing such services may include home care aides, as well as licensed CNAs and Geriatric Nursing Assistants (GNAs). CNAs and GNAs are paraprofessionals who can assist with ADLs. Like home care aides, they may also offer food preparation, light housekeeping and laundry assistance.
With an additional Med Tech License, CNAs and GNAs can also administer certain medications.
ElderCaring is a family-owned nursing referral agency that helps match caregivers (as independent contractors) with clients in Washington, D.C. and in Montgomery and Prince George's counties, Maryland. Their caregiver fees range from $17.50 to $25 per hour.
The cost per hour is usually influenced by the amount of hours worked. Longer working hours usually entail lower hourly rates. For example, through ElderCaring, a med tech CNA making a 2-hour visit to review medications might cost $25 per hour, while a CNA offering assistance for a 12-hour shift five days a week would generally cost $19.50 per hour. Live-in rates begin at $230 per day.
Because clients legally hire the care worker directly, clients are responsible for federal and state requirements relating to employee paperwork, Social Security, tax withholding and the like.
Home care for safety
Mobility issues especially create the need for care at home. Pamela Smith's aging father "has serious stability issues and has fallen down several times in recent years," she said.
Last year, the family hired caregivers from Home Care Assistance to give him the "considerable support" he requires. To protect their privacy, the family's names have been changed.
Home Care Assistance is a national home care agency with local branches in Bethesda, Md., Washington, D.C. and Fairfax and McLean, Va. It offers hourly and daily home care and respite care, and also trains its caregivers in a cognitive stimulation program to improve their patients' brain health.
Smith feels the caregivers have been essential to her father's daily life. "The managers, especially the main program coordinator, Vinnette, have been very professional and efficient," she said. They take "great care to meet our specific needs and requirements, even when responding to any last-minute requests for caregivers."
As at most homecare agencies, CNAs from Home Care Assistance primarily help with ADLs. Though Pamela's father, Robert, currently receives part-time care, his mobility and stability issues will likely demand full-time assistance in the near future.
The cost of home care can vary according to the agency. Because an agency's caregivers are employees, the agency handles all aspects of payroll, such as withholding taxes and Social Security. Some agencies, like Home Care Assistance, also process all long-term care insurance claims.
As a result, the hourly rate for care is somewhat higher at agencies than for a "registry" or referral service like ElderCaring. For example, Home Care Assistance charges $25 to $28 per hour, with round-the-clock live-in care costing $365 per day.
Caregivers with specialized skills
A few years ago, retired physician Don Hellerman was diagnosed with a laryngeal carcinoma, and through a series of medical mishaps, lost his leg due to the ordeal. His cancer went into remission, but living life as an amputee proved difficult for the family.
The Hellermans eventually got matched with Grace Ngeburi, a CNA from Capital City Nurses.
"She is incredibly reliable," said Hellerman's wife Susan. "She never cancels and always shows up. She's just very helpful."
Before working with Grace, the couple had an unfortunate experience with another agency when they were assigned a few young caregivers who had no experience with amputee patients. "They were nice people, but they weren't trained," Susan explained.
Capital City Nurses Healthcare Services offers private duty and companion care in the Washington, D.C. metro area, Maryland Eastern Shore and Delaware. Its caregivers offer a wide range of specialized skills, including Alzheimer's and dementia care, hospice support, skilled nursing, and child care.
Caregivers are vetted through a series of verifications of state certifications and licenses, multiple interviews, reference checks and criminal background checks.
The hourly fees for Capital City Nurses CNAs range from $23 to $25, and overtime rates are charged if applicable.
Why pick an agency?
In general, using a home care agency often takes the work out of finding a licensed caregiver — and offers many advantages over direct hiring, though the latter can be less expensive.
"I think the benefit of working with a company like Capital City Nurses is the peace of mind that families get from having the support of the organization," explained Shaun Toomey, director of business development for the agency.
"The management and scheduling of a caregiver or team of caregivers, finding replacements when they take days off, and paying them individually are burdens that using an agency alleviates."
Additionally, long-term care insurance companies generally require care to be provided by a licensed home care agency. Fortunately, the Hellermans have a "wonderful long-term care insurance policy," which covers all their caregiving costs, Susan said.
Some clients feel that using an agency is the "safest way to go," according to Alex Petukhov, president of Montgomery County-based Best Senior Care. "The caregivers are more dependable, responsible, and want to do a good job. After all, the agency will keep giving then more clients if they do well," he said.
Clients can also be assigned a new caregiver if the situation doesn't work out, he added.
The Petukhov family originally created their agency to serve Medicaid recipients. Eventually, they broadened its hourly home care services to those in all economic brackets.
Its caregivers pass personality, character and skill tests, along with reference and background checks. The cost of care ranges from $18 to $25 per hour.
Petukhov says the "personal touch" is what you should look for in an agency. As a family-owned company, he says, it is likelier to have a stake in your satisfaction.
For more information:
• ElderCaring: www.SeniorHomeCareMD.com, (301) 949-0060.
• Home Care Assistance: http://homecareassistance.com, 1-866-454-8346
• Capital City Nurses: http://capitalcitynurses.com, 1-866-807-7307
• Best Senior Care: www.bestseniorcare.us, (301) 717-2212
For additional home care services in the Washington area, see the online Seniors Resource Guide at www.theBeaconNewspapers.com/resource-guide, or call the Beacon for a printed copy at (301) 949-9766.