Travel
Caribbean sugar, sand and sightseeing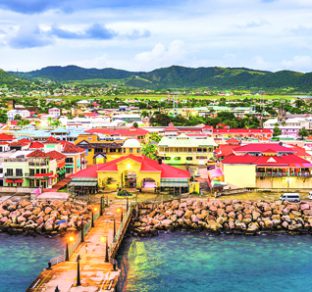 Mountains rise along the skyline of Basseterre, the colorful capital city of the Caribbean island of St. Kitts. Christopher Columbus first sighted the island in 1493, and English and French settlers followed in the early 1600s.
Photo by Sean Pavone
"Stay to the left. Stay to the left."
Those words became my often-repeated mantra when driving during a recent visit to an intriguing pair of sister Caribbean islands. Because St. Kitts and Nevis share a common British heritage, steering a vehicle on the left side of the road is one vestige of the mother country's lingering influence.
Fortunately, St. Kitts and Nevis, two miles apart, were spared the major damage that recent hurricanes inflicted upon other Caribbean islands.
Despite strong ties to their motherland, the islands also retain hints of other countries and cultures. Both were settled, first by the peaceful Arawak Indians, and later by the more ferocious Caribs. Add their comingling with traces of African and indigenous cultures, and you achieve a rich mosaic that touches many aspects of life.
Christopher Columbus sighted these dots of land during his second voyage to the New World, in 1493. He named the larger of the two Sant Jago (Saint James), after the Patron Saint of Spain. Careless explorers who followed Columbus to the area confused it with a nearby island that Columbus had named San Cristobal (Saint Christopher), and that name — shortened to St. Kitts — stuck.
Columbus dubbed the other, even smaller island Nuestro Senora de las Nieves (Our Lady of the Snows). That's because its single peak was, and often still is, hidden in a white blanket of mist and clouds that can resemble a layer of fallen flakes.
English and French settlers who followed Columbus to the islands in the early 1600s found conditions there perfect for growing sugar cane, and they established a lucrative sugar trade which was to last for two centuries, and account for an influx of slaves from Africa.
A mix of cultures
England eventually wound up in control of St. Kitts, which achieved its independence as recently as 1983, and still remains a member of the British Commonwealth, in federation with Nevis.
In addition to left-lane driving, cricket is the most popular sport, and some restaurant menus meld Caribbean and African fare with touches of England.
Given how compact St. Kitts is — only about the area of Washington, D.C. — a relatively short sightseeing drive can provide visitors with a close-up and personal introduction to the island's spectacular scenery, some of the most unspoiled in the Caribbean.
Its mountains are blanketed by lush rain forests, and those hardy enough to climb to the volcanic crater of Mount Liamuiga are rewarded with breathtaking panoramic views.
An exploration also can include a sampling of the tiny villages that are dotted around the island, and other places of interest which relate chapters in the story of St. Kitts' past.
The town of Bloody Point is where, in 1629, French and British soldiers joined forces to repel an attack by the Carib indigenous people, who had occupied the island since the early 14th century.
The village of Old Road, which is perched between the mouths of two rivers, once was a center of Indian habitation, and later the place where English settlers established their first capital in the Caribbean.
Sandy Point was located close to the English settlements' border with the French during the early days of joint occupation of the island. It's characterized by the colorful architecture of typical West Indian-style cottages.
Quaintly named Fig Tree marked the northern boundary between the areas claimed by the two countries, and the first battle between their forces was fought there.
A plethora of plantations
Not surprisingly, the brooding remains of once proud sugar plantations are high on the must-see list of many visitors. While the island originally produced tobacco, that crop couldn't compete with the quantity and quality of the leaf being grown in the Virginia colony.
As tobacco production petered out, the romance of St. Kitts with sugar began around 1640. At that time, its use to sweeten food was increasing around the world, along with the added benefits of producing molasses and rum.
The rich volcanic soil and perfect climate prompted the proliferation of plantations, and they quickly sprouted like the cane they cultivated. The island came to be blanketed by some 200 plantations that grew cane, which was processed at nearly 80 factories.
But that heyday could not, and did not, last forever. Over time, overplanting gradually impoverished the soil, competition increased, and external economic conditions brought an end to the era of sugar. While some cane still is grown and processed there today, tourism and light manufacturing now are the basis of the economy.
Visitors may relive the heady days of sugar wealth by exploring the remains of the once-thriving plantations. Ruins of cone-shaped stone windmill towers, rusted steam-driven cane crushers, and huge copper bowls in which the juice was boiled lie half-hidden in the vegetation as reminders of the once flourishing sugar economy.
The Wingfield Estate was established in 1625 by an ancestor of Thomas Jefferson. Sugar and rum were produced there until 1924, and the aquaduct that turned the water wheel and steam engine are among the reminders of that time.
Not far away stands Romney Manor, named for a 17th century British earl, where cane was crushed over the years by animal, wind and water power. Sharing the site is a lovely tropical garden and Caribelle Batik, a manufacturer and retail store where visitors may watch workers use the traditional wax and dye process to produce a variety of items.
A pleasant way to recall the sugar plantation life is aboard the St. Kitts Scenic Railway, which offers a 30-mile, three-hour tour along the northeastern coastline.
In the past, the train that chugged along the narrow-gauge rails delivered cane from plantations to a sugar factory in the capital city of Basseterre. Now passengers riding in double-decker cars enjoy views of the sea, pass through tiny villages, skirt lush rain forest terrain, and spot long-abandoned windmills and chimneys of former estates.
Despite its name, which means "lowland" in French, Basseterre still displays strong ties with England. A number of examples of Georgian and Victorian architecture, interspersed here and there with brightly painted buildings in typical West Indian styles, have survived hurricanes, fires and earthquakes. The main square, called the Circus, is a small, palm-shaded replica of Piccadilly Circus in London.
Monkeying around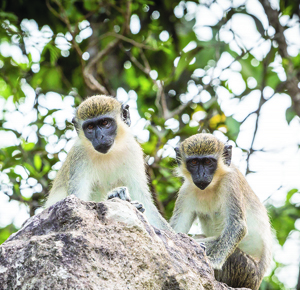 Thousands of vervet monkeys populate St. Kitt's mountain forests, and some venture into more populated areas in search of a human handout. They are descendants of monkeys first brought to the island 300 years ago.
Photo by Victor Block
A welcome and somewhat surprising attraction on the island is a population of green vervet monkeys, which were introduced by French plantation owners some 300 years ago as pets for their families. These endearing creatures, named for their golden-green fur, prefer to hang out at high elevations, peering inquisitively at any intruders through the dense foliage.
Some bolder monkeys venture down to more populated low-lying areas, especially where there are sources of food and people who will toss them an edible handout. While there's no way to know how many of these simians share the island with their human cousins, some residents claim that there are more monkeys than people.
Given efforts by European nations to colonize and control the Caribbean islands, and the sugar wealth of St. Kitts, forts were built to provide defense against attacks. The western coastline was guarded by no less than nine forts, along with the magnificent Brimstone Hill Fortress.
Construction of that massive bastion was begun by the French in 1690 and completed intermittingly over a 100-year period by the British, using slave labor. The complex, perched atop an 800-foot-high rise, sprawls over 38 acres, and the meticulously restored structures include officers' quarters, barracks and a hospital.
Given the combined French and British presence in the island's past, references to both countries and cultures abound in town names and histories.
Belle Tete ("beautiful head") is among place names reminiscent of the French era. Dieppe Bay is believed to have been the first French town, while Challengers Village was the first "free" town, where ex-slaves were permitted to purchase small parcels of land.
Museums and beaches
The story of the island's villages, along with its history, culture and other aspects of life past and present, is told at the National Museum. It occupies an imposing Georgian-style structure that was completed in 1894 and has since housed almost every government department at one time or another.
The National Museum and a handful of other small but interesting collections, the island's intriguing multi-cultural history, and the added allure of casino gambling are among the something-for-everyone array of attractions that greet visitors to St. Kitts.
Not to be overlooked is the added choice of lovely palm tree-lined beaches — a "must" for many visitors to a Caribbean Island. The most inviting stretches of sand are concentrated along the narrow southeastern peninsula of St. Kitts. Elsewhere, beaches are more likely to consist of gray or black volcanic sand.
The beach that lines Frigate Bay is powder-white, and the water is ideal for swimming and windsurfing. The beaches of Banana bay and Cockleshell Bay attract those seeking a secluded setting. Friar's Bay is popular with locals, in part because of a collection of small bars.
Add to the allure of inviting beaches a scenic setting, intriguing history, and various ways to relive it, and you have a checklist of why people head for St. Kitts.
If you go
The St. Kitts Marriott Resort offers all of the amenities one expects at a mega-hotel, and then some. Overlooking a four-mile stretch of beach, the sprawling complex includes a casino, golf course and tennis courts, spa, three swimming pools and seven restaurants. Rates begin at $142 a night for two people in a room, and there are all-inclusive options. For more information and reservations, call 1-888-236-2427 or see www.marriott.com/hotels/travel/skbrb-st-kit.
The Ocean Terrace Inn overlooks the sea from a terraced hillside that leads down to the water's edge. It has a lagoon-style swimming pool, two restaurants and fitness center, and offers free shuttle bus service to one of the island's finest beaches. Rates begin at $175. For more information, call 1-800-524-0512 or visit https://oceanterraceinn.com.
American Airlines offers the lowest roundtrip fare to St. Kitts' Basseterre Airport in early December. Flights start at $715 from BWI.
For more information about visiting St. Kitts, visit www.stkittstourism.kn.