Housing
CCRCs update services to attract boomers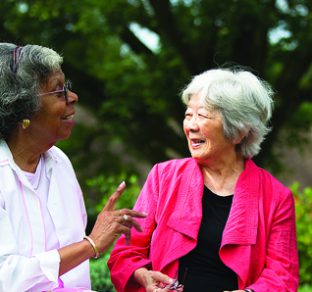 Residents of Broadmead relax outdoors on the community's 94-acre campus in Hunt Valley. Broadmead brands itself as a "dynamic lifestyle community," a shift from the term continuing care retirement community (CCRC) that similar facilities use, to help appeal to active baby boomers. Some other CCRCs now refer to themselves as Life Plan Communities.
Photo Courtesy of Broadmead
Baby boomers may be aging, but they want to do it on their own terms. That includes how they think and speak about retirement communities, and the industry is taking note.
"The labels and the way that we talk about our services are actually scaring our customers away," said Steve Gurney, publisher of Guide to Retirement Living. "No one wants to buy our services because it's all about getting old."
Enter the rebranding of what are typically called Continuing Care Retirement Communities (CCRCs) and are beginning to call themselves Life Plan Communities (LPCs). The change is spearheaded by Leading Age, a national organization based in Washington, D.C. that represents nonprofit housing and aging services providers.
In surveys, they found that "across all age groups, most participants expressed a need for a name that focuses on more than care," according to the group's website.
For many years, the term Continuing Care Retirement Community has been used to define communities offering residential services for independent older adults, as well as some form of assisted living for those needing help with daily activities, and skilled nursing care for rehabilitation and long-term care needs — all on one campus.
These communities provide their residents with an apartment or villa, utilities, meals, housekeeping, transportation, and other services and amenities, all in a secure environment.
In addition to charging a monthly fee for accommodations and services, most CCRCs require a one-time entrance fee upon moving in. In part, this fee helps provide the endowment a community needs to assure it can provide a lifetime of healthcare to its residents.
In many CCRCs today, the entrance fee may be refundable should a resident move away and, in some cases, it may even be passed on to heirs. Most communities offer a variety of different payment and refund options.
By addressing "the continuum of care," such communities are intended to provide all the services a person could need in the latter part of life, and as such, have the potential to be the "last move" a person need make.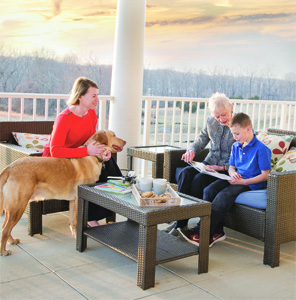 Children and grandchildren (and grandpets) love visiting grandparents at Brooke Grove Retirement Village, a Continuing Care Retirement Community (CCRC) in Olney/Sandy Spring, Md.
Photo by Grant Gibson, Courtesy of Brooke Grove Retirement Village
Changing priorities
LeadingAge's CCRC members were reporting that consumer demands were changing drastically. Boomers were looking for socially responsible communities focused on the active lifestyle they wished to live.
"The kinds of questions…that [marketing professionals] are getting now from prospective residents are radically different than they were 10 years ago," said Steve Maag, LeadingAge's Director of Residential Communities. "They're much more knowledgeable, much more demanding, and ask a lot more questions."
Maag explained that the CCRC model was originally created for members of the WWII generation, who were primarily looking for basic needs to be met, and whose priorities were security, stability and maintenance of the status quo.
Surveying baby boomers about what they are seeking in a retirement community, LeadingAge found that while consumers still desired high-quality healthcare, they also wanted life-enhancing options that focus on wellness, choice, and the opportunity to continue an active lifestyle.
According to Maag, the industry needed to adjust to these demands and respond with options that would be appealing to this new generation of prospective residents.
Using that knowledge, the organization led a "namestorming" process that identified the language that most positively reflected the expectations of consumers.
They ultimately determined that the label Life Plan Communities best reflected the values prospective residents associated with retirement community planning, and subsequently began to address transforming and increasing the services provided by the communities.
What is really changing?
In addition to providing high-quality healthcare in the residential environment, LPCs focus on a holistic approach to meet the needs of members, according to Maag.
These communities seek to provide residents with a host of other quality-of-life amenities, such as golf courses, swimming pools, banking services, convenience stores, a fitness center, walking trails, gardens, beauty/barber shops and guest accommodations.
Of course, many CCRCs today also provide most or all of these amenities, so to a certain extent, the name change is more about branding than substance.
According to Maag, however, communities that adopt the Life Plan term are looking to update features and upgrade services, with a particular emphasis on more choices for residents.
Among the improvements prospective residents can expect to see in Life Plan Communities are:
Customizable living areas. Residents will be able to customize their living spaces with options including colors, floor types, cabinets and countertops. Some LPCs even offer interior movable walls to adjust the shape and size of rooms.
Healthcare. Access to quality healthcare remains a priority, but with a particular focus on addressing the concerns that baby boomers have regarding dementia care.
Technology. To meet the needs of boomers who are, generally, technology-savvy, Life Plan Communities are ensuring that appropriate up-to-date technology is readily available. While the current focus may be as relatively simple as providing WiFi for all residents, or exploring the usage of Alexa and Skype and similar voice-recognition technology, communities are aware that they need to be prepared to implement the latest technology efficiently and effectively to meet residents' needs.
Dining choices. In traditional CCRCs, structured dining times with limited dining options have been standard and accepted. Now, LPCs are acknowledging the various dietary needs and desires of prospective residents, and are offering a variety of cuisines from sushi to Italian to Thai, as well as modifying menus to ensure options for those who follow vegan, vegetarian and gluten-free diets.
Dining settings have changed as well. In addition to traditional sit-in spaces, many LPCs are offering prepared options for residents to take away and enjoy in their own units. Also, the times that food is made available have expanded.
Alcohol. While some CCRCs may have chosen to provide alcohol in the past, it is now far more common for LPCs to make alcoholic beverages more readily available, not only by incorporating pubs and lounges into their communities, but offering such programs and activities as wine clubs and wine tastings.
Variety of programs. Traditional retirement community activities bring to mind bingo, card-playing and the occasional group outing. Today, communities are looking to their residents for input on their pastimes and preferences, in order to create programs and spaces for them that cater to a variety of hobbies — including art studios and classes, pottery and wood shops.
Storage. Baby boomers are active and expect to remain so as they age. That means having enough storage to house the materials that support their lifestyle, including equipment like kayaks, bikes, skis — and even RVs.
While organizations such as LeadingAge are encouraging traditional CCRCs to consider adopting the Life Plan Community name and image, that change is not yet widespread. Very few CCRCs in the Baltimore area, for example, have switched over to the LPC nomenclature, though many are moving to update their services and facilities.
To see a map of LPCs around the U.S., go to http://lifeplancommunity.org/why-were-changing/#fndtn-panel-4.
Below are some selected CCRCs and LPCs in the Baltimore area. For a more complete listing, visit www.mylifesite.net/app/ search-communities-results.cfm.
In D.C.
Residences at Thomas Circle, downtown Washington, D.C., (202) 729-9702, www.meridiansenior.com/community/the-residences-at-thomas-circle
In Maryland
– D.C. area
Brooke Grove Retirement Village, Sandy Spring, Md., (301) 388-7209, www.bgf.org
Riderwood, Silver Spring, Md., (301) 495-5700, www.ericksonliving.com/riderwood
Village at Rockville, Rockville, Md., (301) 424-9560
– Baltimore area
Charlestown, Catonsville, 1-800-989-6981, www.ericksonliving.com/charlestown
Miller's Grant, Ellicott City, (877) 450-2532, www.millersgrant.org
North Oaks, Pikesville, (410) 921-2497, https://northoakslcs.com
Oakcrest, Parkville, (410) 415-1628, www.ericksonliving.com/oak-crest
In Virginia
Ashby Ponds, Ashburn, Va., (703) 723-1999, www.ericksonliving.com/ashby-ponds
Falcons Landing, Potomac Falls, Va., (703) 439-1521
Greenspring, Springfield, Va., (703) 913-1200, www.ericksonliving.com/greenspring
Vinson Hall, McLean, Va., (703) 536-4344, www.vinsonhall.orgBroadmead, Cockeysville, (443) 330-2113, www.broadmead.org