Travel
Classic resort offers nostalgia weekend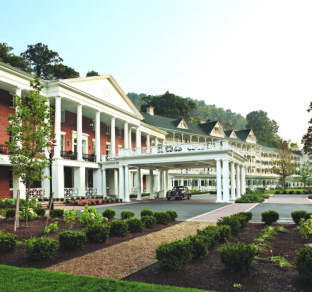 Located about two and a half hours from Washington, D.C., Omni Bedford Springs Resort in Pennsylvania has hosted presidents and celebrities for two centuries. During World War II, the hotel was a school for Navy cadets. The hotel will celebrate its WWII history with special events from Aug. 2 to 4, including a Big Band dance, reenactments and a vintage tank on display.
Photo by Omni Bedford Springs
The 200-year-old Omni Bedford Springs Resort, a luxury hotel in Pennsylvania's Allegheny Mountains, is well known for its state-of-the-art golf course, mineral springs spa treatments and scenic hiking trails.
But what guests discover upon arrival is that Bedford Springs offers more than just a relaxing getaway from the hustle and bustle of everyday life.
The hotel lobby provides a fascinating glimpse into American history. Century-old black-and-white photographs of resort guests enjoying outdoor activities line the hallways, and an oversized American flag with 36 stars — plus three additional stars in anticipation of Nebraska, Colorado and Dakota's statehood — hangs behind the front desk.
There's even a beautifully preserved desk in the lobby where President Buchanan, who spent 40 summers at Bedford Springs, used to sit as he worked.
George Schwartz, director of banquets and special events, was captivated by the unique history of Bedford Springs when he joined the resort staff in 2007. "I've never worked at a place that has so much history. That for me is something I want to share with each of the guests," he said.
This summer, Schwartz is especially excited to share with guests the important role Bedford Springs played during World War II. From August 2 to 4, the resort will host its third history-packed WWII Weekend, featuring reenactments, exhibits, classes and 1940s-style entertainment.
Trained cadets during the war
Much of the resort's wartime history was discovered by Jared Frederick, a historian from State College, Pennsylvania.
After Pearl Harbor, the Pittsburgh-based Keystone Radio Institute received military contracts to open two naval radio training schools in Pennsylvania. The war had caused a slowdown in tourism, so the hotel owners agreed to lease the property to the U.S. government.
On May 1, 1942, Bedford Springs opened its doors to 200 naval cadets. Nearly three weeks later, 600 cadets were enrolled. Keystone trained these Navy cadets to become deployment-ready radio operators by condensing its traditional seven-month program into an intensive four-month course.
That's not to say the cadets didn't have time for fun. According to Frederick, students often played games and sports on the lawn, held boxing matches, and participated in theatrical productions and local parades during their stay.
By the time Keystone closed its Bedford Springs location on December 20, 1944, the school had graduated nearly 7,000 radiomen.
A place for POWs, too
However, guests had to wait another year before they could book a room. In 1945, the government once again rented the property, this time to house Japanese diplomats and their families who had been captured by the Allies in Germany.
Many citizens and local government officials protested the choice of Bedford Springs to hold prisoners, believing the hotel was the opposite of American POW treatment abroad. "The town went into an uproar," Schwartz said.
Japanese prisoners arrived on August 8, 1945, two days after the bombing of Hiroshima, and stayed until November 15 of that year. They were housed in the hotel annex and guarded by U.S. Border Patrol.
Finally, on June 1, 1946, the hotel officially reopened to the public.
Step back in time
"Most people that come to Bedford Springs want to know a little something about history, something that's not written in the books," Schwartz said. "It just makes Bedford Springs as a resort so much richer."
History tours are available daily at the resort, but they don't usually cover its WWII history to the extent that the upcoming weekend will. Two living history groups will present reenactments and share memorabilia including uniforms, old radio sets, documents and "anything related to the immediate area," Schwartz said.
Boy Scout local troop 4481 will assist with the daily children's program, and lead a flag-raising ceremony with a vintage 48-star flag from the era.
"We're also bringing a tank," Schwartz said. "The 'Lady Lois' is coming to visit. She is a WWII tank that was made in Pennsylvania and has had a long history both in Europe and Brazil and now has made it back to Pennsylvania."
Weekend highlights
Friday, August 2: Grab a seat for a free showing of the 1942 film Casablanca, with an introduction by Frederick.
Saturday, August 3: Enjoy exhibits, historical resort tours, Navy signal flags demonstrations and a children's program. Register in advance for a 1940s mixology class ($40 per person) at 3 p.m. and a nostalgic evening of swing dancing in the Colonnade Ballroom ($35 in advance; $40 at the door) starting at 7 p.m.
Sunday, August 4: Catch any of the activities you might have missed on Saturday.
Visit omnihotels.com/hotels/bedford-springs for more information or call 1-888-444-6664 to make a reservation.