Features
Climbers reach for new heights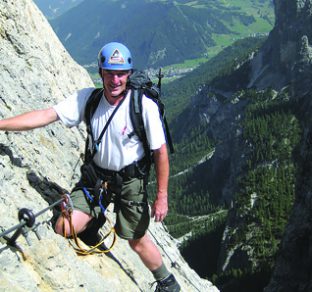 Although initially reluctant to try rock climbing, today Mark "Indy" Kochte enthusiastically scrambles up cliffs indoors and out. He even wrote a guidebook, Climb Maryland! A Guide to Climbing in Central Maryland. The sport's physical, mental and technical challenges appeal to people in a range of ages, whether they climb outdoors or indoors at a climbing gym.
Photo courtesy of Mark Kochte
Whether it's flying, scuba diving or hiking, Carol Christian likes to be on the move. So when she first moved to Baltimore and friends invited her to join them in rock climbing, she didn't hesitate. Now, more than 15 years later, she's still a regular at the Earth Treks indoor climbing gym in Timonium.
Christian, who lives in Baltimore City and is an astronomer with the Space Telescope Science Institute, had some prior experience with climbing when she lived in Arizona, but then gave it up when she moved to Hawaii. ("Lava is too brittle for good climbing," she explained.)
Even though there are ample nearby opportunities for outdoor climbing — such as Rocks State Park in Harford County, the Carderock Recreation area overlooking the Maryland bank of the Potomac River, and the cliffs over the Potomac River at Great Falls Park in Virginia — Christian, who admits to being "over 60," has found that she prefers indoor climbing for its marked routes, controlled temperatures (and absence of wind, rain and snow!), less anxiety, and more time actually spent climbing.
"I'm a scientist," Christian laughed, adding that she has a pretty structured schedule she needs to adhere to. "I like to get in, do my workout, and get out!"
Many health benefits
As she indicated, indoor rock climbing is not only enjoyable, but also a workout that offers a number of health benefits.
A study in the British Journal of Sports Medicine reported that indoor rock climbing is a good activity to increase cardio-respiratory fitness and muscular endurance.
Another study in the Journal of Undergraduate Kinesiology Research reported that climbing meets the American College of Sports Medicine guidelines for heart rate and energy expenditure.
Climbing may be beneficial to your health, but that doesn't mean you shouldn't be careful, especially as you get older.
"Climbing is a very safe activity and the risks in gym climbing are very low," said REI Sales Lead Michiko Kobayashi. "It's important, though, to 'climb smart.'
"That means learning how to climb — from moving across rock to climbing technique — and making sure you warm up and cool down sufficiently so that you don't end up tearing a tendon or twisting a knee or an ankle. "You don't heal as quickly when you're older," said Kobayashi.
Some basics
Indoor climbing has been popular for decades, both as training for outdoor climbs and as a sport unto itself.
In top-rope climbing, ropes are secured to overhead anchors, with the climber attached to one end via a harness. A partner on the ground, called the belayer, manages the supporting ropes.
The system works to keep the climber from falling to the ground if she loses her footing or grip. (There also are auto-belayers for those without climbing partners.)
There are other types of climbing, including sport competitions which may include lead, bouldering and speed challenges.
A lead climber still uses a belayer, but also clips into a series of pre-set quickdraws attached to bolts in the wall. Climbers who slip or miss a quickdraw could fall back to the previous clipped-in spot.
Gyms also typically have a bouldering wall, with thick mats below, to simulate climbs close to the ground. There, climbers don't use ropes, just strength and balance.
There are also speed climbing competitions, which work pretty much the way you'd think. Bouldering competitions judge climbers on the number of challenges they complete.
In 2020, sport climbing will make its debut in the Olympics.
Earth Treks Timonium features walls up to 50 feet high, with varied terrain from vertical to overhanging, and marked routes that are set daily. It also features an expansive bouldering area.
In 2018, Earth Treks will be opening a 20,000 square foot climbing gym in Hampden. It will be the company's first bouldering-only facility, with 10,000 square feet of climbing terrain, as well as a yoga studio, functional fitness and cardio zones, training areas, and a retail pro-shop. Earth Treks also has climbing gyms in Columbia and Rockville, Md.
Moving on out
While indoor climbing offers the opportunity to practice the sport year-round, some climbers would rather have a shorter season but enjoy the natural surroundings.
Kobayashi finds the outdoor environment more tranquil and "meditative." And then there's the view. "I'd rather look down at a river than a sea of blue mats!"
Mark "Indy" Kochte is also an outdoor climbing enthusiast. But that wasn't always the case.
Kochte was "dragged" into climbing when he was in college. At the time, "I had no interest or desire. The feet-off-the-ground thing was not for me!"
It took Kochte six months to try climbing again. Then he wound up taking a climbing course in college. "It just took off from there," he said.
Now 54 years old, the Marriottsville resident, who works as a missions specialist at the Johns Hopkins Applied Physics Laboratory, enjoys being able to move over the rocks and see them from different perspectives.
Kochte finds that every place he hikes offers a different climbing experience. Maryland, for example, doesn't have a lot of big cliffs like you'll find in more mountainous states, but there is still "good quality rock" nearby.
In fact, Kochte wrote a guidebook, Climb Maryland! A Guide to Climbing in Central Maryland. The book is currently out of print, but he is working on the next edition.
Learning the ropes
Local climbing centers offer numerous basic skills classes for beginners. The classes teach participants how to put on a harness, tie into the rope, and belay for a partner. While that prepares neophyte climbers to start up the wall, they cannot belay for others until they pass a test on those skills.
Earth Treks (www.earthtreksclimbing.com) has five centers; the closest are in Timonium, (410) 560-5665, and Columbia, (410) 872-0060.
Some local recreation and fitness centers also have smaller climbing walls, such as the YMCA at Stadium Place, http://ymaryland.org, (410) 837-9622, or Peregrine's Nest Climbing Gym at Towson University, www.towson.edu/campusrec/ap-climbingwall.html, (410) 704-5628.
Stores such as REI (www.rei.com; (410) 252-5920), which sells gear and apparel for a variety of activities, also offers classes and rock climbing trips.