Features
Climbers reach for new heights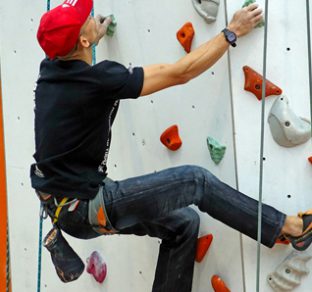 Although initially reluctant to try rock climbing, today Mark "Indy" Kochte enthusiastically scrambles up cliffs indoors and out. He even wrote a guidebook, Climb Maryland! A Guide to Climbing in Central Maryland. The sport's physical, mental and technical challenges appeal to people in a range of ages, whether they climb outdoors or indoors at a climbing gym.
Photo courtesy of Mark Kochte
For Holly Summers, indoor rock climbing started as a mother-daughter activity.
"My daughter was climbing indoors regularly, and I wanted to be able to do it with her," said Summers of Ellicott City. Though her daughter is now in grad school, Summers, 58, can be found regularly scrambling up the climbing walls at the Roger Carter Community Center.
She probably had a leg up when she started climbing. "I also play ice hockey with the Gerihatricks and Women's league in Laurel. That is an interesting group of older citizens who are very active," said Summers, who works as a computer analyst at UMBC.
Whether she knows it or not, Summers is at the forefront of a sport gaining in popularity. According to the Physical Activity Council, climbing is poised to be the next "it" fitness trend, with about 5 million Americans participating in the sport. And that number is growing by more than 110,000 a year.
Indoor climbing has been popular for decades, both as training for outdoor climbs and as a sport itself. It will be introduced in official competition at the 2020 Summer Olympics in Tokyo.
It's a sport for everyone, according to Quentin Cornelius, a trainer and assistant manager at Earth Treks Columbia, which opened in 1997 and is one of the largest climbing centers in the country. "We have climbers of all levels in our classes, from ages 13 to 80," he said.
Some basics
Indoor climbing has been popular for decades, both as training for outdoor climbs and as a sport unto itself.
In top-rope climbing, ropes are secured to the top of the climb by overhead anchors, with the climber attached to one end via a harness, and the belayer — who manages the ropes to protect the climber — on the other. The belayer controls slack in the rope safety system, and uses it to keep a climber from falling if they lose their footing or grip, and lower them when they are done climbing.
Earth Treks Columbia Climbing Center has 44-foot high walls, 20,000 square feet of climbing surface, thousands of colorful foot-and hands-holds of numerous sizes and shapes, and hundreds of routes and problems for climbers to encounter.
Another choice is bouldering, or unroped, climbing on shorter walls (usually 14 to 17 feet high) that call for strength and balance skills. An indoor bouldering area has thick mats below and simulates climbs close to the ground. Earth Trek Columbia's bouldering area is configured into more than 100 routes.
If bouldering catches your fancy, Earth Treks is planning to open its first bouldering-only gym in Hampden in 2018, with 10,000 square feet of climbing terrain. The facility will also include a yoga studio, functional fitness and cardio zones, training areas and a pro shop.
Physical and mental challenges
Indoor or outdoor rock climbing, with proper training and following safety precautions, can provide numerous physical and emotional health perks.
The Centers for Disease Control and Prevention defines rock climbing as vigorous-intensity physical activity that can reap health benefits if practiced 1.25 hours to 2.5 hours a week. That's good news for Summers, who climbs three hours a week.
It's also an excellent calorie-burning exercise, which can help you achieve or maintain a healthy body weight. Harvard Health Publications reports that a 155-pound person burns about 818 calories hourly during a rock-climbing ascent and 596 calories per hour while rappelling down.
Even if you climb at a leisurely pace, you'll still have an intense workout. The cardio work involved can get your heart rate up to the same level as climbing stairs or jogging.
Rock climbing is a full-body workout that can increase your strength and muscle definition if you participate regularly. If you climb efficiently and properly, your core, arms and legs will feel the burn. A Journal of Human Kinetics review reports that elite rock climbers often have low body mass indexes, low body fat percentages, and increased handgrip strengths.
As well as physical tests, climbing also offers mental challenges.
"I like the problem-solving aspects of the sport," Summers said. "You use those skills every time you look for the next hold. You need to focus on holds and the placement of your body, planning each move."
Rock climbing on a regular basis may help improve your mood or decrease bouts of depression. A review in Annals of General Psychiatry found that rock climbing is among a variety of exercises that help improve the moods of people suffering from depression.
Completing a climb can also simply make you feel good. There's a sense of accomplishment from it that can build confidence. A study from Indiana University found that rock climbers who completely immerse themselves in the climb enter a mental state of euphoria where pain signals may be blocked.
Plus, climbing can be surprisingly social for everyone. "I sometimes climb with graduate students who work in our lab at UMBC," said Summers. "It's is a social activity that is easy to do with different abilities and ages."
If blue skies beckon
Once comfortable with indoor climbing, some people move their rock climbing outside. If the sport takes you outdoors, Mark "Indy" Kochte of Marriotsville, and author of Climb Maryland: A Guide to Climbing in Central Maryland, can offer pointers.
The outdoor climbing enthusiast says he was "dragged" into climbing when he was in college. At the time, "I had no interest or desire. The feet-off-the-ground thing was not for me," he said. But he wound up taking a climbing course in college and "it just took off from there."
Now in his mid-50s, Kochte, who works as a mission specialist at the Johns Hopkins Applied Physics Laboratory, enjoys moving over rocks and seeing them from different perspectives.
He finds that every place he hikes offers a different climbing experience. Maryland does not have a lot of big cliffs like you'll find in more mountainous states, but there is still "good quality rock" nearby, he said. As examples, he lists Rocks State Park in Harford County, the Carderock Recreation Area overlooking the Maryland bank of the Potomac River in Montgomery County, the cliffs over the Potomac River at Great Falls Park in Virginia, and the Blue Ridge Mountains.
Want to give it a try?
Here's a start suggested by Cornelius at Earth Treks Columbia: Come in between 9 a.m. and 5 p.m. Saturday or Sunday and sign up for an open climb for $25. That includes three climbs assisted by an instructor who will handle the ropes.
If that whets your appetite for more, take Earth Trek's Intro to Climbing class ($39, equipment included) where you learn the safety systems of belaying, basic knot tying, and basic climbing movements. It's designed to give you the skills needed to climb independently at the climbing center.
Earth Treks Columbia Climbing Center is at 7125-C Columbia Gateway Drive, Columbia. All climbers must complete a waiver and watch a bouldering orientation video. To learn more, see www.earthtreksclimbing.com and www.facebook.com/Earth. Treks.Columbia or call (410) 872-0060.
Carol Sorgen and Lisa Crutchfield contributed to this article.