Features
Climbers reach for new heights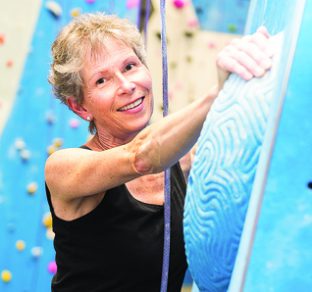 When she started rock climbing two years ago, Leslie Hulse immediately loved the sport's physical, mental and technical challenges. Local climbing gyms offer climbers of all ages an innovative way to improve balance and strength.
Photo by Rey Lopez
On Leslie Hulse's 61st birthday, a couple of years ago, her niece took her rock climbing. As she scrabbled over the neon-colored toe and finger holds toward the top of the wall, Hulse had one thought: "'Oh my gosh, I'm having so much fun!"
Today, the Capitol Hill resident regularly scales the walls at Earth Treks indoor climbing gym in Crystal City, Va.
"I just fell in love with it," said Hulse, who is a lawyer and also practices yoga. "What I like about climbing is that it presents me with three challenges: 1. technical, 2. physical and 3. mental.
"It's like running, very mind clearing. I feel so energized and refreshed …Whatever stresses I felt before starting to climb just dissipate."
Hulse, like many climbers, practices both indoors and out. Popular local spots for outdoor rock climbing include the cliffs over the Potomac River at Great Falls Park in Virginia and at Carderock Recreation Area overlooking the Maryland bank of the river.
And while Earth Treks and the other primary indoor climbing chain in the area, Sportrock, have a clientele that leans towards millennials looking for an innovative workout and kids going to birthday parties, Hulse has run into some older adults at the climbing gym as well.
"I've met a lot of new people. Many of them, not surprisingly, are significantly younger than me, in their 20s and 30s. I like to look at life from their perspective and learn from a new generation," she said.
Some basics
Indoor rock climbing has been popular for decades, both as training for outdoor climbs and as a sport unto itself.
Earth Treks in Rockville has one of the largest indoor climbing walls in the country, with more than 38,500 square feet of climbing.
Sportrock's Alexandria location has 57 rope stations for climbing, and routes that take climbers up 24 to 40 feet with colored protrusions of different sizes and shapes that serve as foot- and hand-holds.
For safety's sake, in top-rope climbing like Hulse does, ropes are secured to overhead anchors, with the climber attached to one end via a harness. A partner called the "belayer" manages supporting ropes from the ground.
The system works to keep the climber from falling to the ground if she loses her footing or grip. (There also are auto-belayers for those without climbing partners.)
There are other types of climbing, including sport competitions which may include lead, bouldering and speed challenges.
A lead climber still uses a belayer, but also clips into a series of pre-set quickdraws attached to bolts in the wall. Climbers who slip or miss a quickdraw could fall back to the previous clipped-in spot.
Gyms also typically have a bouldering wall, with thick mats below, to simulate climbs close to the ground. There, climbers don't use ropes, just strength and balance.
There are also speed climbing competitions, which work pretty much the way you'd think. Bouldering competitions judge climbers on the number of challenges they complete.
In 2020, sport climbing will make its debut in the Olympics.
A second career for some
Rock climbers at local gyms won't just find older adults climbing the walls, but offering instruction as well.
Bill Dudley, 58, fell in love with rock climbing 25 years ago, the moment he found his first toehold on a wall, he said. As a home improvement contractor, he was a recreational climber for years until he decided it was time for a career change.
After taking classes through the American Mountain Guide Association, he landed a job as an REI Outdoor School instructor, and then moved on to Earth Treks in Rockville six years ago.
Besides physical strength, Dudley said that climbing helps older athletes stay sharp mentally as they assess and problem solve.
"It seems like an athletic puzzle. When you get over that initial fear of being up high on that cliff or wall, it just turns into a lot of fun in trying to figure out what you can do — and can't do — always trying to increase your ability and the different variety of moves you can do," Dudley said.
While many people fall in love with the sport on the first climb, it's "totally natural for people to have a little fear, especially at the beginning," he said. "But all of our equipment is rated for 5,000 pounds, and none of our climbers weigh 5,000 pounds! It's all overly strong for the need that we use it for," he said.
While those who do bouldering can get hurt if they hurtle from near the top of the wall onto the thick mats below, Dudley said there are very few injuries in older (or younger) adults who do top-rope climbing. He said he's primarily seen finger injuries from overuse by climbers so enamored with the sport they want to climb again and again.
Like Dudley, Judy Aw, 66, similarly changed careers and now is a part-time instructor at Sportrock in Alexandria. She started climbing 17 years ago with her son.
An Internet technology professional, Aw had lived in Bellevue, Wash., but after being widowed moved across the country to be near her son in Falls Church, Va. She said climbing has helped her make friends after the move.
Aw said she was hooked on the sport on her first climb. "I love how healthy I feel climbing, using my arms and legs and body strength. It's all about movement.
"It teaches me to be more aware of my body, as well as problem-solving skills. It's a mental sport as much as physical. As we age, it's such a great way to maintain balance and strength."
Many health benefits
Indeed, the health benefits of indoor rock climbing have been carefully evaluated.
A study in the British Journal of Sports Medicine reported that indoor rock climbing is a good activity to increase cardio-respiratory fitness and muscular endurance.
Another study in the Journal of Undergraduate Kinesiology Research reported that climbing meets the American College of Sports Medicine guidelines for heart rate and energy expenditure.
And climbing doesn't just help those who are already relatively fit. Sportrock's Alexandria location hosts a monthly climbing group for those with Parkinson's disease.
The group is run by Catalyst Sports, which sponsors adaptive sports opportunities in Virginia, Georgia, North Carolina and Tennessee. (Adaptive sports, also called parasports, are sports activities adapted to be played by people with disabilities.)
Michelle Sloane, who is 59 and lives in Washington, D.C., had helped care for her mother, who suffered from Parkinson's. A couple of years ago, Sloane learned that she herself has the condition.
"It was discouraging to find that out, after witnessing my mother struggling and working against the disease and finally passing away. I know my future. It's staring me in the face. I was at the lowest point in my life two years ago," she said.
Sloane, always athletic, started with an exercise class for Parkinson's patients at Georgetown University Hospital. She soon found she was too fit for it, despite having stiffness in her limbs and hands, as well as tremors.
That's when she heard about the Sportrock group and gave it a try. "It was amazing, because when I was climbing I felt like a kid again. It's completely changed my whole outlook on life," Sloane said. "It has had the biggest impact physically, but almost as importantly, it's given me hope."
Sloane said she can't explain why certain ways of moving are easier for Parkinson's patients than others, sometimes defying expectations. Running, for example, is easier for her than walking, she said. The same goes for climbing.
Through climbing, she has met other Parkinson's patients like herself who are working to keep themselves as agile as possible as the disease progresses. "We walk in slowly, but when we walk out, we feel a huge difference in the way we walk and move," she said.
"There's a little community starting to develop. You're not just fighting it by yourself now. It's very, very encouraging," she said.
Sloane would like to see rock climbing covered by health insurance in the same way physical therapy is, because in addition to the monthly Parkinson's group, she goes twice a week for a private session with a staff member that costs $50.
Moving on out
Once comfortable with indoor climbing, many people go outside. Aw said Washington state offered endless opportunities for scaling the heights outdoors, but that she hasn't done much climbing outside since moving to Virginia.
In addition to Carderock and Great Falls, Dudley recommends Annapolis Rock in Howard County, Md.
"There are some absolutely gorgeous places out there," he said. "When the weather is in the 90s, it might not be the best choice. But once it cools down, there's nothing like climbing the real thing."
Learning the ropes
Local climbing centers offer numerous basic skills classes for beginners. The classes teach participants how to put on a harness, tie into the rope, and belay for a partner. While that prepares neophyte climbers to start up the wall, they cannot belay until they pass a test on those skills.
Earth Treks (www.earthtreksclimbing.com) has five centers; the closest are in Rockville, Md., (240) 283-9942 and Arlington (Crystal City), Va., (703) 340-2700.
Sportrock (https://sportrock.com) has two locations, in Alexandria, Va., (703) 212-7625, and Sterling, Va. (571) 434-7625.
Some local recreation and fitness centers also have smaller climbing walls.
More information about Catalyst adaptive climbing can be found at www.teamcatalyst.org/climbing3.html or by emailing judith@gocatalystsports.org.
Freelance writer Lisa Crutchfield contributed to this story.