Cover Stories
Coming around to cannabis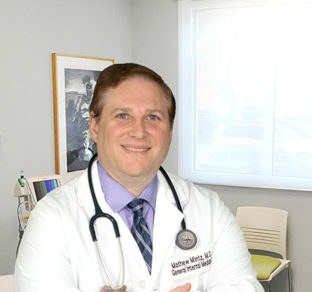 Dr. Matthew Mintz, a board-certified internist and former member of the faculty of George Washington University Medical School, certifies some of the patients in his concierge practice for medical marijuana use. He has found many can benefit from the appropriate treatment.
Photo courtesy of Matthew Mintz, M.D.
Dr. Matthew Mintz wasn't an early proponent of medical uses for cannabis (the scientific name for the plant more commonly known as marijuana). In fact, he said, "I was a little skeptical."
Mintz, a board-certified internist and Washingtonian "Top Doctor," attended George Washington University medical school and then practiced medicine while serving on GW's faculty for the next two decades.
During that time, he also did research and published articles on diabetes, asthma, chronic obstructive pulmonary disease (COPD) and obesity.
In 2017, he decided to open his own concierge practice in Bethesda, Md. While getting his new office up and running, he noticed a medical cannabis dispensary was opening in the same medical office building.
"That intrigued me," he said. "I lived in Maryland forever but wasn't paying attention to the [medical marijuana] legislation."
While federal law continues to consider cannabis an illegal "schedule 1" drug, 33 states — including the District of Columbia and Maryland — now permit its sale and possession for medicinal and/or recreational use.
The Maryland legislature had first voted to legalize medical marijuana in 2012, but five years passed before it became available at state-licensed facilities called dispensaries.
Under Maryland's law, medical marijuana may be recommended to patients with any "severe condition" in which other medical treatments have been ineffective, as long as the symptoms "reasonably can be expected to be relieved" by marijuana.
Since Dec. 1, 2017, the Maryland Medical Cannabis Commission (MMCC) has licensed nearly 50 physicians and hundreds of other healthcare providers to certify patients as eligible and make recommendations.
And today, there are more than 80 dispensaries around the state, 29 of which are in Howard County and Baltimore, where patients can pick up a wide variety of products.
Reaching a decision
With his interest piqued, Mintz looked into the law and medical literature, and spoke with fellow physicians. Eventually, he decided to become certified to recommend cannabis to appropriate patients and see for himself how it worked.
Some of Mintz's early patients had metastatic cancer and were suffering from debilitating pain and severe anxiety. They had tried "everything under the sun" for the symptoms, he said, and come up short.
After he certified them for daily doses of pills, liquids or topical creams containing cannabis, he said, "I realized very quickly" how effective the products were at relieving their pain and anxiety.
"While I continued to certify patients, I really dove into the research, took some courses, researched on my own and talked to a lot of people," he said. "Studying the research and seeing the results of patients, I've become convinced that medical cannabis is a useful therapeutic agent."
Mintz now speaks around the area, giving presentations describing the active substances in the cannabis plant, THC — which induces the characteristic "high" of marijuana — and cannabidiol or CBD — which does not.
CBD oil, especially a version derived from the hemp plant (which is legal and has low levels of THC), is now found in many consumer products and is available without a prescription.
"Since medical marijuana can be expensive (and is not covered by insurance) and I often recommend several products at a time, the cost of using medical marijuana adds up quickly," Mintz noted. "Using hemp-based CBD can lower the cost."
In Mintz's talks, he explains how these substances affect the human endocannabinoid system, through which the body itself synthesizes cannabinoids. That explains why people have CB1 and CB2 receptors throughout their central nervous systems.
He also addresses concerns about cannabis such as toxicity and addiction, safety and efficacy in older adults, interactions with other medicines, and side effects, which he has found to be limited.
"A lot of people don't understand that, no, you don't have to get high, and no, you don't have to smoke it" to derive benefit from cannabis, Mintz said.
He never recommends smoking because of its adverse effect on the lungs. "Because it's a medicine, I dose it like a medicine," he said.
Mintz typically recommends either pills or a tincture that patients can place under their tongue. For patients with painful arthritis, he suggests topical creams that aren't absorbed into the bloodstream and won't produce a "high."
Sometimes he recommends patients try a battery-powered vaping device that heats oil concentrates from the leaves of the cannabis plant to be inhaled. "For someone with severe symptoms, that's a good way to get instant relief," he said.
More research needed
There is still much we don't know about cannabis and its potential uses and side effects, chiefly because relatively little scientific research has been done to date.
Nonetheless, nearly half of U.S. cancer doctors who responded to a survey said they've recommended medical marijuana to their patients, even while most of them admit they haven't seen enough medical evidence to support it.
Researchers have been held back by the strict controls imposed on the availability and use of cannabis even in federally-funded trials. This makes it difficult for researchers to obtain the product legally, limiting their ability to conduct studies and find other uses.
Harvard University and the Massachusetts Institute of Technology received grants of $9 million last spring to research cannabis. Two years ago, the National Institutes of Health supported 330 cannabis research projects with grants that totaled almost $140 million.
Earlier this year, the Maryland legislature amended the state's cannabis law to allow research universities here to purchase medical cannabis for studies.
As a result of these limited efforts, to date the FDA has approved a handful of medications derived from the cannabis plant, mostly to treat seizures in certain forms of epilepsy, anorexia in AIDS patients, and nausea and vomiting caused by chemotherapy.
Another boost came from a 2017 report from the National Academies of Science, Engineering and Medicine that "found evidence to support that patients who were treated with cannabis or cannabinoids were more likely to experience a significant reduction in pain symptoms."
Patients prove convincing
Mintz has seen many of his patients benefit from medical marijuana, which he said appears to have fewer side effects and is safer than many drugs.
One of its benefits is that it doesn't interact with most medications — which works well for older patients who may be taking several other drugs, he said.
"One day it dawned on me: Why am I prescribing Ambien for an 85-year-old to help her sleep, when it has associated side effects and may interact with her medications, when a little cannabis can do the same thing without the side effects and the interactions?" Mintz said.
"It may be a very good medication for seniors because most have a little insomnia, they have aches and pains, and they have a little bit of anxiety, and cannabis is good for all those things."
Of course, like any medication, medical cannabis has risks.
Among the prescriptions that do interact with it are certain sleep medications, blood thinners, blood pressure medications and diabetes drugs. It also may increase fall risk in older adults and the chance of auto accidents, especially when THC is used.
And the Centers for Disease Control and Prevention (CDC) has concluded that "heavy users of marijuana can have short-term problems with attention, memory and learning, which can affect relationships and mood."
How do Dr. Mintz's patients react when he suggests cannabis treatment? Some reject the idea, citing unpleasant episodes from their youth, when marijuana wasn't available in precise doses.
"People who had a bad experience with pot in college probably took too much," he said. "That's why we start [my patients on] a very low dose and titrate up slowly, to avoid negative effects."
Attitudes about marijuana vary depending on the age of his patients, Mintz has found.
"It's interesting. The folks in their 60s and 70s are much more amenable to it. It's the 80- to 90-year-olds, who were adults in the 60s, who have a hard time getting past the pot thing," he said. Members of that generation remember the stigma of marijuana and are reluctant to see it as a medication.
Further research may cement the benefits of medical marijuana and change public perception of the drug, Mintz said.
"It doesn't cure everything and it's not like it has absolutely no risk," he said. "But compared to other medications that we use commonly, I think it's something people and physicians should consider."
Dr. Mintz will be the keynote speaker at both of the Beacon's 50+Expos this fall. The events are free, and feature government, nonprofit and business exhibitors, health screenings, flu shots (provided this year by Giant), and informative resources and entertainment geared to older adults and their families.
The events will take place on Sunday, Sept. 22, from noon to 4 p.m., at Springfield Town Center in Springfield, Va., and on Sunday, Oct. 6, from noon to 4 p.m., at the Silver Spring Civic Center in downtown Silver Spring, Md.
Exhibitors will offer giveaways and helpful information, answering questions about retirement communities, home remodeling, financial planning, healthcare, travel, fitness, senior services and more.
For more information about the 50+Expo, or to exhibit or volunteer, call (410) 248-9101 or visit thebeaconnewspapers.com/50-expos.