Cover Stories
Cop now writes crime books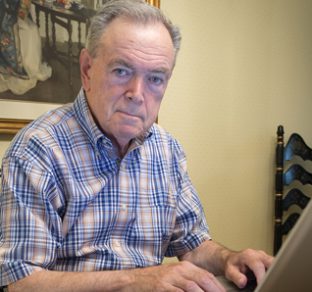 Former police officer Dick Ellwood turned to writing in retirement, and has written about his personal experiences in law enforcement as well as crime novels and even a children's book. The Timonium resident is proud to be among four generations of police officers in his family.
Photo by Christopher Myers
After serving four years as a Marine, 25 years as a Baltimore City police officer, and 18 years as manager of an insurance fraud unit, Dick Ellwood took to retirement armed not with golf clubs or travel plans, but with pen and paper.
Originally intending to tell the story of the four generations of his family in the police department — his grandfather, father and son have also served on the force — Ellwood began to pen his first book shortly after retiring, when he found he finally had time to pursue his passion for writing.
True crime
However, he quickly dropped his original plans and turned attention to writing what would eventually become his first published book — Cop Stories: The Few, The Proud, The Ugly — 38 short, true stories about his 25 years in law enforcement.
The short stories range from investigating murders to arresting prostitutes, fighting corruption, responding to the civil rights riots of 1968, and even arresting his childhood baseball hero, Mickey Mantle, for public intoxication.
The shift from police work to writing about it for publication doesn't take as great an adjustment as you might think, according to Ellwood.
"I have always enjoyed writing," he said. "In the police department, you are always writing. I worked in the Homicide Unit for 11 of my 25 years. In that unit, you did a lot of writing when preparing your case for the prosecutor."
While the actual writing may be Ellwood's talent, getting published was not an easy task initially.
"Back when I started my first book, I did not know anything about the publishing process," he recalled of his introduction to self-publication. "I was fortunate to know someone who had written a book, and got some good tips from him," he said.
"At first it was a challenge to work with the publisher," he continued. "They handle many authors, and sometime do not have the time to guide you through the process."
However, Ellwood quickly learned how, and has since published three additional titles.
Novels look at police ethics
His second and fourth books, Charm City's Blue Justice and The Dark Side of Blue, are both crime thrillers. Each explores tough concepts of ethics and relationships within police departments.
Charm City's Blue Justice tells the fictional tale of a Baltimore police officer compelled to reduce the crime level in the community, but doing so outside the realm of his job — and of the law — while his partner and department race to stop his attempts at inflicting street justice.
Ellwood's most recent novel, The Dark Side of Blue, details the creation of a prison system intended to house law enforcement officers-turned-corrupt criminals, featuring a fight with the U.S. Justice Department at the forefront.
The media and the mafia are also major players in that novel, which features a complex series of crimes that involve a wide range of corruption across departments and organizations.
Ellwood's third book, inspired by the pleadings and persuasion of his eight grandchildren, is a departure from his other works. The Secret Zoo is a colorful children's book that explores the after-hours adventures of curious children in a zoo.
With four titles now under his belt, Ellwood has become more comfortable with the publishing process. "I am now well aware of what is needed to publish and market a good book," he said. Among what's needed is being active on social media, he added.
In fact, Ellwood has gotten to the point where, "in the past few years, I have found myself giving advice to prospective writers."
While writing the children's book proved to be the most challenging of his book-writing experiences, crime/mystery novels are Ellwood's favorite genre.
"It makes you dig deep into your knowledge of law enforcement to come up with different scenarios," he explained. "I find it amazing what you can come up with as you progress along with the writing of a crime novel."
Lifelong Baltimore resident
Ellwood comes from a family of three sisters and two brothers (one of whom was also a police officer), raised in a Baltimore neighborhood called "The Tenth Ward" — a mostly Irish neighborhood near the Greenmount Cemetery. It is the same neighborhood in which he served as an officer for years.
Now 72, Ellwood resides in Timonium with his wife, Sharon, to whom he is quick to give credit for her help and support.
"My wife has played a tremendous role in all my books," he said. "She is a retired school teacher, and her editing skills are excellent. The most important part of writing a book is editing. My books would not be successful if it were not for her expertise in grammar and punctuation."
When the Timonium-based couple isn't teaming up to bring Ellwood's books to print, they spend time reading or playing tennis, volunteering, and spending time with their grandchildren.
Not only has Ellwood found fulfillment in writing itself, but also through interactions with his readers.
"It has been amazing to see the reactions from people when I sell books at fairs and festivals," he said. "They are sometimes amazed that a police officer would have written four books."
Still keeping busy marketing his latest novel, Ellwood hasn't yet started his next book, though the brainstorming has begun. "I do have some thoughts on another book, but it is really in the early stages of the process," he said.
Ellwood's books are available on Amazon.com, CreateSpace.com, IUniverse.com and in bookstores.
He will be at the Ukazoo bookstore in the Dulaney Valley Shopping Center on Aug. 27 at 1:30 p.m. to sell and sign his most recent book, The Dark Side of Blue.