Arts
Create your vegetable victory garden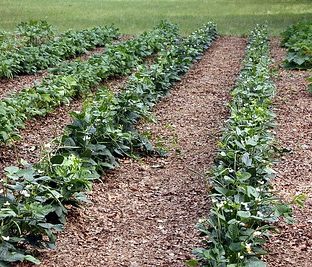 Photo by Sheila Brown
With extra time for home hobbies and learning opportunities with children and grandchildren, many of us are turning to home vegetable gardens reminiscent of the victory gardens during World Wars I and II. 
Plan for success
The first task is to find the perfect location. Typically, this means a full-sun location with six to eight hours of sunlight daily. If you have deer or rabbits, choose a location that can be protected by fencing. It's helpful if the site is close to a water spigot, and adequate draining is essential.
Consider the size of garden you need for the food you'd like to grow. Read seed packets for spacing recommendations. Beginners may prefer to start small.
Whether you want to grow a tomato in a patio pot or a full salad in a raised bed, the Virginia Cooperative Extension (VCE) provides plenty of guidance to help. There's a wealth of VCE publications online at ext.vt.edu as well as face-to-face; local Extension agents and Master Gardeners can answer specific questions virtually.
Pick a container
Your container may be as small and inexpensive as the bottom half of a two-liter soda bottle. Grow bags are trendy, but you don't have to purchase a pricey one; use a reusable grocery bag. (VCE offers other suggestions in its publication "Vegetable Gardening in Containers.")
Raised-bed gardening is an ideal way to set up a first-time garden. If you want a raised garden, consider a repurposed dresser drawer, an elevated trug or a raised bed. Online you can find multiple methods of preparing a raised bed as well as premade DIY kits. 
Use vertical space by adding a trellis for climbing plants such as beans or peas. Situate your trellis on the outer edge on the north side of your planting bed so its shade doesn't inhibit the growth of vegetables in other spots. (VCE's publication "Intensive Gardening Methods" gives tips on raised beds as well as vertical gardening.)
For beginners, square-foot gardening is ideal, and a frame that is 4 feet by 4 feet is a good size for starting out. Determine, by using seed package or plant tag details, how many plants grow in one square foot. For example, if you want to plant peppers, you would plant one seed per square foot. For carrots, on the other hand, you could plant 16. (The publication "Gardening Solutions: Square Foot Gardening" by University of Florida/IFAS gives tips on this technique; visit http://bit.ly/fiftyplusgardening.)
Best vegetables for beginners
Most importantly, choose herbs or vegetables that you would like to eat. Since it's already June, focus on those that will have time to mature and be harvested before the first frost (typically mid-October). 
For example, you still have time to grow green beans, cucumbers, corn, squash, peppers and tomatoes. Green beans and cucumbers are some of the easiest veggies to grow. 
Select varieties that are the right size for your spot. You may think miniature fruits or veggies would be ideal in a small garden or container; however, cherry tomato plants take up a lot of space — consider planting Roma tomatoes or dwarf plants instead. 
Although zucchini can be aggressive in a garden, you will definitely get satisfaction from its exuberant growth. In places with less light, try lettuces, oregano or mint. 
You could choose a theme for your garden: herbs for a pizza garden or an herbal tea garden. Enjoy purchasing starter plants and seeds or using seeds that you would otherwise throw away.
Add the medium
If you're planting in existing soil, the VCE publication called "Soil Preparation" gives suggestions on making amendments to enrich it. You can choose a ready-made potting medium for small containers. 
In raised beds, you can use a mix of compost and peat moss or ready-made garden soil. Do not use fill dirt. VCE publications can give you suggestions on producing compost from yard waste for use in your garden. 
Don't compress the medium too much. Roots need room for air and moisture in addition to the nutrients in the medium. Then plant your seeds or seedlings.
Tend your garden
Your garden will need care, especially on our hot summer days. Most plants need one inch of water per week; however, a common mistake made by beginners is overwatering. 
Container plants need to be watered more often than plants in the ground; container plants also require fertilizer. Tips on mulching, fertilizing and watering are available in VCE publications.
Check your garden weekly for insects and plant disease. VCE has publications about troubleshooting the most common culprits. 
Use the least harmful way to deal with pests; often that means ignoring the pest or picking off insects by hand. Always follow labeling directions on pesticides. Remember, you are producing edible food!
Enjoy the fruits of your labor
Think about the money you're saving by getting 10 bushels of tomatoes from a three-dollar plant. With shortages at the grocery store, growing your own ensures fresh food availability. 
Grow what you can use because you may not be able to give away excess food in a COVID-19 world. However, if you have zillions of zucchini, VCE also offers instructions on food preservation methods such as dehydrating, freezing and canning.
Lela Martin is a Master Gardener with the Chesterfield County office of the Virginia Cooperative Extension.