Travel
Cruises abound for almost any interest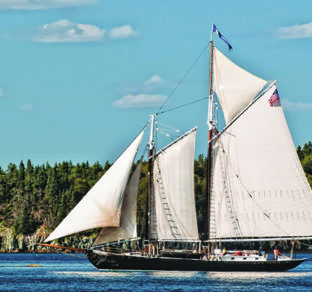 Passengers on this wind-powered tall ship can try their hand at steering and learn the basics of nautical navigation as they sail along the picturesque coast of Maine.
Photo courtesy of the Maine Windjammer Association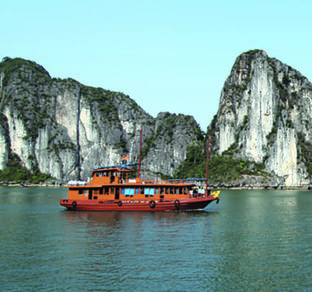 A boat modeled after a traditional Asian "junk" plies the calm waters of Vietnam's Ha Long Bay, which is surrounded by limestone peaks and studded with tiny islands. Cruisers aboard enjoy comfortable accommodations and sumptuous buffet meals.
Photo courtesy of Myths and Mountains
Civil War buffs Tom and Elaine Preston wander through reconstructed forts where a major battle of that conflict was fought. Betsy and Andy Cross follow a guide slogging through a dense rainforest. Lauren Davis and Jim Goodman enjoy an exciting Go-Kart track and exhilarating water slide.
As inviting as these disparate experiences are, they have something in common. All take place during cruises that appeal to people who are seeking something a bit different.
Unique onboard experiences
The Prestons are passengers on an American Cruise Lines boat sailing on the Mississippi River out of New Orleans. Along with the battlefield tour, they visit plantations and other sites along the way. On-board activities include informative lectures by historians and naturalists. The company offers river and coastal trips to 25 states. For more information, call (800) 460-4518 or visit americancruiselines.com.
Betsy and Andy Cross are exploring a very different locale. Their voyage aboard the Motor Yacht Tucano penetrates the vast Amazon rainforest which is home to some 15,000 species of wildlife. Launch rides and land hikes provide animal sightings and visits to isolated villages along the shoreline. The boat offers comfortable accommodations for up to 18 passengers. For more information, call (800) 510-5999 or see latinamericanescapes.com.
The Norwegian Cruise Line ship that Lauren Davis and Jim Goodman chose exemplifies the expanding choice of activities available at sea. Passengers may zip around a Go-kart track at speeds up to 30 miles per hour. The Ocean Loop water slide propels thrill seekers through a series of twists and turns, including a transparent section that extends over the side of the vessel. Call (866) 234-7350 or see ncl.com for details.
The choices are equally imaginative aboard some ships of the Royal Caribbean line. If glow-in-the dark laser tag and bumper cars don't provide enough excitement, there's the highest slide at sea and simulated sky diving. Call (866) 562-7625 or visit royalcaribbean.com.
For crafty sailors
The pace is much slower on sailings touted as "Cruising with a purpose." Craft Cruises specializes in planning voyages for people who share a penchant for knitting, crocheting and similar pastimes. Along with the usual cruise ship activities, they take classes from experts in their area of special interest. Learn more at (877) 972-7238 or craftcruises.com.
Learning opportunities aboard Maine windjammer boats focus on nautical pursuits. Passengers may try their hand at steering, get instruction in navigation, and participate in other sailing tasks. As they do, the graceful wind-powered tall ships sail along the picturesque coast of Maine. The 13-member vessels of the Maine Windjammer Association also offer special interest trips that focus on themes ranging from whale watching and birding, to chocolate and wine. Call (800) 807-9463 or visit sailmainecoast.com.
From the Arctic to Asia
Much further north, people line the deck of a nuclear-powered ship as it crushes through North Pole ice, then go aloft in a helicopter and tethered hot air balloon to search for polar bears, walruses and seals.
Arctic cruises are among more than 600 itineraries available from Expedition Trips, whose vessels travel to some of the most remote corners of the Earth. The company's specialists help people arrange both cruises and land trips based on their interests and budget. Call them at (877) 412-8527 or see expeditiontrips.com.
What may be the most other-worldly body of water anywhere is Ha Long Bay in Vietnam. Its 600-square-mile seascape is punctuated by soaring jagged spires, limestone islands, caves and inlets.
Mother Nature's formations dwarf the boats that ply the calm water, ranging from rowboats and kayaks to fishing craft and bamboo vessels.
The ship that I called home for several days and nights, as part of a Myths and Mountains tour, replicated a traditional "junk," yet provided very comfortable accommodations and served sumptuous buffet meals. Call (800) 670-6984 or visit mythsandmountains.com.
Freighter travel
We close with a brief questionnaire. Do you have time to go to sea for weeks or even months? Can you make do without the fancy, upscale amenities of a modern cruise ship? Are you happy as a member of a small group, rather than mingling with hundreds or thousands of other passengers?
If so, you may be a good candidate for freighter travel. A tiny percent of ocean-going vessels carry passengers along with cargo. They include container ships whose decks are laden with truck-size metal boxes and general cargo carriers that transport an A (automotive parts) to Z (zucchini) alphabet of goods.
Passenger cabins usually are more spacious than on regular cruise ships and feature a private bathroom and air conditioning. Some provide a mini-refrigerator, TV and DVD player. Other amenities might include a library, exercise room and even a swimming pool.
One appeal for freighter fanciers is the opportunity to observe and get to know crew members. Passengers and officers usually share the same dining room, which provides an opportunity to hear maritime stories and anecdotes.
Of course, there are also what some consider downsides to freighter travel. First and foremost, some shipping lines have lower, and upper, age limits. The number of passengers usually is 12 or fewer — the maximum a ship can carry without having a doctor on board.
Ships may spend as little as a half-day or as long as several days in ports, and there are no planned shore activities for passengers. Therefore it's best to do your own research about scheduled ports of call and how you would like to spend time there.
A good source of information and bookings is Maris, a freighter cruise specialist that operates a membership club offering discounts on voyages and periodic newsletters. Call (800) 996-2747 or see freightercruises.com.
Another helpful contact is Stride Travel. It includes listings of river and small ship cruises among thousands of packages offered by hundreds of tour companies. Especially helpful are trip and company reviews by both professional experts and other travelers.
Another benefit is that Stride members receive a cash bonus on select trips when they reserve through the company. Membership is free. See more at stridetravel.com.