Travel
Cuba combines opposites in a time warp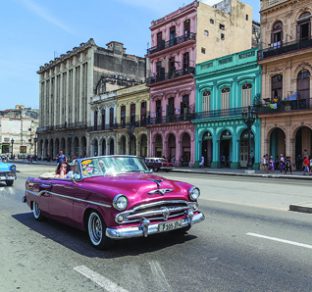 Classic American cars abound in Cuba, where importing American-made goods was banned when Fidel Castro took power in 1959. Today, the meticulously maintained (though seat belt-free) Cadillacs, Fords and Buicks can be seen on streets in Havana and throughout the country. American tourists seem to enjoy taking a ride.
Photo by JHVE Photo
When Columbus landed in Cuba in 1492, he proclaimed the island to be "the loveliest land that human eyes have ever beheld." Cuba is the "Pearl of the Antilles," touted the 1958 World Book Encyclopedia.
Today, this tropical archipelago still boasts broad sandy beaches, seven UNESCO Biosphere Reserves, nine UNESCO World Heritage Sites, lush rain forests, swaying palms, aquamarine seas, pristine reefs, and about 350 species of birds — including the world's largest flamingo nesting site.
On the other hand, Cuba is probably best known to Americans as a communist state ruled ruthlessly for 58 years by brothers Fidel and Raúl Castro. Fox News' Elizabeth MacDonald has said, "Cuba is run by Soviet-style…party elites who call the shots behind the scenes, and who have gotten spectacularly wealthy in the process, all while abusing its people and business partners."
A country of contradictions
Cuba is beguiling. Cuba is stuck in the '50s. Cuba is stunning. Cuba is frustrating. So go the opinions of many Americans who have visited the country.
Exploring this island nation is a classic "eye-of-the beholder" experience. The U.S. Tour Operators Association labeled Cuba 2017's hottest destination. Former President Barack Obama, Madonna, Mick Jagger and Pope Francis went to Cuba in recent years. In 2016, so did a record 4 million tourists.
But tourism is restricted and regulated by the Cuban and U.S. governments. Because of the U.S. embargo, travel from here requires a U.S. Treasury Department license for one of 12 categories of authorized travel.
Hence, the easiest way to go to Cuba from the U.S. is with a licensed tour operator. They can conduct authorized "people-to-people," educational trips that involve not just tourism, but meeting and talking with Cuban people.
Independent travel is possible, but car rentals are expensive, hotels are booked far in advance, reservations are unreliable, and so are credit card transactions. It's prudent to take cash and not expect to rely on credit.
To fully absorb all that Cuba has to offer requires an open mind. Only 90 miles from the U.S., it's the largest Caribbean island — 777 miles long and 55 miles wide, with 3,570 miles of coastline and thousands of islands washed by the Caribbean and the Atlantic Ocean.
Fidel Castro's 1959 revolution brought authoritarian rule. The U.S. broke relations and imposed an embargo in 1961. In 1990, when the former Soviet Union withdrew billions in subsidies, hard times, called the "Special Period," ensued. In 2015, Obama re-established diplomatic relations between the U.S. and Cuba.
For the traveler, this history could mean inconveniences or the absence of typical American amenities. Internet connections are spotty, and ATMs are sparse. Some guest rooms lack air conditioning, and their décor and furniture may look tired. Tap water may not be potable. Cruise ships can snarf up all the available bottled water. A museum's hours may not be as advertised.
Resident Cuba expert Marc Frank maintains, "Remarkable changes are going on here. Cuba's a work in progress."
"We are changing, but not that fast," said Cuban tour guide Rigoberto Rodriguez, explaining that there's "guarded openness," that people can speak their minds within certain parameters. Cuba has had more private businesses, more decentralization, and more economic globalization in recent years, he argues.
Cuba's many pastimes
Music is at the core of Cuban life. In the 1940s, Havana's original Buena Vista Social Club throbbed with musicians, a club recalled in a famous recording by Juan de Marcos Gonzalez and Ry Cooder.
Then, Cuban-born Desi Arnaz, aka Ricky Ricardo, pounded his conga drums and sang "Babalu" on the 1950s television sitcom, "I Love Lucy," imprinting lively Latin music on many American minds.
Today, in nightclubs, on street corners and at community gatherings, Cuba's "musical golden age" of the 1930s, '40s and '50s lives on with salsa, rumba, mambo, chachachá, danzón and more.
At Havana's La Colmenita Children's Theater, children age 5 to 18 train daily, playing handmade drums, claves and castanets, beating on chairs and whacking wood and cow leather in a unique combination of percussion and dance. At the world-renowned Cabaret Tropicana, nearly naked showgirls, known as "Flesh Goddesses," have performed in sequined pasties and feathered head pieces since 1939.
Then there's Cuban rum, Cuban cigars and baseball. Youngsters start playing the game at age six or seven. All of these express the Cuban spirit.
Having endured invasions, revolutions, hurricanes, embargoes and shortages, Cubans excel at surviving. "We Cubanize," Rodriguez said. "We always find a way." During the Special Period's shortages, people started home gardens. They make do today with rationed goods, and joke that the national sport is "waiting in line."
President Obama complimented their ingenuity, saying, "The Cuban invents things out of thin air." This can-do spirit is symbolized by the '40s and '50s cars that resourceful owners keep running by making needed parts.
Only the indifferent could not marvel at the classic cars roaming Havana's streets. Eager entrepreneurs stand at the ready to take visitors for rides in spic-and-span 1950s classics, cars that have been meticulously preserved throughout the 56-year embargo, without dealer services or ready car parts.
Though these pre-catalytic-converter, pre-seat-belt relics are loud and can foul the air, they are well worth a taking for a spin around the city. Older tourists can recall their teens, riding in a shiny Cadillac Eldorado, Ford Fairlane, Ford Thunderbird, Chevrolet Impala, Chrysler Plymouth Belvedere or Buick Roadmaster.
Now and then a Soviet-era Lada chugs by. Because Ladas sputter like lawn mowers and stall in rain storms, locals like to call it the "Believer Car" — because owners believe they own a car.
Museums and Hemingway
Old cars, old cobblestone streets, old buildings, filled with people young at heart. This is Havana, founded in 1519, and one of the great historic cities of the New World, where mansions going back centuries line plazas.
Old Town Havana, a UNESCO site, has around 900 historically important buildings — a mix of neoclassical and baroque architecture with some art deco thrown in. Visitors can fixate on peeling paint and neglected buildings, or as Chicagoan Carole Anshaw put it, the "beauty of decay."
Calle Obispo is Old Havana's main boulevard, a bustling commercial and night-spot artery. Plaza de la Catedral fronts the city's asymmetrical cathedral from the 1700s, restored for the Pope's 2015 visit.
Nearby is the Taller Experimental Workshop of cutting-edge art and graphics. At the Revolution Museum, Fidel Castro's 60-foot boat, Granma, that transported 82 revolutionary fighters in 1956, is enshrined in glass.
The incongruous capitol building, built in the 1920s when officials wanted one like the U.S. Capitol, was the seat of the Cuban Congress until 1959. Today, it's the National Library of Science and Technology. The Yoruba Museum and the Museum of the Orishas explore African influences and history.
Tourists can feel like locals strolling the famous, six-lane Malecón among enchanted lovers, cigar-sellers and musicians, refreshed by cooling sea breezes or jolted by crashing, Atlantic Ocean waves during storms.
Visitors can channel Ernest Hemingway with a mojito at El Floridita Bar or La Bodeguita del Medio. You can sense his spirit at Museo Hemingway, the 1940s villa he left to the Cuban people. In this home, unchanged since his 1960 departure, he wrote For Whom the Bell Tolls and The Old Man and the Sea while comforted by a clowder of cats.
French-inspired Cienfuegos
Cienfuegos is a pedestrian-friendly port city with 19th century French roots. It is centered around the Paseo del Prado, a Parisian-style main avenue, and Parque Martí, where a statue commemorates revolutionary hero, Jose Martí, Cuba's leader of independence from Spain. This UNESCO World Heritage Site, its shops and street stalls, reflect the city's mixed French-Caribbean heritage.
It is also the home city of Afro-Cuban singer Benny Moré. Talented students at the school bearing his name give public performances in music, dance and visual arts.
At a nearby former sugar mill built by Bostonian Edward Atkins, tourists can visit historic factory buildings and study today's rationing system under pictures of Vladimir Lenin, Che Guevara and Raúl Castro. Quoting Martí, one sign says, "There is no possible social equality without cultural equality."
The nearby 132-acre Cienfuegos Botanic Garden has 2,000 plant species and one of the world's largest collections of palms.
Other cities and countryside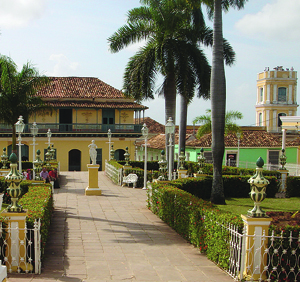 The main square, Plaza Mayor, of the 500-year-old Cuban city of Trinidad (not to be confused with the island) showcases some of the city's Moorish-style and neoclassical architecture.
Photo by Glenda C. Booth
Cuba's rural countryside is a verdant expanse spotted with palm, banana and mango trees, grazing cows, and rice and sugar cane fields. Most of the sugar cane today goes into Cuba's celebrated rum.
In the small towns, many people walk, bike, ride horses or rumble along in horse-drawn buggies. There are more one-story houses with roof clotheslines, fewer cars and more dirt roads than in cities. People sell wares from front-yard card tables.
The central Cuban city of Trinidad, founded in 1514, reeks of history. Also a UNESCO World Heritage Site, it's the country's best preserved colonial city — with shops, vendors, art studios (including a crochet collective) and many restored facades in the historic center. The city is a mix of 18th-century, adapted Moorish-style and 19th-century, neoclassical architecture, and boasts many pastel-colored buildings.
In today's main square, Plaza Mayor, people play checkers and children romp around a former slave market, as horses clop-clop-clop down cobblestone streets. The tower of the Museo Histórico Municipal, a former sugar baron's mansion, offers an expansive view of the city. The Nueva Era restaurant serves enticing dishes using fresh shrimp from a nearby farm.
"The enemy fled in disarray." "Yankee imperialism is a total failure." "Death to the invader!" These are some of the messages that scream out at the Bay of Pigs Museum in Playa Giron. Exhibits, uniforms, pictures of heroes and military equipment — including a captured U.S. Browning machine gun — present the Cuban point of view of the failed 1961 U.S. paramilitary invasion of Cuba.
Exhibits proclaim, the "first defeat of imperialism in history." One quotes Fidel Castro: "We have made a socialist revolution in their noses." Another: "This was one of the most glorious pages in the history of our country."
Cuban cuisine
The food scene has blossomed in recent years as Raúl Castro's economic reforms have encouraged private restaurants called paladars. Visitors might be treated to gazpacho, garlic octopus tapas, paella, tacos, ceviche, spicy shredded beef, crocodile stew, empanadas, flan and plantain chips.
Hosts urge guests to top meals with "Vitamin R," Cuba's ubiquitous rum or a canchanchara — rum, lime juice, sparkling water and honey. Some restaurant ware dates from the 1950s, including frosted glasses with paintings of bathing beauties.
Expect the unexpected. Be flexible. Cuba constantly delivers "curve balls," wrote Christopher P. Baker in the National Geographic Traveler. For the adventurous traveler, they can be intriguing curve balls.
If you go
To learn more about rules governing travel to Cuba, see https://travel.state. gov/content/passports/en/country/cuba.html.
Some tour agencies offering trips to Cuba:
Caribbean Conservation Trust, www.cubirds.org
Cosmos, http://www.cosmos.com/
Marazul Charters, www.marazul.com
National Geographic Expeditions, http:// www.nationalgeographicexpeditions.com/
Road Scholar, www.roadscholar.org
Victor Emanuel Nature Tours, http://ventbird.com/
Cruises: Carnival, www.carnival.com; Royal Caribbean, www.royalcaribbena.com; Norwegian Cruise Line, www.ncl.com
If you want to arrange a flight yourself, American and Jet Blue fly from BWI. There are no nonstop flights. The least
expensive flight in mid-June is $369 roundtrip.