Housing
D.C. Housing News — July 2021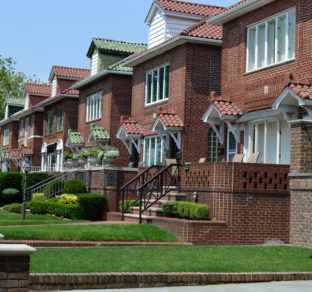 Modena Reserve to open in fall 2021
This fall, Solera Senior Living will open its newest senior living community, Modena Reserve at Kensington in Maryland. The facility blends contemporary design with historic architecture, transforming the former Mizell Gas Station and Mizell Hardware and Lumber Store into unique community spaces.
Located next to the Kensington train depot and several shops and restaurants, Modena Reserve offers residents an opportunity for an active lifestyle. The new U-shaped building wraps around a 20,000-square-foot landscaped courtyard.
"It is a beautiful design with curved exterior and interior walls," said executive director Janey Bradley. "The finishes are gorgeous, and the sensibility of the building is so detailed."
The main residential building will contain 135 units: 62 for independent living, 47 for assisted living and 26 for memory care. Communal living spaces include an exhibition kitchen, dining room, lounge, art studio and wine bar with indoor or outdoor happy hours.
The building that once housed Mizell Hardware and Lumber will be restored to contain a full-service salon, offering massages, facials and a gym and relaxation room.
The old Mizell Gas Station is being restored as the District Café, open to Modena Reserve residents as well as the public.
Solera Senior Living, established five years ago, currently has five communities located in Arizona, Colorado and Florida. New facilities will open in the next year in Evanston, Illinois and Austin, Texas. Another facility is planned later for Falls Church, Virginia.
"Our facilities are purpose-built," Bradley said. "We are looking at the demographics and how we can impact the market."
Bradley described the Solera concept of senior living as a "strong hospitality model in tandem with a strong healthcare model."
Solera's model of hospitality-driven culture focuses on residents' quality of life. "We provide everything residents need for mind, body and spirit," Bradley said.
Modena Reserve has cutting-edge technology, including an in-house television channel through which residents can conduct virtual visits with family as well as livestream fitness classes, cooking demonstrations and concerts.
It also offers a wearable technology called CarePredict that provides two-way communication between residents and caregivers and uses GPS to keep all residents, particularly those with memory issues, safe.
"We are proud to be part of the town of Kensington and to offer next-generation senior living where you will want to live, not need to live," Bradley said. For more information, call (240) 998-9990.
 —Catherine Brown
The Seneca opens
A new luxury retirement community is slated to open in July on the site of Rockville's historic King Farm.
The Seneca has four restaurants, including an outdoor courtyard and exhibition kitchen, where chefs showcase their talent.
The Seneca has 87 assisted-living residences and 30 memory-care suites. For residents who are in between those programs, the facility offers The Bridge program, providing more support than traditional assisted living.
The Seneca is one of 58 Watermark Retirement Communities in the country, all of which offer 90 different classes through its award-winning Watermark University (pottery, chess, yoga and more).
The Seneca's designers emphasize "the ability to connect with nature on a daily basis," according to its website. Indeed, the six-story building is located next to the trails of King Farm Park and is surrounded by landscaped verandas, gardens and a meditative labyrinth walk. For more information, call (240) 614-2800.
—Margaret Foster
The Virginian begins renovation, expansion
One of Northern Virginia's premier senior living communities is in the process of undergoing an 18-month landmark renovation.
Located in Fairfax, The Virginian offers older adults active independent living with options for additional care.
In March 2021, workers broke ground for a $56.5 million renovation that will transform the facility into a resort lifestyle community. A new 367,000-square-foot building will have seven stories and four wings. Residences will include 155 independent living apartments, 56 assisted living spaces, and 30 memory care rooms.
The renovation will also include multiple dining venues, a wine cellar, fitness center, indoor pool, indoor golf simulator, driving range, pickleball courts, theater, salons and a dog park.
For more than 40 years The Virginian has provided luxury rentals and high-end amenities without the pricey buy-in fees of traditional continuing care retirement communities. Its rental model is a popular program for residents. For more information, call (703) 385-0555.
—Catherine Brown