Housing
DC Housing News — January 2023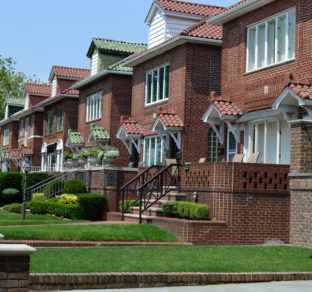 Speaker series helps introduce The Carnegie
Last fall, 150 people flocked to a lecture by "Downton Abbey" consultant Rebecca Eaton, executive producer at large for "Masterpiece Theater." Eaton, who also worked on the television series "Sherlock," shared some behind-the-scenes stories and reflected on her career in public television.
The lecture was sponsored by The Carnegie at Washingtonian Center, a community being built by Kisco Senior Living that's scheduled to open in Gaithersburg in spring 2024.
Its Red Carpet Speaker series, open to future residents as well as potential ones, is "the pinnacle of our program," Gene Smallwood, regional vice president of sales for Kisco, said in an interview with the Beacon. "It's a truly special, once-a-quarter event that garners a lot of appreciation and energy and gives back to our residents."
The Carnegie, Kisco's first "signature community" in the D.C. area, will have 302 apartments for independent living, assisted living and memory care. Its perks include a 24-hour concierge, five-star restaurants, even a "chef's table experience" for residents and their visitors.
"At our signature communities, we're talking to a young-at-heart senior who really wants to continue to grow and be productive throughout their senior years," Smallwood said.
Like all Kisco properties, the Gaithersburg community will offer planned vacations, group tours, culinary outings, daily fitness classes, art and education classes, and lectures, in addition to Red Carpet Speakers. The goal, Smallwood said, is to "help inspire and help our residents continue to grow."
A furnished model apartment is open daily to the public at their Discovery Center, 129 Ellington Blvd. in Gaithersburg. To be invited to hear future speakers or learn about coffees and other events, call (240) 213-7383.
Life story workshops debut at Brooke Grove
There's power in telling your story. At Brooke Grove Retirement Village last fall, a group of residents, led by a speaker from the nonprofit Story Tapestries, listened to each other's life stories.
"People loved the opportunity to share their voice as well as listen," said Arianna Ross, founder and CEO of the Poolesville-based Story Tapestries.
"We had multiple people say to us, 'This is the first time in several years that I felt like someone other than a nurse actually wanted to hear what I had to say.' That's why these programs are critically important," Ross added.
Story Tapestries works with schools, libraries and senior centers, as well as the Montgomery Village Foundation. All its programs are free because Story Tapestries is a grant-funded organization supported by the Maryland State Arts Council.
During COVID, the group started hosting more Zoom "story hours," a low-tech way for older adults to share their life stories.
Working with Medstar Health Center for Senior Living, Ross' group also brought storytelling workshops, musical performances, poetry classes and art classes to four senior communities, including Brooke Grove.
"Our seniors are brilliant, amazing individuals with incredible stories," Ross said. "They love the opportunity to listen to stories, listen to music and then have a chance to talk about it afterwards."
For more information about Story Tapestries' free programs, visit storytapestries.org or call (301) 916-6328.
For information about Brooke Grove, call (301) 637-8928.
Find home care help via your smartphone
Do you need some help around the house or someone to take you to the doctor?
Or are you looking for a trained healthcare aide to provide hands-on assistance with bathing, dressing, eating and the like?
There's an app for that! Well, actually, two apps.
A new service just started up in the Greater Washington metro area making it possible to select a trained caregiver — with the qualifications you need and at a price range you identify from the start — using an app on your cellphone or computer.
OndeCare (short for "on demand care") matches vetted professional caregivers with people who need those services and lets them negotiate the rate to be paid in minutes.
Through the app, users can also communicate with each other, coordinate schedules, and arrange for payment.
Services provided include not only adult caregiving but also child care, infant care and special needs care.
As a new service in this area, OndeCare is also looking for professionals (nurses, home care aides, teachers, EMTs and others) who would like to offer their services to potential clients, set their pay scale, and basically be their own boss.
Those needing care for themselves or a loved one can set up an account for free — and potential caregivers can apply to participate — at ondecare.com. If you have questions, call (703) 775-4336 or email support@ondecare.com. Their "care concierge" is available 24/7 to help.
People who don't need hands-on care for activities of daily living but would still like to have some help around the house can use a different app: Naborforce.
"Nabors" are vetted individuals who can assist with a wide variety of non-medical chores, including computer help, meal preparation, light cleaning, running errands, rides to the doctor or around town, and many other light services around the home.
Help can be arranged for as little as one hour, and payment is at a fixed rate, all done through the app.
People who would like to become nabors and help others while earning money are welcome to apply.
We wrote about Naborforce a few months ago when they began services in and around Bethesda, Maryland. This month, they are opening up in the Washington, D.C. and Northern Virginia areas.
For more details, to hire a nabor, or to apply to become one yourself, visit naborforce.com or call them at (301) 960-5500 or (703) 782-8855.