Travel
Delaware's mansions, gardens and more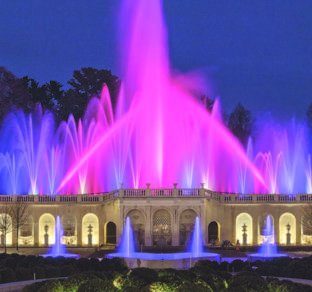 The fountains at Longwood Gardens feature 1,700 fountain jets and streams that are lit at night. The gardens include more than 1,000 acres of outdoor flora as well as a four-acre greenhouse.
Photo by Daniel Traub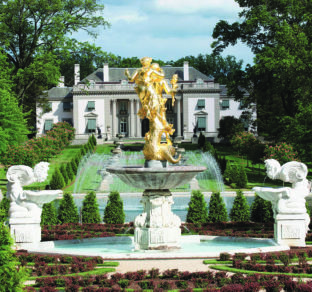 The 77-room Nemours Estate is surrounded by statuary in its elaborate gardens. This statue, "Achievement," was designed by French sculptor Henri Crenier, and is gilded with 23-karat gold leaf.
Photo by Les Kipp
Some members of the large, wealthy family lived in a 175-room mansion set amid 1,000 acres of magnificent gardens, sprawling woodlands and splashing fountains. Others made their home in a chateau modeled after the palace where Marie Antoinette once hung out.
Not far away, workers who toiled in the business that affluent dynasty was creating resided in more modest quarters. They included multi-unit houses that today provide accommodations for visitors to the area.
This contrast between members of the du Pont family who settled in and around Wilmington, Del., at the turn of the 19th century, and those who worked in the gunpowder mills they founded, is one of many diversities that characterize the area today. They offer visitors an inviting potpourri that appeals to a wide array of interests and preferences.
Are flowers your forte? Does a penchant for the past turn you on? Are you an art and antique adherent?
These are among a long list of attractions that greet visitors to Wilmington and the Brandywine Valley, which is named for the river that runs from southeastern Pennsylvania to northern Delaware. Because the destination is only about a two-hour drive from Washington, it's a welcome and wonderful place for a mini-vacation, weekend visit or even a day trip.
The du Pont legacy
The main story and primary reason the area is such a tourist magnet has to do with the saga of the du Pont family. The tale began in 1800, when Pierre Samuel du Pont, the son of a Parisian watchmaker, immigrated to the United States. One of his sons established a gunpowder mill near Wilmington.
Over time, the company grew into the world's largest manufacturer of black powder, which was used in munitions and construction projects. From that beginning, the du Ponts evolved into one of the wealthiest family empires in the country.
Fortunately, for those of us not lucky enough to be descendants, a family trait was a willingness to share their good fortune with others. As a result, the destination is rich in world-class museums and renowned gardens, touches of both history and present-day hip, pastoral countryside and vestiges of colonial towns.
A good place to begin is where the story of the du Ponts in America did. The Hagley Museum and Library features the restored original gunpowder mills, the Eleutherian Mills ancestral estate, where five generations of du Ponts resided, gardens, and the village where workers lived. The charming residence itself would be well worth a visit for the antique furnishings, artwork and memorabilia collected by family members.
Buildings on Workers' Hill provide a glimpse of life for the mill employees. They include homes once occupied by the factory foreman and bookkeeper, and a Sunday School for children.
A modest garden filled with the kinds of vegetables factory families grew for food contrasts starkly with the elaborate ornamental plantings at du Pont family homes. The two-acre spread in front of the Eleutherian Mills mansion included more than 100 varieties of fruit trees along with alternating beds of flowers and vegetables.
Nemours, Winterthur and Longwood
The 77-room Nemours Estate was modeled after Le Petit Trianon — a chateau built on the grounds of Versailles during the reign of King Louis XV for his mistress and later occupied by Queen Marie Antoinette. The Delaware version was constructed by Alfred I. du Pont, the great-great-grandson of Pierre, for his second wife Alicia.
The mansion cum museum is crammed with precious antiques, artwork and hints of the lavish lifestyle that was lived there.
The sumptuous setting is enhanced by acres of formal gardens, colonnades, sunken pools and statuary that surround the house. They include greenhouses, a maze garden, and imported gates covered with 23 karat gold leaf.
The 175-room mansion known as Winterthur, another du Pont family estate, displays a collection of more than 90,000 antiques in stunning interiors. The house sits in a setting of forests and fields, rolling hills and babbling brooks, all of which provide a naturalistic backdrop for the gardens that present a year-round explosion of color.
More than 1,000 acres of outdoor plantings and a four-acre indoor conservatory make Longwood Gardens one of the premier botanical destinations in the world, Adding coloration to the scene are spectacular displays of illuminated fountains. Technicolor streams of water rise and fall, spin and twirl, and at times even burst into flames in a precisely choreographed show.
Art, history and ghosts
As unique and inviting as everything related to the du Pont story is, that represents just a small slice of what awaits visitors to the area. For example, along with grand mansions that double as museums, other collections focus on topics as diverse as art, history and civil rights.
The Brandywine Valley inspired generations of Wyeth family artists, whose creations are displayed at various locations. The Brandywine River Museum is renowned for its collection of works by N.C., Andrew and Jamie Wyeth. The houses and studios where N.C. and Andrew lived and painted are open to the public.
So many artists still work in the area that both Wilmington and Kennett Square, a tiny nearby community, host monthly gallery events.
The region also boasts intriguing chapters of history. A replica of the Kalmar Nyckel, the tall ship that brought Swedish settlers to the New World in 1638, is available for tours and hands-on sailing excursions.
The John Dickerson Plantation was the boyhood home of one of the country's founding fathers. He penned the phrase "United we stand, divided we fall," and was a delegate to the Continental Congress and a drafter of the U.S. Constitution.
The plantation is one of seven sites located in the First State National Historical Park, which extends the length of the state. Others include the forest where Native Americans and early European settlers lived; the site of Fort Christina, where colonists aboard the Kalmar Nyckel and another ship first landed and built a fortress and community, and Old Swedes Church, which was constructed in 1698 and is the oldest in America still used for worship.
Fort Delaware, which occupies colorfully named Pea Patch Island, was built in 1815 to protect the Wilmington and Philadelphia harbors. It was destroyed by fire and rebuilt prior to the Civil War, at which time it was converted to a prisoner of war camp. At one time, it held some 12,500 Confederate soldiers who had been captured at Gettysburg.
While guided tours, Civil War enactors and other scheduled programs provide interesting information, I came across half-hidden gems that added a very personal touch to life at the fort when it was in active use.
Among them: Seasonal ghost tours introduce spirits that some believe haunt the site. A children's alphabet learning book includes the letters H for "Hard-tack you scarcely can gnaw" and R for "Retreat, may you never be there." A cook book from the time, which made me glad my Army service was more recent, included recipes for eel soup and calves feet ("Boil three hours").
Another story traces parts of the role and journey of African-Americans. Cultural achievements of Delaware-born African-Americans are recalled and celebrated at the Delaware History Museum.
The Delaware segment of the Underground Railroad, which escaped slaves followed on their journey to freedom, includes pathways and sites associated with Harriet Tubman, Quaker abolitionists, and others who risked much to provide assistance. An impressive and moving statue of Tubman looks out over the park.
The Wilmington Riverfront attracts people who stop to read the historical plaques, strollers and joggers, and others drawn by the selection of places to eat.
Nearby is a sign at the dock from which the small ferry boat departs for Pea Patch Island and Fort Delaware. It reads, "Prepare to enter the past." That comment applies equally to much that awaits visitors to Wilmington and the Brandywine Valley.
If you go
Given the rich history of the area, it's not surprising that visitors have a choice of accommodations that relate chapters of that interesting story.
The Inn at Montchanin Village traces its lineage back to the 18th century, when a tiny settlement grew on a small plot of land at the intersection of three roads that are believed to have followed Native American trails. The hamlet that evolved from that modest beginning now includes 21 lovingly restored structures sprawled across a tranquil setting of landscaped walkways, gentle terraces and attractive gardens.
The Inn's 28 rooms and suites are located in separate buildings that originally served as apartments for workers. They're lush with 19th century antiques and reproductions that set a scene of casual elegance and add to the sense of traveling back in time. Room rates begin at $192, and discounts and packages are available. For more information, call (800) 269-2473 or visit montchanin.com.
An equally inviting alternative are the nine distinct properties — ranging from mansion and manor house to farmhouse and historic inn — that comprise Brandywine Valley Bed & Breakfasts. One is a dwelling house dating to 1714, one served as a safe haven of the Underground Railroad, and another offers outdoor amenities including a fully-stocked pond, tennis court and putting green. For more information, see www.bvbb.com.
As for dining, colorfully named Krazy Kat's restaurant at the Inn at Montchanin Village, which occupies a converted blacksmith's shop, specializes in fresh seasonal ingredients like butter-poached lobster ($18) and crispy duck breast ($19). Succulent sides (all $8) include "exotic mushrooms" and maple-scented sweet potatoes.
A favorite with locals is Buckley's Tavern, a 19th-century house, former stagecoach stop and toll gate. Among "comfort cuisine" it offers (so identified on the menu) are meatloaf and chicken pot pie (each $19.95), shrimp and grits ($24.95), and a long list of sandwiches. For more information, call (302) 656-9776 or go to www.buckleystavern.com.
For information about Wilmington and the Brandywine Valley, call (800) 489-6664 or see www.visitwilmingtonde.com.