Features
Doing good helps body and soul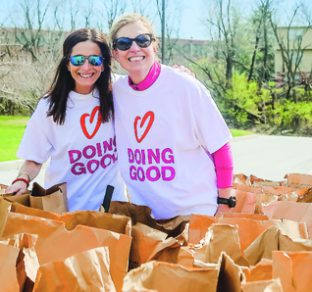 Karen Singer, right, founded VolunTeams, which allows people to sign up to volunteer for a particular project without a long-term commitment. In April, she and Jen Grossman, then chair of the Jewish Volunteer Connection, joined 50 other volunteers to clean up Middle Branch Park.
Photo courtesy of The Associated
Ever experienced a "helper's high?"
The term was coined by psychologist Allan Luks, who discovered that the act of helping others releases endorphins (feel-good chemicals in our brain) the same way that vigorous exercise or meditation does.
Also, as with exercise and medication, Luks concluded that this biochemical reaction from volunteering results in stress relief, which can benefit the immune system and support overall better health.
So it shouldn't be surprising that Barry Glass, 80, says his volunteering is "really, a selfish thing I do. It makes me feel good."
Glass, who lives at Weinberg Woods, volunteers at the Weinberg Senior Center. Among other things, he greets visitors, makes coffee, and schmoozes with those who come to take part in the center's activities.
He says his volunteer projects not only put a smile on his face, but keep him energized and less likely to think of the back and neck problems he suffers from.
At Charlestown Retirement Community, one-third of the residents volunteer with dozens of different organizations, including homeless shelters, libraries, elementary schools and churches.
John Lorenz, 75, began volunteering at Charlestown just months after he and his wife, Charlene, moved there from Upperco two years ago.
"I've always been a volunteer in some capacity," said Lorenz. After graduating from Calvert Hall, a private Catholic high school for boys in Baltimore, Lorenz later returned to the school to volunteer as a Christian Brother, teaching religion and science in exchange for room and board.
"Those were some of the best years of my life," said Lorenz, who is also a long-time member of the Knights of Columbus, the world's largest Catholic-based fraternal service organization.
Among other activities at Charlestown, Lorenz has enjoyed assisting at the community's in-house television station, Little Theater, Treasure Sale, Joyful Sounds chorale, and serving on a team of residents who remove invasive plants from around the 110-acre community.
Evidence of health effects
According to the Office of Research and Policy Development of the Corporation for National and Community Service, "Those who volunteer have lower mortality rates, greater functional ability, and lower rates of depression later in life than those who do not volunteer."
More specifically, a 2013 study by researchers at Carnegie Mellon University found that older adults who volunteer for at least 200 hours a year decrease their risk of hypertension or high blood pressure by 40 percent.
Linda Fried, a professor of public health at Columbia University Medical Center, stresses that, as Americans' longevity increases, staying both physically and socially active is more important than ever.
"Volunteering helps achieve both goals. The social networks of people tend to decline as they age; family and friends move away or die. Volunteering can replace these ties and their well-being and happiness benefits," said Fried in an article that appeared in U.S. News and World Report.
"The other thing that is really important to people, particularly as they get older, is that they feel they've made a difference being on the planet," said Fried. "That's a deeply personal sense of meaning, particularly as people take stock of their lives."
For Edel Blumberg, volunteering with the American Cancer Society (www.cancer.org) as a Recovery Coach — as well as starting his own nonprofit, the Semi-Colon Club (www.semicolonclub.org) — is very much what his life is about.
The 61-year-old Reisterstown resident is a repeated survivor of colon cancer, who said that volunteering gives other cancer patients and survivors hope, as well as providing volunteers a sense of worthiness.
A one-time athlete, Blumberg's physical activities have been curtailed because of the effects of his cancer treatments, but volunteering is a way for him to inspire others while giving himself both a mental and physical outlet so he's not "just sitting around."
If you're new to volunteering, start out slowly, advised Andrea Ziel, executive director of Women on Call (www.womenoncall.org). The organization matches volunteers who have specialized skills with nonprofit organizations with specific needs.
"If there's a cause that interests you, dip your toe in the water by volunteering on one occasion," Ziel suggested. "Then, you can always find ways to get more involved."
Start your own group
Lutherville resident Karen Singer, 52, is a lawyer by training, but volunteerism is a major part of her life. For many years, Singer's volunteer activities included serving on boards and fundraising. But when she turned 50, she realized that a missing piece of her volunteerism was doing hands-on projects.
Through Jewish Volunteer Connection, Singer initiated VolunTeams. VolunTeams are made up of individuals who work together at nonsectarian nonprofits on projects as needed. About 350 people currently participate.
"If you're too busy to make a long-term commitment to volunteering, but still want to contribute the time you do have and volunteer with others, VolunTeams can be an ideal solution," said Singer. "It provides each volunteer with flexibility to decide how often they serve."
VolunTeams have worked with such community organizations as Moveable Feast, Bookworms Reading Program, and Kids Safe Zone. To volunteer, call (410) 843-7490, visit www.jvcbaltimore.org, or join the Facebook page of Jewish Volunteer Connection.
Sari Gross, who is 56 and lives in Fells Point, calls herself a "professional volunteer." Twenty-two years ago, Gross started "Flames of Giving" (www.flamesorgiving.com) in response to her children's desire to help other children in need.
"We contacted several social service agencies and asked for a list of [children] who would like holiday gifts," said Gross. Gift tags were created that looked like flames…representing the lights on a Christmas tree and the flames of a Chanukah menorah. Flames of Giving volunteers provide almost 2,000 gifts each holiday season.
"Volunteering is as much about the volunteer as it is about the recipient," said Gross. "It gives us a sense of abundance and optimism, and our own problems get a lot smaller."
Opportunities, even from home
Start exploring volunteer opportunities that mesh with your personal interests.
If you love kids, for example, consider becoming a Foster Grandparent to mentor children with special needs, or a Court Appointed Special Advocate (CASA), to make sure that a neglected or underserved child doesn't get lost in the legal system.
You can help fellow older adults by becoming a Senior Companion. These are volunteers 55 and older who offer help and friendship to adults who have difficulty with daily living tasks, such as shopping or paying bills, while at the same time giving families and professional caregivers a much-needed break.
For those who are passionate about the arts, consider becoming a docent at a local museum. And organizations like Baltimore's Senior Box Office have numerous opportunities related to the theatre — from marketing and publicity, to ushering (which comes with complimentary tickets).
And don't think that volunteering needs to be done on a face-to-face basis to make a difference. With today's technology, you can volunteer right from your home computer or mobile device.
Many organizations welcome volunteers working from home to take on such projects as creating web pages, writing newsletter articles, testing online tools, translating text from one language to another, moderating or facilitating online discussion groups, and posting to social media.
While you do need Internet access, not all virtual volunteering opportunities are technology-related. Virtual volunteers can also provide legal, business, medical, financial or other expertise/advice; tutor or mentor students; monitor the news; or manage other online volunteers, to name just a few possibilities.
There is no one database that lists all volunteering opportunities, but these can get you started:
VolunteerMatch, which connects volunteers with organizations by interest and geographic location;
Idealist (www.idealist.org), a searchable database that connects professionals and volunteers with organizations;
Create the Good (www.createthegood.org), an AARP project to encourage baby boomers and seniors to share their skills, knowledge and experience in their community;
Innovations for Learning (www.innovationsforlearning.org), an online volunteer tutoring program to teach low-income first-graders to read; and
iCouldBe (www.icouldbe.org), which seeks online mentors for at-risk middle and high school students.
Additional reporting by Danielle Rexrode.