Cover Stories
Don't retire; reinvent yourself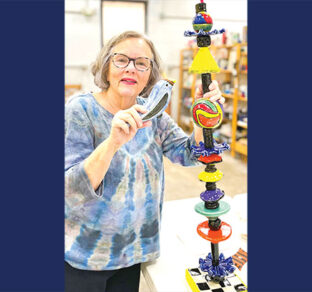 Paula Coupe retired from a federal job and now spends her days crafting jewelry and pottery, attending book and movie clubs, and making new friends. Other retirees choose to volunteer or find part-time work, or become activists. The key to finding happiness after you retire, according to several locals like Coupe, is discovering what you love and reinventing yourself accordingly.
Photo courtesy of Paula Coupe
After Paula Coupe retired from her 30-year government career, she spent her first six weeks organizing recipes. Once rested, the Alexandria resident set about finding a new life.
Now she's making jewelry, pottery and lamps, even entering juried shows. "I became a new person," Coupe said.
Another Northern Virginia retiree, Arina van Breda, who practiced medicine in Northern Virginia for 36 years, planned extensive travel after her retirement in 2019. But when the pandemic halted those adventures, she instead pitched in to administer vaccines — an experience that she says gave her the "volunteer bug."
Most people nearing retirement look forward to freedom and downtime. After all, you can sleep in, have control over your time, and grocery shop during less crowded times.
But transitioning from a decades-long career can be daunting. While avoiding commutes and enjoying leisurely reads are luxuries, most retirees soon want to do something constructive.
Typically, in their early retirement, people try to complete their travel bucket list. But as they age, they travel less.
Prince George's County resident Karen Morgan, a former attorney for the Maryland legislature, cautioned, "When your job's suddenly gone, you need to fill that space and do more than just sit around."
Before retiring, many people focus on financial planning but fail to plan for their personal fulfillment. An AARP study found that 57% of retired adults never thought about taking care of their post-career emotional health.
Some, fortunately, focus on reinventing themselves. At a workshop Coupe attended before retiring from the U.S. Department of Commerce, advisors told her, "'You are not defined by your job. You can reinvent.' I took this to heart," Coupe said.
Work part-time or volunteer
Some people transition into retirement by working part-time, especially if they need more income or Social Security credits.
Coupe, for example, stocked plants in a garden shop for a while. She also worked as a Safeway secret shopper. Assigned a store, she asked employees for samples, or asked questions like "What is that weird fruit?" She checked the outside premises for trash, and tallied whether clerks greeted shoppers and noticed objects left in carts.
Between 10% and 15% of retirees feel bored, alone and lacking a sense of purpose, said Patty David, AARP's vice president of consumer insight, citing its recent survey of more than 3,000 people ages 50 to 74.
David touts the value of volunteering: "Many studies show that volunteering can lower blood pressure, improve brain health, fend off cognitive decline and improve memory," she said. She recommends searching AARP's Create the Good website (createthegood.aarp.org) for a list of local volunteer opportunities.
When attorney Cindy Lewin, of Arlington, Virginia, retired after a 40-year legal career, she said to herself, "It's not 'retire from. It's retire to.'"
Although Lewin had no teaching experience, she saw a recruiting flyer in a library and now teaches conversational English to immigrants from Mongolia, Afghanistan, Ukraine, Kazakhstan, China and Saudi Arabia.
Learning about their sacrifices "gives me perspective," Lewin said. "Be open to trying new things," she suggested.
Lewin also is a "walking school bus," a national program for seniors to walk elementary children to school, highlighted on the CBS Evening News last year. She likes the exercise, the intergenerational connections, and reducing auto pollution.
Enhancing "brain health and ego" is important, she believes. "You learn about yourself…Those are real issues as you leave the working world behind."
Political activism
After leaving the working world in 2012, attorney Laura Loeb, who lives in Potomac, Maryland, joined the board of Join for Justice, a Jewish social justice organization.
She trains people, including rabbis and cantors, in community organizing for social change, promoting, for example, healthcare for all and making congregations more welcoming for people with disabilities. She also raises money for brain tumor research and helps elect women to public office.
"I wanted something else to give my life a little more meaning," Loeb said. "I have found my groove."
After radiologist van Breda retired, she met Congressman John Lewis and was so inspired by his voter registration campaigns that she started volunteering for the League of Women Voters' Fairfax chapter. In 2021, the group registered 5,000 new voters in the county.
She takes registration materials to farmers markets, Metro stations, festivals and food banks, and attends new citizens' swearing-in ceremonies.
Now the director of voter registration, van Breda matches volunteers with events. To her, registering people to vote is "constructive. It gives meaning," she said.
Learn something new
Many retirees also take classes — from learning a new language to military history to knitting.
Capitalizing on her creative streak, Coupe studied metalsmithing, mosaics, ceramics, fiber art and flower arranging, all of which were new and challenging to her.
"I'm out of the house every day," she said.
Learning new skills is a scientifically proven way to keep cognitive ability sharp.
"Our brains, like our other organs, must be properly cared for and nourished…Older adults with positive age beliefs, who might be inspired to learn to juggle, or participate in a square dancing class, or practice their high school French, might see a significant boost in neuronal growth," observed Dr. Becca Levy in her 2022 book Breaking the Age Code.
Make new friendships
Maintaining social connections can help counter feelings of isolation that may arise in retirement.
In addition to meeting people in art studios and classes, Coupe attends two book clubs, a coffee group, and a Sunday night dinner-and-movie group that has screened 97 films since 2020.
Lewin has met new friends singing weekly in Arlington's Community Chorus. Morgan made new friends volunteering with AARP and taking walks with a group called Girl Trek.
Friendships enhance well-being, say experts like University of Maryland professor Marisa G. Franco. Loneliness is associated with higher rates of depression, anxiety and suicide, according to the Centers for Disease Control, and its incidence rises with age.
Do what makes you happy
Finding your niche is key. "Do the things you always wanted to do," Coupe suggested. "You don't have to cook every day. Do what you enjoy and makes you happy."
As Loeb put it, "Find what makes you happy and gives you purpose. Then find organizations that do that. There's no shortage of good work going on."
Walks and exercise can be therapeutic. "Take care of your body and your mind," Morgan advised. "Getting outside in nature is huge."
Maintaining both the body and brain is vital in retirement, van Breda agreed. "I make sure to make time for both exercise and some relaxing down time every day."
Every night, van Breda makes a list of tasks and meetings for the next day and includes personal priorities: play the piano, for instance, take a walk and meet friends.
"Never say 'There's nothing to do.' You can always help someone else," van Breda said.