Arts
Drawing winners have eye for fine detail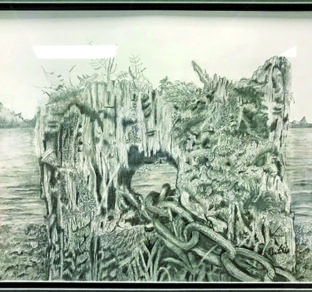 Old Piling in Alaska by Ruth Sentelle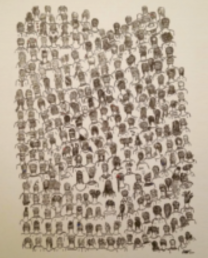 Everyday People by Angela White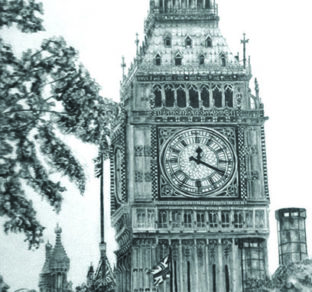 Big Ben by Patricia Grimes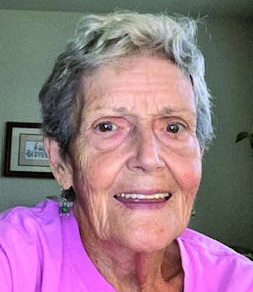 Ruth Sentelle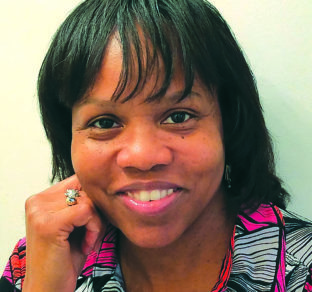 Angela White
A well accomplished drawing can leap off the page. Although Leonardo's famous drawings of the human form are no more than ink on paper, their faces and muscles seem to have three-dimensional depth and texture.
The winners of the Drawing category have a similar way with pen and paper. This year, all the winners, including the honorable mentions, are women.
First Place
Ruth Sentelle
Gaithersburg, Md.
On an Alaskan cruise years ago, Ruth Sentelle visited a coastal village. She noticed the remnants of a dock on dry land and took a photograph of the stranded pilings.
"Over the years the water had receded," said Sentelle, now 80. "I thought that it had such character to have endured all that time. I just wanted to capture its personality and character, so I decided to draw it."
Sentelle must have done something right. Juror Andrei Trach said he selected her drawing for first place because "it wasn't just an ordinary piling; it had a lot of character to it."
Although Sentelle had been drawing throughout her life, it wasn't until the 1990s that she started taking classes at the Gaithersburg Art Barn near her home.
"It's a great community of artists," she said, noting that she met good friends through the classes.
Sentelle draws for pleasure, but she was pleased to receive a check with her first-place prize from the Beacon for her graphite pencil drawing.
"It was overwhelming to get a monetary prize. My word, when that check came, I was just floored," Sentelle said. "It's very generous and a good incentive for other people to enter the contest."
Second Place
Angela White
Alexandria, Va.
Ever since Angela White was in high school in Chicago, she knew her life would have to balance both a career and a passion for art. White decided to pursue a career in law enforcement but kept creating art when she had time.
"I went to school for criminal justice, but I had this other passion," she said.
In 2002, when White was recovering from surgery, she started drawing to survive. She sketched angels, she said, "when I was in the hospital, looking out the window at the clouds. That helped get me through the surgery and the pain," she said.
The thrill of drawing intrigues White, now 50 and retired from a career as a Chicago law enforcement officer.
"I find it relaxing, but it's also an adventure for me…I don't know what it's going to be until the end, so that feels exciting, like an adventure."
White's drawing "Everyday People," which won second prize, depicts the backs of dozens of people's heads. It "stood out," said juror Trach, calling it interesting and different. "It's about everybody being an individual," Trach said.
Looking at everyday people is one of White's pastimes. With a photographic eye, she observes others and later sketches their heads — usually a profile or the back of their heads rather than a face.
"If I'm at the grocery store in line, instead of looking at the food, I'm looking at the heads, drawing them [in my mind] while I'm watching someone," White said.
Third Place
Patricia Grimes
Silver Spring, Md.
How long does it take Patricia Grimes, who is in her 70s, to complete a drawing? "Oh, about two hours an inch," she said, laughing.
Grimes' winning drawing, "Big Ben," drew the juror's attention because of its detail. "It caught my eye because it was very meticulous," Trach said. "It was clear [she] had spent a lot of time on it."
Grimes graduated from college with a degree in fine arts and a minor in teaching elementary school art. She worked as an art teacher at elementary schools in Montgomery County for 28 years. After she retired, she taught art to two-year-olds at a Maryland nursery school.
During her career and home life, she said, "I did a lot of arty things, but I never did [art] like I had done at school. When you have kids, you don't have time to do that stuff. So, I dabbled."
Later in life, she returned to art, taking a watercolor painting course at Montgomery College. "When I tried it, I thought, 'Oh, I can do things I want to do now,'" Grimes recalled.
Now Grimes lives in Leisure World in Silver Spring, Maryland, where she takes art classes. She took a drawing course and worked in the community's open studio on weekends.
To her surprise, she said, "I found I actually could draw again. It's a nice pastime…It's something that I like to do, and actually I'm not too bad at it."
Grimes enjoys drawing cathedrals, lighthouses and other architectural works. Her latest interest, she said, is clocks.
Her winning pencil drawing is based on a photo she took on a trip to London with her husband. "Big Ben" took her about two months to complete.
"I'm so picky," Grimes explained. "If it's a lot of detail, it takes a good while. I work on it a little at a time."
Honorable Mentions
Susan Anchors, Germantown, Md.
Sandra Cohen, Bethesda, Md.
Denise Dallatore, Gaithersburg, Md.
Chester Hall, Marriottsville, Md.
Barbara Katz, Pikeville, Md.
Julianne Mueller, Falls Church, Va.
Ruth Sentelle, Gaithersburg, Md.
LeAnne Sawyers, North Potomac, Md.
Angela White, Silver Spring, Md.
Gretchen Whitney, Chevy Chase, Md.
Helen Wood, Bethesda, Md.