Travel
Easton's lively arts scene near the shore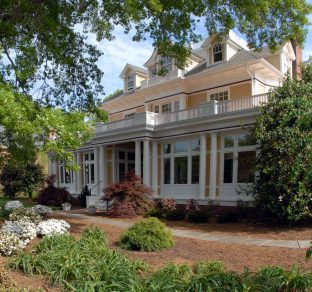 Maryland's Eastern Shore attracts boaters, crabs and tourists galore. But Easton, the historic seat of Talbot County, has neither beaches nor marinas. Unlike other towns near the bay, however, it has lots of art.
Movie buffs will flock to the Chesapeake Film Festival, Sept. 24 to 26. The third annual edition of this homegrown event promises a mix of independent productions, documentaries and golden oldies.
Inspired by the Sundance festival in Utah, a group of Maryland filmmakers put together an eclectic series of screenings and talks with movie directors.
The annual Waterfowl Festival in November makes Easton the capital of duck carving. Twelve venues throughout town feature world-class paintings, sculpture, carvings and photography of waterfowl.
This year marks the 40th anniversary of the Waterfowl Festival. For three days, Nov. 12 to 14, the entire town will celebrate the fall season. With migrating Canada geese flying overhead, colonial streets are closed and historic buildings decorated with natural greens.
While the exhibitions and competitions are ticketed, the festive atmosphere attracts families walking dogs, sampling food at open-air stands, and enjoying a sense of community.
A three-day pass for $10 gets you in to events. The collectible decoys fetch hundreds of dollars; talking to the carvers is free.
Exploring Easton
Concentrated on Dover Street, art galleries, restaurants, inns, and the Avalon Theatre make for a lively mix. A good place to start your walking tour is the Talbot County Visitors Center, one block over on Harrison Street.
Once home of the fire company, the tiny tourist office displays memorabilia of the 300-year-old community, including clothing, products manufactured in the area, and items from the plantation where Frederick Douglass was a slave.
On a quiet summer weekend we encountered few visitors. Sidewalk cafes and private galleries on the central plaza at Talbot County Courthouse (circa 1794) had a relaxed buzz.
The walkable center of Easton focuses on the historic Avalon Theatre. During the silent movie era, the Avalon hosted the premiere ofThe First Kiss starring Gary Cooper and Fay Wray, filmed aboard a skipjack fishing boat at St. Michaels in 1926.
Refurbished with touches of Art Deco decoration, the theater is run by a nonprofit foundation that presents live concerts as well as movies.
The 400-seat auditorium has remarkable acoustics, comfortable seats, an elevator and two bars. Upstairs, the Stoltz Listening Room is an intimate venue for jazz, bluegrass and country music groups. On the ground floor, Legal Sprits Tavern has a lively vibe at the corner of Dover and Washington Streets.
Some of the Chesapeake Film Festival's movies will screen at the Avalon.
Paintings by some of the area's profes­sional artists drew our attention at Grafton Galleries, 32 E. Dover St. Landscapes by David Grafton capture the essence of Eastern Shore life. And you may meet the artist in his studio next door.
Nearby, South Street Art Gallery hosts shows from across the country as well as local artists. Troika Gallery has impressive work by 33 local artists. Decoy collectors can check out sales at Studio 26, a new gallery on Dover Street.
The newest addition to the Academy Art Museum comes from collectors in New York City. Fifty works from the Vogel collection of American modernists, recently documented on PBS TV, were given to the Easton museum by the National Gallery of Art through a grant from the Maryland Arts Council.
An historic mansion reborn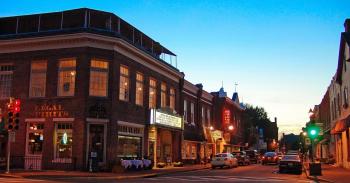 Our five-block walk in the historic area ended at Tidewater Inn's cozy pub, steps from tree-lined streets graced with fine examples of Tidewater homes.
Ronald and Shelby Mitchell drove down from Bethesda six years ago to discover a rundown mansion waiting to be reborn as the Inn at 202 Dover. Built almost 140 years ago, the stately Colonial Revival residence had been through numerous incarnations before falling into disarray.
Applying creative energy from former careers in advertising and law, the Mitchells brought the mansion back to life, adding a culinary hotspot and design details unique to Easton.
Featuring just four suites and one single bedroom, the Inn at 202Dover offers the best of past and present. Victorian and French antiques harmonize with a piano in the parlor that was created by enclosing porches.
Hosting a B&B inn brought out the Mitchells' artistic flair. Shelby's handmade doll houses are displayed in public rooms.
"We preserved the building's Victorian origins by theming suites to popular destinations of that era," Ron explained. Guests choose lavishly furnished Asian, French, English or African Safari suites with spacious parlor, full bath and distinctive décor. The Mitchells added a glass-walled conservatory to expand the dining room, now known as the Peacock Restaurant & Lounge. It is graced by a full-feathered bird found in an antiques shop down the street.
Open to the public, the Peacock adds music by a pianist for Sunday brunch. That brunch spotlights chef Mark Knipp, who hails from culinary powerhouses like the Inn at Little Washington, Va. Local farmers supply ingredients for his all-American menu.
Breakfast is Ron's specialty (ask for his buttermilk croissant French toast with orange calvados), included in the cost of your suite. Our host even met me at the Greyhound station in his vintage Mercedes. This is real small town hospitality.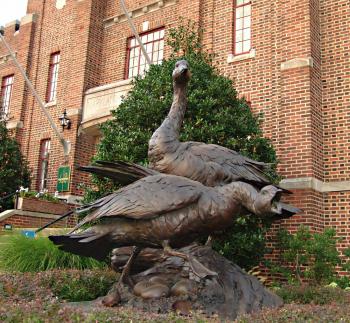 If you go
Eastonis an hour-and-a-half drive from Baltimore, located on Route 50 halfway between Annapolis and Cambridge. There is Greyhound bus service from Baltimore. However, the bus stop is not located in town, and a taxi has to be booked in advance.
For a community guide and calendar of events, visit www.tourtalbot.org or call (410) 770-8000.
Suites for two persons at the Inn at 202 Dover cost $450 per night weekends; $349 midweek, including breakfast. An a la carte menu featuring fall harvest fare from $12 is served in the Peacock Restaurant & Lounge: dinner Thursday through Monday from5:30 p.m., Sunday brunch from11 a.m. 1-866-450-7600, www.innat202dover.com.
Less expensive accommodations are available at the Comfort Inn, about five minutes from downtown Easton. Rates start at $149 a night. Call 1-800-228-5150.
The Waterfowl Festival requires tickets for indoor exhibits. Scheduled are world championship calling contests, decoy auctions, demonstrations by stunt dogs and retrievers, fly-fishing, and evening concerts. A three-day pass costs $10; parking and shuttle bus are free. For more information, go to www.waterfowlfestival.org or call (410) 822-4567.
For more on the Avalon Theatre, go to www.avalontheatre.com or call (410) 822-7299. The Academy Art Museum Gallery is open Monday and Friday from 10 a.m. to 4 p.m., Tuesday through Thursday 10 a.m. to 7 p.m. and Saturday 10 a.m. to 3 p.m. Admission is $3. It is located at 106 South St.. For more information, go to www.academyartmuseum.org or call (410) 822-ARTS.
For Chesapeake Film Festival program details, go online to www.chesapeakefilmfestival.com or call (410) 822-1012.
Bernard Burt is a Washington, D.C. travel writer and author of 100 Best Spas of the World.