Housing
Educational options around Baltimore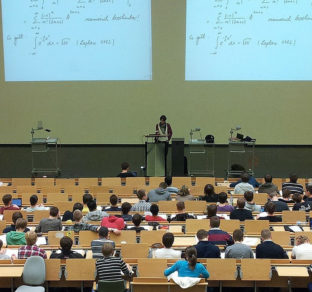 If you miss school — but not the homework or exams — look into the many continuing education programs offered around the Baltimore area. From aerobics to zoology, there is sure to be something to pique your interest.
Below we describe a few. Contact those of interest to find out costs and other details.
Osher Lifelong Learning Institute at Towson University
The Osher Foundation supports a national network of lifelong learning institutes on university campuses from Maine to Hawaii. The mission of the Osher Lifelong Learning Institute at Towson University is to offer adults 50 and older opportunities for continued learning, along with programs and activities for social and cultural enrichment in a congenial and supportive environment.
Courses are offered in such areas as the fine arts, movies, humanities, social sciences, natural sciences, languages and current events. There are book clubs, special interest groups and day trips available as well. To learn more, call (410) 704-3535 or visit www.towson.edu/osher.
Renaissance Institute at Notre Dame of Maryland University
The Renaissance Institute is an active group of more than 300 men and women over the age of 50 who are interested in pursuing lifelong learning and intellectual growth. Each year more than 100 non-credit courses, workshops and studio opportunities are designed and led by Renaissance members in two 13-week semesters.
Working with a campus-based director, the members plan, lead and enroll in a series of courses held on Tuesdays and Thursdays each spring and fall semester.
Courses include public affairs, literature, writing, history, philosophy, music, art, languages, t'ai chi, film, science, computers, water aerobics, dance and acting, and more. For more information, call Linda Kuehn at (410) 532-5351 or visit www.ndm.edu.
Kaleidoscope Lifelong Learning at Roland Park Country School
The goal of Kaleidoscope is to foster a lifelong love of learning within the entire RPCS and Baltimore communities. Programs include book talks; local, regional and international travel; creative pursuits; technology; culinary arts and personal development. For more information, call (410) 323-5501 or visit www.rpcs.org/compass.
Maryland Institute College of Art (MICA)
The School for Professional and Continuing Studies at this renowned art school offers a wide range of fine arts and design courses in the fields of photography, drawing, painting, ceramics and more. To learn more, call (410) 669-9200 or visit www.mica.edu.
Continuing Education at the Community College of Baltimore County (CCBC)
Life enrichment classes for all ages run the gamut from arts to boating, fitness, outdoor activities, crafts, health and wellness, hobbies, languages and more.
There is a separate Senior Institute, with courses offered in such areas as the arts, computer, history/politics, and humanities and culture. For more information, call (443) 840-4700 or visit www.ccbcmd.edu.
Women's Institute of Torah
The Rebbetzin Frieda K. Hirmes Women's Institute of Torah (WIT) provides continuing education courses and programs to the women of the Baltimore Jewish community. Courses and programs are designed to enhance personal knowledge and enrich one's Jewish experience. For more information, call (410) 358-2545 or visit www.witbaltimore.org.
Institute for Christian and Jewish Studies
The Institute for Islamic-Christian-Jewish Studies (ICJS) is a nonprofit organization that concentrates on disarming religious hatred and establishing models of interfaith understanding.
Founded in 1987 by an interfaith coalition of laity and clergy, the ICJS offers a variety of educational programs that highlight the distinctiveness of the Christian, Jewish and Muslim traditions, and confront the misunderstandings that have evolved in the communities. To learn more, call (410) 494-7161, or visit www.icjs.org.
Odyssey Non-Credit Liberal Arts Programs at the Johns Hopkins University
Odyssey has a wide selection of courses, workshops and lecture series delivered by JHU faculty and community experts. Personal enrichment programs are offered in fields ranging from science to art, writing to photography. For more information, call (410) 516-4842 or visit www.odyssey.jhu.edu.