Cover Stories
Elders take action on climate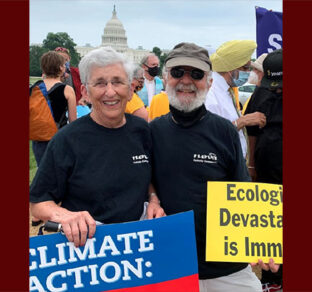 Arlington retirees Gloria and David Mog are fighting climate change together with many older adults in the DMV. As founder of the Virginia Chapter of the national group Elders Climate Action, Gloria, 80, organizes other retirees to demonstrate, contact Congress and write letters to the editor about environmental issues.
Photo courtesy of Elders Climate Action
Leslie Wharton is a self-proclaimed introvert, too shy in college to go to Vietnam protests.
Although she went on to a long career as a law firm litigator and at the Securities and Exchange Commission, she never pictured herself as an activist.
But when Wharton, now 72 and living in Bethesda, Md., took a sabbatical in 2007, she started reading about climate change and began to look for a way to combat what she sees as an existential threat.
In 2015, she learned about Grandparents Climate Action Day, sponsored by the national group Elders Climate Action. The event brings older adults to Capitol Hill to meet with members of Congress and encourage them to take action to cut carbon emissions.
Even though Wharton's office had a view of the Capitol dome, she said, "the idea of meeting with legislators was absolutely terrifying. But I held my breath and took two days off from work to take part."
Wharton has never looked back. Now retired, she chairs Elders Climate Action. The non-partisan nonprofit — which launched in 2014 and works to "inform, inspire and engage" action on climate change — today has thousands of members in 19 states, including Maryland and Virginia.
Concern about the future
After a summer of choking wildfire smoke, ocean surface temperatures that spiked above 100 degrees Fahrenheit for the first time, and the hottest day ever recorded globally, Wharton hopes more older adults will push for ways to stop the acceleration of climate change.
"Elders have the perspective of looking at their kids and grandkids and realizing they're looking forward to a future that's really different than we had growing up," she said. "I want to see younger generations to be able to live lives in security, not famine and floods."
Wharton also feels many of her fellow retirees have time to help address the issue. There are many ways to get involved.
Members of Elders Climate Action can join virtual campaigns as well as public events. Each month, the group holds a virtual welcome session to acquaint new members with the group and climate issues. It also holds monthly calls with guest environmental leaders on specific topics.
The group's Elders Promote the Vote project holds a weekly phone-based effort to help nudge environmentalists who don't vote to go to the polls.
In the Letters to Loved Ones in 2050 project, members write letters addressed to their grandchildren or great grandchildren letting them know how they helped when they realized how significant climate change is.
With the help of another nonprofit called Dear Tomorrow, the letters are shared on social media and websites to rally others to act now on climate change to benefit future generations.
The power of the "over 60" crowd
Elders Climate Action often partners with other groups to boost its effectiveness. One is Third Act, a group for older adults founded by environmentalist and author Bill McKibben in 2021.
Third Act focuses on pushing banks to stop investing in, and loaning money to, oil and gas companies. The group has 50,000 members on its mailing list. Some members are more than 100 years old.
"It must be said, kids are doing extraordinary work organizing around climate change," McKibben said in a video he made for PBS News Hour. "But there is something a little undignified about taking the biggest problem that the world's ever gotten into and asking junior high school students to solve it for you.
"Third Act is a new organization designed to get people over the age of 60 working to defend our climate and to defend our democracy. We started organizing Third Act because we started to understand how much power those of us over the age of 60 possess," McKibben said.
At 58, Lisa Finn admits she isn't quite in Third Act's demographic, but its message resonates with her. A resident of Alexandria, Virginia, Finn became active in environmental issues when her young adult daughter began protesting the Mountain Valley Pipeline — a natural gas pipeline system spanning 300 miles across Virginia and West Virginia.
"It kind of changed my life," she said of attending a rally against the pipeline, which activists say could harm waterways and wildlife habitat, as well as promote further greenhouse gas emissions.
Rocking chair rebels
Finn helped organize Third Act's Rocking Chair Rebellion on Pennsylvania Avenue in March. She was one of dozens of older adults who plunked down into decorated rocking chairs for a 24-hour protest against four banks in downtown Washington.
"I'm inspired by Third Age's focus on banks divesting in fossil fuels," she said. "The baby boom generation has a lot of money in those banks. We're focusing on options for people to get out of those banks," she said.
Finn said she's spent 10 hours a day on her Third Act work at times, attending Zoom meetings and getting up to speed on Google apps. "I've never done any of that before. It's a big learning experience for me," she said.
In addition to learning new skills, there's another bonus: the respect of her family. "My daughter is pretty happy with me," she said.
Frances Stewart, 68, a retired Navy physician and a volunteer with Elders Climate Action, also participated in the Rocking Chair Rebellion. A resident of Bethesda, Maryland, Stewart's introduction to the impact of climate change came when she was deployed to help with medical needs after Hurricane Katrina in 2005.
"One thing I remember was seeing houses that looked more or less intact, [but] had painted on walls the number of people who died there. It was a stirring image," she said.
"I realized that all the other good things we might do in other areas of our lives could be literally washed away if we didn't do something about climate change," Stewart added.
Despite the seriousness of the issue, Stewart said there are moments of levity. Elders Climate Action has also partnered with the group Moms Clean Air Force in an intergenerational rally on the National Mall, with participants who ranged in age from 18 months to 80 years old. Stewart dressed as a giant monarch butterfly for that event.
Stewart also works with local groups like Eco Action Arlington, the Fairfax, Virginia-based interfaith group Faith Alliance for Climate Solutions, and heads the Care for Creation team in the Northern Virginia Catholic community.
Stewart feels an obligation to leave the world a better place for the next generation. She praises younger people for organizing youth-led events, but wants to remind them that her generation has also had an impact on environmental policy, such as with the passage of the Clean Air and Clean Water Acts in 1970.
"For younger generations, some people feel a little abandoned [by their elders]. We created this mess and left it for them. Having allies from this generation helps young people not feel like it's all on them," she said.
'Don't get discouraged'
While the challenge to reduce carbon emissions to ameliorate climate change can be daunting, many older activists are hopeful that there's still time to make a difference.
Gloria Mog, 80, is the chair of the Virginia chapter of Elders Climate Action. "I want to tell younger people, 'You've got to remember it's a marathon. We're not in a sprint. Don't get discouraged. It's going to take time, even though we don't have a lot of time,'" Mog said.
"I think that's something older people really appreciate that younger ones don't; just the experience of organizing and working with the political system and committees and community groups. We've been doing that all our lives," she added.
Mog, who lives in Arlington, followed her family into climate activism. One son is the sustainability director for the University of Louisville, and her other son is married to an environmental journalist.
"I've been pulling back from other activities as I've become increasingly alarmed by how serious climate change is. It's crashing in on us as we speak," Mog said.
Alumni associations pitch in
Many college and university alumni associations are focused on the predicament, too.
Ellicott City resident Shiladitya DasSarma is 65 and president of MIT Alumni for Climate Action, MACA for short. The group began in Maryland five years ago and now has about 100 members here and others throughout the country.
MACA members started by writing to local and state elected officials as well as Maryland members of Congress to seek their support in fighting climate change.
This summer, MACA helped widen its message by forming a consortium with alumni environmental groups from Harvard, Yale and Stanford.
While MACA has members of all ages, DasSarma said older members are the most active because they have more free time, even if they are still working, like he is. (He's a professor of microbiology and immunology at the University of Maryland School of Medicine.)
DasSarma and other members of MACA are looking toward technology for solutions, "everything from batteries, to CO2 removal, to even non-carbon energy forms like nuclear fusion," he said.
"We have the technology to solve 80 percent of the problem; we just need to make the commitment to do it. We don't need any magic; don't need a miracle."
Leslie Wharton also has a sense of optimism, and sees working on climate issues as a way to make her last decades count.
"You retire and suddenly it's, 'What's my job?'
"With working on climate issues, what I have is purpose. I've discovered a way of being that makes me feel meaningful and connected," Wharton said.
"I do see a future. An enormous amount is happening around the world to try to solve this. An enormous part of the population is recognizing climate change and saying we have to do something."