Arts
Engaging performances for the holidays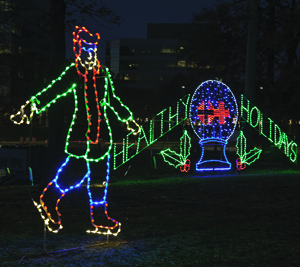 The annual Symphony of Lights, with its 300,000 sparkling bulbs, is on display at Symphony Woods through Jan. 1. All proceeds go to Howard General Hospital.
Photo courtesy of Howard General Hospital Foundation
Dazzling lights, Christmas carols, Hanukkah's greatest hits, Santa on a fire engine, twirling dolls, mice, soldiers and snowflakes, and one department store miracle are among the events on tap for county residents this holiday season.
The annual Symphony of Lights — whose 300,000 or so bulbs will illuminate more than 100 larger-than-life animated and stationary holiday creations — will begin to dazzle Sunday, Nov. 19 with a special walk-through event that will also include entertainment, giveaways and activities.
The lighting displays are set up at Symphony Woods, at the intersection of Broken Land Parkway and Hickory Ridge Road. Entrance fees are $20 per car or van with up to eight seats ($25 on Saturdays). The proceeds go to Howard County General Hospital.
Drive-throughs will begin Tuesday, Nov. 21, and continue though Jan. 1, Tuesdays through Sundays, from 6:30 to 10 p.m., and on weekends from 5:30 to 10 p.m.  These dates include Thanksgiving, Christmas Eve, Christmas Day, New Year's Eve and New Year's Day.
Among other special Symphony of Lights events will be a Twinkling Tots day on Monday, Dec. 4, where families are invited to roll their little ones in strollers and wagons to catch the light display. Other special events: Military Appreciation Nights, Dec. 7 and 14, when admission for those with valid military IDs will be reduced to $10, and Tail Lights Dec. 11, when walkers can be accompanied by their dogs.
The probable piece de resistance will take place on Sunday, Dec. 31, with the "Midnight at 7 New Year's Eve" celebration, which will be held in the woods at 7 p.m., when a walk-through will include family friendly entertainment and a close-up view of a fireworks display. For more information, visit http://bit.ly/symphonyoflights.
Seasonal music
Among the musical events that will highlight the holiday season locally is a Columbia Pro Cantare presentation of Handel's Messiah, at the Jim Rouse Theater, 5460 Trumpeter Rd., Columbia, on Dec. 3 at 7:30 p.m.
Tickets bought in advance are $23, $20 for students and seniors, and $10 for children from 5 to 15 years of age. (Tickets are $2 more at the door) Tickets can be ordered online at http://www.procantare.org, or by phone, (410) 799-9321 or (301) 854-0107.
The following Sunday, Dec. 10, Pro Cantare's Chamber Singers will present A Christmas Noel at Christ Episcopal Church, 6800 Oakland Milles Rd., in Columbia. The vocal concert, which starts at 3 p.m., will feature festive music from around the world. Tickets, in advance, are $15, $13 for students, and $10 for children under 15.
Also, on Dec. 10, the Encore Chorale of Columbia, comprised of singers age 55+, will hold a free holiday choral concert at the Owen Brown Interfaith Center, 7246 Cradlerock Way, Columbia. The 7 p.m. concert includes a variety of pieces, including "Nutcracker Jingle," "December Rose," "Hanukkah Flame," "Festival Gloria" and more. No tickets or reservations required. For more information about the chorale, visit the Encore website at http://encorecreativity.org or call (301) 261-5747 for more.
The Family Holiday Concert by the Columbia Orchestra will take place on Sunday Dec. 16 at 10:30 a.m. in the Jim Rouse Theater. The event will feature Christmas carols, Hanukkah songs, highlights from The Nutcracker performed by the Dance Connections school, and other holiday musical favorites. Tickets are $15 for adults and $10 for children.
Ballet and theatre
Speaking of The Nutcracker, the Russian Ballet Co. of Maryland, will stage The Nutcracker with all the dancing dolls, mice, soldiers, etc. on Saturday Nov. 25 at 5 p.m. and Sunday Nov. 26 at 3 p.m. Tickets are $30 at the door; $31 if paid with a credit card.
For theatergoers looking for staged holiday cheer, Toby's Dinner Theater is presenting, through Jan. 7, a musical adaptation of Miracle on 34th Street, based on the famous film. You may remember that movie introduced a 9-year-old Natalie Wood to the world as the young girl who doubts the existence of Santa Claus until guess-who with a long white beard changes her mind just before Christmas at Macy's toy department in New York City.
Trains and fire engines
Model trains will be running continuously in the Holiday Train Garden, at the Gary J. Arthur Community Center, 2000 MD Route 97 in Cooksville, from Sunday, Nov. 19 through Jan. 14. Operating hours are Mondays through Saturdays, 7 a.m. to 9 p.m., and Sundays, 9 a.m. to 6 p.m. For more information, call (410) 313-4840.
And for the children, whatever age, comes the following announcement from the Ellicott City Volunteer Fire Department: "Every year in December, Santa makes a special stop in Ellicott City for about two weeks. During these two weeks, Santa trades in his reindeer for a fire engine to pull him around the neighborhoods to visit the children of Ellicott City…Each year the schedule for neighborhood visits will be posted at www.ellicottcityvfa.com. Any changes in the schedule will be announced both on the website and on Facebook."