Cover Stories
Enjoy being a student again — Baltimore Edition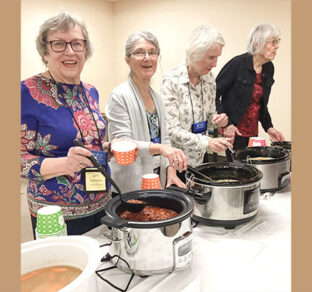 In a stew? No, it's a class about soup at the Renaissance Institute at Notre Dame of Maryland University, where students studied, wrote about and eventually prepared soups for each other. Many lifelong learning and school programs in our area offer a variety of in-person and virtual classes for the 50+ population.
Courtesy of Renaissance Institute at Notre Dame of Maryland University
As the kids go back to school this fall, you can almost smell those new pencils and feel the excitement of learning something new.
Many older adults in Baltimore return to school this time of year, too. Hundreds of classes in our area are affordable or even free for older adults, and they're available online or in person.
Lifelong students say these classes introduce them to new ideas and new friends. Ask Elizabeth Fanto, 86, who has been teaching and taking classes at Renaissance Institute at Notre Dame of Maryland University for more than 20 years.
"The first year I was retired, I was bored to tears. My husband and I [started taking classes], and it just opened up a whole world for us," she said.
"There's such a wonderful social aspect. You make friends. For anyone who's living alone, it's just a boon."
Take a class, teach a course
The Renaissance Institute welcomes amateur teachers. Fanto teaches mostly writing classes, as many as five in one semester.
"The idea is that people who have a passion for something share it with other people. We teach ourselves," explained Sharon Harwood, a retired teacher in her 70s who teaches a popular Shakespeare course.
Baltimore photographer Lewis Katz began teaching photography classes after he retired from the travel business.
"I got the bug and really did enjoy it," said Katz, 65, who has been teaching at Odyssey at Johns Hopkins University and Smithsonian Associates for more than 10 years.
And the best part? Most lifelong learning classes have no tests, papers or grades — which takes the pressure off of teachers as well as students so they can get to know each other.
"I enjoy teaching; I don't necessarily enjoy grading tests and papers," said Nicholas Fessenden, who teaches history classes at CCBC and the Osher Institute at Towson University. "This is just for fun, so it's very relaxed."
For some retirees who teach continuing education classes, it's the connection with the students that makes teaching so worthwhile.
Don and Jenny Killgallon, retired teachers who live in Cockeysville, have taught classes at Johns Hopkins' Odyssey program for more than a decade. The two octogenarians have co-authored 22 books and teach three classes a year.
"We have fun every time we teach a lesson," Don Killgallon said. "We thoroughly enjoy the experience, and I think our students do as well. We learn a little bit about their lives and…they write some really wonderful things. It keeps us busy, and it's fun."
Here are some continuing education programs for older adults in the Baltimore area:
Osher Lifelong Learning
Both Johns Hopkins and Towson University offer non-degree classes to people over age 50 through the nationwide Osher Lifelong Learning Institute program. Osher also offers weekly classes at Edenwald Senior Living in Towson as well as other Maryland retirement communities.
Osher at Towson University: Osher at Towson's courses are taught by seasoned professors, many of whom taught at local schools.
This fall, Osher at Towson offers a mix of in-person and online classes about film, science, philosophy, comedic plays and every period of American history. In-person classes meet at Loyola Graduate Center, 2034 Greenspring Drive, Timonium.
Flip through Osher at Towson's full fall course catalog at bit.ly/OsherTowson. Find out more by email at osher@towson.edu or call (410) 704-3688.
Osher at Johns Hopkins: Hopkins has been offering classes to retirees since 1986 with the Evergreen Society, now known as Osher at JHU.
Classes, taught by Hopkins graduates and other luminaries, are available both online and in person. The in-person classes are held on Tuesdays and Thursdays at Grace United Methodist Church, 5407 North Charles St., Baltimore.
For more information or to request a course brochure, visit osher.jhu.edu, email osher@jhu.edu or call (301) 294-7058.
Odyssey at JHU
Odyssey at Johns Hopkins University, run by the alumni association, offers non-credit classes via Zoom. Retired professors from Baltimore universities and colleges all over the country teach a wide range of courses about history, photography, literature and writing — even how to write "your awesome obituary."
Hopkins alumni get 80% off tuition. Learn more at odyssey.jhu.edu or email odyssey@jhu.edu or call (410) 516-1205.
CCBC
The Senior Adventures in Learning program at Community College of Baltimore County offers classes online as well as at its campuses, retirement communities, community centers and Baltimore County Senior Centers.
One-day programs include walking tours such as "Gargoyles Galore," as well as "Lunch & Learn" programs that include class and lunch at Blue Stone, Pappas, Carrabba's, Glyndon Grill or Michael's Café in Hunt Valley.
Most CCBC courses are taught by retired teachers and professors with years of experience. However, there are no grades or tests. Tuition is free for people over age 60 (but class fees may apply).
For more information or a course catalog, visit bit.ly/CCBCseniors or call (443) 840-4900
Renaissance Institute
Since 1989, the Renaissance Institute has offered classes to people 50 and older at Notre Dame of Maryland University's campus, located just north of Hopkins.
Additional classes are also held on Zoom, so students from all over the country can study literature, art, fitness, language, writing, folk dance and more.
Institute students get access to the campus library and fitness center, and can download Microsoft Office 365 at no extra charge. Its teachers are both retired professional educators as well as amateur teachers.
View the fall catalog at bit.ly/Renaissancefall. For more information, contact renaissance@ndm.edu or call (410) 532-3162.
Kaleidoscope
The 50-year-old Kaleidoscope Lifelong Learning program at Roland Park Country School offers creative writing and meditation classes as well as fitness classes in pickleball and tennis. All classes take place on campus at 5204 Roland Ave, Baltimore.
For details and a course schedule, email info@rpcs.org, visit rpcs.org/community/compass/kaleidoscope or call (410) 323-5500.
MICA
Maryland Institute College of Art's Open Studies program has offered classes for non-degree-seeking "curious creatives" for more than 20 years. Virtual and on-campus classes cover painting, sculpture, natural dyes, ceramics, sketching and more.
Classes are held on Zoom or in person at 1300 W. Mt. Royal Ave., Baltimore. For more information, visit Openstudies.mica.edu or contact the Office of Open Studies at openstudies@mica.edu or (410) 225-2219.
Senior Planet by AARP
If you're at least 60, Senior Planet's live online classes are available for free no matter where you live.
Take a morning stretch class, learn more about your smartphone or smart TV, take a virtual museum tour, or take part in a free discussion with other older adults.
To sign up, call the Senior Planet hotline at 1-888-713-3495 or visit seniorplanet.org/classes. The closest in-person classes are offered in Montgomery County, Maryland.
Smithsonian Associates
With a vast offering of courses, day trips, multi-day tours and lectures, Smithsonian Associates is the largest museum education program in the world.
Classes cover art, studio art, literature, writing, art history, history, science, film and more. Most classes are streamed live, so you can watch from any device. Some classes are offered in person in Washington, DC.
For more information, visit SmithsonianAssociates.org, email CustomerService@SmithsonianAssociates.org or call (202) 633-3030.