Travel
Enjoy the simple life in modern Sweden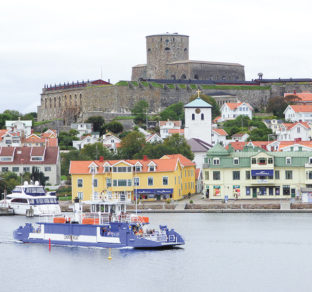 Quiet fishing villages such as Marstrand, above, line the West Coast of Sweden, a region famous for its open spaces and fresh seafood.
Photo by Don Mankin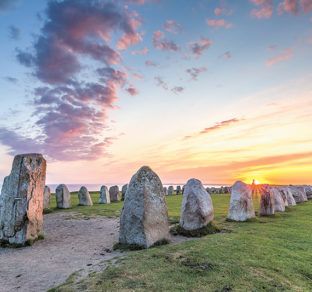 Built an estimated 1,400 years ago, the windswept monument of Ales stenar in Southern Sweden brings to mind England's Stonehenge. The Swedish site's 59 stone megaliths, arranged in the shape of a ship, may have been used to observe cycles of the moon.
Photo by Bernhard Klug, Dreamstime
[Editor's Note: Given the worldwide reach of the coronavirus and the fact that COVID-19 cases in Sweden and elsewhere are still rising, this is not the time to travel there, or anywhere, for enjoyment. 
Please enjoy this article as armchair entertainment and for planning your future travel in healthier times.] 
Sweden has been much in the news of late. First, it was teenage activist Greta Thunberg scolding adults for trashing the planet. 
More recently it's been the country's controversial no-quarantine approach to the COVID-19 pandemic. 
Its reputation, however, has long been in the vanguard of progressive lifestyles, social innovation and avant-garde experimentation, and is now heading "back to the future" by focusing on sustainable living and eco-friendly lifestyles. 
This past fall, my wife and I saw both sides of Sweden — futuristic art and technology coupled with a pervasive desire to return to nature. 
Our week-long road trip to West and Southern Sweden was my second trip to the country. My first was in 1969 when I purchased a Volvo in the U.S., picked it up at the factory in Gothenburg, and drove it for three weeks throughout Scandinavia. 
Fifty years later, with help from Volvo and the tourism boards of West Sweden and Skåne, the southernmost county in Sweden, I had the chance to explore parts of the country I missed on my first trip.
Oysters and art in the West
The first morning after arriving in Gothenburg we picked up a new hybrid Volvo with a hi-tech navigation system at the factory on the outskirts of the city and headed north to the Bohuslän Coast — the rugged, rocky, indented coastline to the north.  
It didn't take long to get used to the Volvo's new-fangled gadgetry, and soon I was cruising along like a local. Lulled by a smooth, effortless ride that made 80 mph feel like 50, I even got a speeding ticket.
We made our way up the coast to Everts Sjöbad, a guesthouse near the town of Grebbestad, for our first taste of Sweden's back-to-nature revival. 
There are only six simple rooms in this weathered former boathouse, all with access to a deck where guests can eat simple, healthy meals or just gaze over the water to the rocky islands offshore.
The first activity on our agenda was an oyster-shucking lesson from Hanna, our host, on her father's classic wooden fishing boat. We chugged around the rocky bay, nothing in view to suggest that we were in one of the most modern, technologically advanced countries on Earth. 
Hanna did most of the shucking; I did most of the eating. I washed down the oysters, plucked from the water just minutes before, with a bottle of the local oyster stout. You can have champagne with your oysters, but I'll take a bottle of oyster stout on a fishing boat any day.
After a sunny four-mile walk into Grebbestad and back, two huge platters of seafood with crab claws, langoustine, mussels and prawns, plus various accompaniments, were waiting for us outside our room. We took our time working our way through the meal as we sat on the deck and watched the sunset. 
Before leaving West Sweden, we visited a scenic sculpture park on the island of Tjörn. We wandered for over an hour through Sculpture in Pilane's fields of heather, gaping at the collection. 
All of the pieces were interesting, many dramatic, but the highlight was the gigantic head of a woman by the Spanish artist Jaume Plensa. It looks like a marriage between the elongated faces painted by Modigliani and the massive stabiles of Alexander Calder.
Vineyards of Southern Sweden
From the sculpture park, we headed four hours south to Skåne. Our first stop was Mölle, a 19th-century fishing village that was transformed into one of Sweden's first seaside resorts by its scandalous, mixed-gender beaches. Sweden, and indeed the rest of the Western world, has come a long way since then.
Just a few minutes from Mölle is Arild's Vineyard, with rows and rows of grapevines, wine vaults from Roman times and 16th-century farm buildings. 
Fine wine is not what you would normally associate with Sweden, so I was pleasantly surprised by the quality of the wine served at dinner. I enjoyed several more glasses to confirm my initial impression. 
Sweden's Stonehenge
For a glimpse of an even simpler time, my wife and I made our final stop of the week-long trip at the megalithic Ales stenar (Ale's stones) monument — ancient stones several feet high arranged in the shape of a ship, probably the burial site for somebody very important. 
It's a short but steep hike to the stones in a grassy meadow on a bluff overlooking the sea. In a trip that featured spectacular scenery, this was some of the best.
It was late afternoon when we started our hike. The sun was low in the sky, and the stones casted long shadows across the meadow. We coould imagine that we were living 1,400 years ago, worshipping, watching the sun rise, or fasting for spiritual enlightenment (well, maybe not that).
The hike to Ales stenar essentially marked the end of our trip. I did not realize it at the time, but that hike also marked the end of my traveling for a while, at least until a vaccine for COVID-19 becomes available. 
When we all emerge from our pandemic cocoons and start thinking about traveling again, there will be lots of destinations competing for our dollars and time. 
Despite its radical and potentially risky approach to the pandemic, I recommend Sweden. Not just because it's safe, clean and beautiful. But also because it offers a peek at a possible future and how we might return to a simpler, sustainable life — and enjoy ourselves while doing it.  
If you go
British Airways, Air France and SAS have one stop, round-trip flights from Washington, D.C., to Gothenburg for around $1,000. Check cdc.gov for current travel restrictions.
Getting around: With Volvo's Factory Delivery Experience, you can make arrangements for the purchase of a new car in the U.S., pick it up at the factory just outside Gothenburg, drive it around for as long as you want, and drop it for shipment back to the U.S. See https://tourist.volvoprograms.com for more info.
We enjoyed our stays in Gothenburg at the Hotel Eggers (hoteleggers.se/en/), Grebbesta's Everts Sjöbod (evertssjobod.se/en/), Mölle's Hotel Kullaberg. (hotelkullaberg.se), and at Arild's Vineyard (arildsvingard.se).
This trip was hosted by Volvo, West Sweden Tourist Board and Tourism in Skåne. For more information, photos and details on what to do and places to stay and eat, visit Don's website, adventuretransformations.com.