Travel
Enjoying an 'untour' to historic Scotland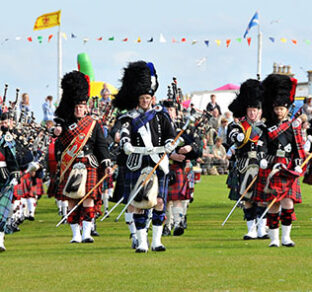 Bagpipers perform at the Nairn Highland Games, about 30 minutes from Inverness, Scotland. At the annual games, spectators watch amateur athletes toss long poles called cabers, hurl shotputs and participate in tug-of-war competitions.
Photo © Franco Ricci | Dreamstime.com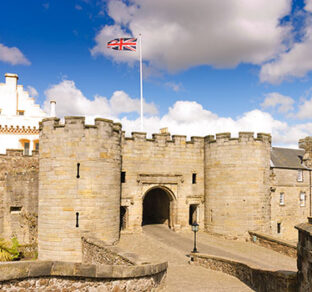 Stirling Castle, built in the 12th century, was the childhood home of royals such as Mary, Queen of Scots. Every year more than half a million tourists visit the famous castle, located an hour from Edinburgh. Scotland is home to more than 1,500 castles.
Photo © Jeffrey Banke | Dreamstime.com
In 1093, the monarch of Scotland directed a group of men to race up a steep hill. The winner would become his royal messenger. From that kingly contest evolved what today is known as the Highland Games.
During a recent visit to Scotland, my wife Fyllis and I watched in awe and admiration as burly men wearing colorful tartan kilts competed in throwing logs called cabers, tossing heavy metal balls attached to a wooden pole, and participating in other athletic events, some familiar and others unlike any I've seen before.
Marching bands playing bagpipes — yes, the men also wore kilts — thrilled the onlookers. Nearby stood stately castles, some of which were built well before Columbus set sail for the New World, and charming towns, each with its own unique stories to relate.
Our trip focused on the Highlands and Central Scotland, two regions that share many similarities.
Both are home to craggy mountains, rolling farmlands dotted with grazing sheep, the still waters of lochs (lakes), and castles that overlook deep valleys from their hillside perches. Both areas are also replete with fascinating history and provide an inviting list of things to see and do.
For example, Stirling Castle is located in a city of the same name that's known as the "Gateway to the Highlands." There, actors in period attire bring the palace's history to life as they describe its colorful past.
The Royal Palace looks much as it did when completed in the 16th century. Told to glance at the ceiling, I admired original wood-carved medallions that depict images of kings, queens and other notables.
Such reminders of history are everywhere. Doune Castle dates back to the 13th century. Its fortress-like façade appeared in the film Monty Python and the Holy Grail and, more recently, in the "Outlander" TV series.
In few other places we've visited does the past coexist with the present so naturally and seamlessly.
Inverness and beyond
Exploring Scotland's cities, towns and hamlets gave us a close-up view of the past.
Inverness sits astride the Ness River, whose source is the loch where the fabled monster supposedly resides. This is a welcoming, walkable town with many cozy restaurants and shops.
A personal favorite was the Victorian Market, which retains much of its original ornate splendor from 1891. Historic photographs line the walls, and independent purveyors — a butcher, fishmonger, watchmaker and some 30 others — continue to ply their wares.
Dunblane (population about 9,000) stands on the banks of the Allan Water (River Allan), which in the past powered factories and mills.
Exhibits at the compact but outstanding Dunblane Museum trace the area's history. I found especially fascinating the collection of "beggars' badges," which in the 15th century identified indigent people who had permission to plead for money.
The pleasant Darn Walk trail alongside the river links Dunblane with the Bridge of Allan, a 19th-century spa town that traces its history back to a hillside fortress built during the Iron Age.
Edinburgh's architecture
Contrasting with such small towns is Edinburgh (pronounced ED-in-borough), the magnificent capital city.
Its Old Town area earns its accolade as "the heart of Scotland's capital." Stretching a mile through the city center, its stunning architecture serves as backdrop to an active street life. Entertainers attract crowds of passers-by, and street performers add music to the setting.
Edinburgh Castle overlooks the Royal Mile, as it's known, from a hilltop that has served as a defensive fortress since ancient Roman times.
At the opposite end of the road is the Palace of Holyrood, the official residence of the English monarch in Scotland. King Charles III spends one week there each summer. Unfortunately, that's not when we were there, so we couldn't drop by for tea.
Another favorite site for me was Real Mary King's Close, a narrow underground thoroughfare that provides a realistic immersion in the past.
In the mid-17th century, Edinburgh was confined primarily within its security walls, and housing was built in small thoroughfares called closes, a Scottish word for alley.
Real Mary King's Close is named for a merchant who lived there for a decade (1635-1645), along with about 600 other people. The tour delved into Mary's life, those of people from all social classes, and horror tales about Edinburgh's most deadly plague.
Driving through the countryside
Another very different destination that should be on a visitor's wish list is the Trossachs, an area of heavily wooded hills, yawning valleys and rocky peaks. This landscape in many ways represents a microcosm of Highlands scenery.
While our visit consisted of a self-
driving tour and hike, other activities include animal and bird watching, fishing, and enjoying a boat ride on a loch.
History lovers may check out prehistoric sites including rock markings, burnt mounds, and crannogs — artificial islands built in lakes and used as dwelling places.
If you go
We visited Scotland with Untours, whose "Live like the locals" motto describes its unique approach. Untours offers the advantages of independent travel along with planning and on-site support similar to a tour.
Accommodations are never in hotels. We spent one week in a comfortable flat (apartment) in a building that had been a church dating to 1837, and another in a former wool mill overlooking the small river that had powered it. Prices for a two-week stay of this type begin at $5,816 for two, depending on the choice of accommodations.
We received a wealth of helpful pre-trip information, use of a rental car, and a first-day briefing and mini-tour at each location from the on-site Untours representative, who was also available to provide help and information throughout our stay.
We could choose to cook our meals in the kitchen of our flat, which we enjoyed on occasion, or dine at nearby restaurants. In Inverness, at Jimmy Badgers (26 Church Street), we dined on mussels in garlic sauce served with crusty dipping bread ($11) and curried monkfish with two side dishes ($18).
Darts and a juke box help make the Village Inn in Dunblane (5 Stirling Road) popular with residents. It offers both familiar fare like hamburgers ($13-$15 with sides) and local favorites, such as fish and chips ($16).
Anyone planning to visit Scotland should be aware that in a country about the size of South Carolina, the weather can, and often does, change quickly. Warm can turn to chilly, and sunny to rainy, without warning. One Scot with whom I spoke quipped, only half in jest, "It's either raining here or about to rain."
An even greater challenge awaits those who will be driving a car. You'll rent a vehicle with the steering wheel on the right and must do your best to stay on the left side of roads.
For more information about Scotland, see visitscotland.com. To learn more about Untours, go to untours.com or call 1-888-868-6871.