Travel
Explore Virginia's African American sites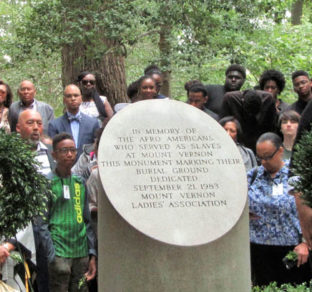 An annual ceremony honors George Washington's slaves buried in unmarked graves at Mt. Vernon, his estate. A memorial was added to the cemetery in 1983.
Photo by Glenda C. Booth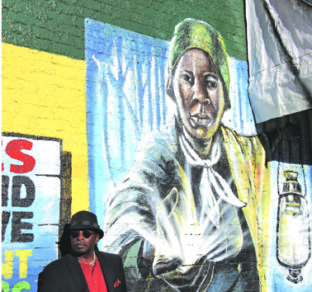 "Sir" James Thornhill stands beside the mural he painted of Harriet Tubman in Richmond, Va. His many murals focus on African Americans, both well-known and ones who have not been in the public eye.
Photo by Glenda C. Booth
Perhaps surprisingly, "Virginia is home to the longest continuous experience of African American culture and life in the United States," the state's tourism agency touts. It is a journey of highs and lows, tragedies and triumphs.
In a state that promotes its early devotion to democracy and human dignity through numerous Colonial and Revolutionary War sites, the landscape is riddled with examples of slavery, the Confederacy and racial discrimination.
Today, African American history and culture are told not only through the occasional monument, but also through food, music, literature, politics, business and little-known spots.
Much of the history of Virginia's African Americans was never written. Most slaves were illiterate; many lacked last names. Wooden grave markers and cabin homes rotted long ago.
The good news is that remaining African American sites are getting more and more attention. At one time, tourists visiting Washington's Mount Vernon, Madison's Montpelier or Jefferson's Monticello never heard a word about the slaves whose labor enabled these plantations to function.
Fortunately, that is no longer the case. At Montpelier, for example, there is a new exhibition, "The Mere Distinction of Colour," designed "to pay homage to those in the enslaved community."
"All of the different nuances of African American life to which society attributed so little is now being brought to the surface," said Ronald Chase, President of the Gum Springs Museum in Fairfax County.
Gum Springs, a historic black community a few miles from Mt. Vernon, was founded by West Ford, a Mount Vernon slave freed in 1805. The Gum Springs Museum's collection honors notables of this almost 200-year community.
Speaking of Mt. Vernon, George Washington first expressed his desire to no longer own slaves in a 1778 entry in his diary, and called for their release in his will (to occur after the death of
his wife, Martha). But
she decided to release the many slaves who worked at Mt. Vernon two years after his death.
The "Lives Bound Together" exhibit at Mount Vernon Estate presents the first president's dilemma and other perspectives on slave life. The exhibit remains open through this September.
A 14-by-16-foot slave cabin made of rough-hewn logs and mud dramatizes the contrast of slave living conditions with their owners' elegant lifestyle, as do slaves' unmarked graves near the Washingtons' imposing tomb.
A memorial created by Howard University architectural students honors those in unmarked graves who served in bondage to the Father of Freedom.
In Northern Virginia
Alexandria has a proud African American history — as well as one not so proud — conveyed in more than two dozen sites, including these:
The Alexandria Black History Museum chronicles the successes and ordeals of local African Americans from 1749 to the present.
Alfred Street Baptist Church, dating from 1803, is the oldest black Baptist church in the Washington, D.C., region.
At 1315 Duke St., Isaac Franklin and John Armfield ran one of the country's largest, slave-selling enterprises in the 19th century, including a slave pen for thousands awaiting sale. Today called Freedom House, it is a small civil rights museum and office.
The eight-acre African American Heritage Park is next to a 19th century African American cemetery. Nearby, are statues of Emily and Mary Edmondson, two women who fled slavery in 1848 on a ship, the Pearl. They were imprisoned and eventually freed.
Members of the U.S. Colored Troops staged one of the first organized civil rights actions in 1864 when patients at L'Ouverture Hospital petitioned for their comrades to be buried in Alexandria's National Cemetery.
During the Civil War, people of African descent who fled the Confederacy and were protected by Union forces occupying Alexandria were called "contrabands." Over 20,000 contrabands, many destitute, came to or passed through Alexandria.
Freedman's Cemetery honors these refugees at a spot where 1,800 graves were once covered by a gas station and an office building and encroached upon by a railroad, brickyard and highways, including the Beltway.
The city razed all the structures and identified grave sites by analyzing subtle soil color differences. The most prominent feature is the Place of Remembrance, designed by Alexandria architect C.J. Howard, and featuring a Mario Chiodo sculpture depicting grief that leaps off the former gas station pad.
And in more modern times, Samuel Tucker led one of the country's first anti-segregation sit-ins at the Alexandria library in 1939.
The four million annual visitors to Arlington Cemetery probably don't realize that Arlington House, built by slaves, was the plantation home of our first president's grandson, George Washington Parke Custis. Later, a Custis cousin, Confederate General Robert E. Lee, lived there.
After the Civil War, Union troops decided to surround the mansion with a cemetery to ensure the family would never return. Now known as Arlington Cemetery, it rests in fields where 200 slaves toiled.
To learn more about African American history in Alexandria and other parts of northern Virginia, see www.alexblackhistory.org. Consider taking a 90-minute walking of Alexandria's black history with Manusmission Tours. See www.manumissiontours.com.
In Richmond, Va.
Richmond, the capital of the Confederacy, is full of symbols of Virginia's schizophrenic history.
Glistening white on a hill is the state Capitol, the iconic, Greek-temple-like building designed by Thomas Jefferson — slave owner and principal author of the Declaration of Independence. Nearby looms a 60-foot equestrian statue of General George Washington, the slave owner who led the colonies' revolt against tyranny.
Nearby is an 18-figure, granite and bronze memorial honoring the African Americans who led a 1950s protest of inferior, segregated schools in Farmville, Va.
The Capitol sits a few hundred feet from the elegant, 19th century mansion where the state's governors reside while in power. The home has seen some big changes over the years.
In 1954, Gov. Thomas Stanley vowed to use every legal means to resist the U.S. Supreme Court's Brown v. Board of Education decision, which found that separate educational systems for blacks and whites are unequal and unconstitutional.
Sixteen years later, Governor Linwood Holton escorted his daughter from the mansion to the predominantly black public high school nearby. And from 1990 to 1994, the nation's first black governor — Douglas Wilder, a grandson of slaves — lived there.
The Reconciliation Statue memorializes the slave trade, a few blocks from the area known as Shockoe Bottom — Richmond's 19th century commercial heart and the country's second largest slave trading center. Authorities hanged rebelling slaves there in 1800, including their leader, a blacksmith known as "General Gabriel."
In 2014, the National Trust for Historic Preservation listed Shockoe Bottom as one of the 11 most endangered places in the U.S. because of a controversial plan to raze buildings to construct a minor league baseball stadium, hotel and other buildings on the historic site.
The Trust helped stop the construction of the stadium. Now plans are underway to build an interpretative center that remembers Shockoe Bottom's dark past.
A 17-stop Slave Trail walk, starting at Manchester Docks across the river from Shockoe Bottom, tracks slave marketing routes.
Not all of Richmond's African American sites represent the city's scarred past. Artist James Thornhill's boldly colored murals in historic Jackson Ward illuminate African Americans both well-known and little-known.
In this section of Richmond, the "birthplace of Black Capitalism," Maggie Walker's home is a story of empowerment. Daughter of a former slave, she became the first African American woman bank president.
When, from post-Civil War to the 1930s, white establishments refused to serve blacks, she created services for her people — a bank, department store, insurance company, newspaper, a Girl Scout troop.
At the Black History Museum and Cultural Center — situated in a former armory, school and gym for "coloreds" — a touch-screen exhibit chronicles slavery from Egypt to the present, including slaves' resistance, the Jim Crow era, and the struggle for equal rights.
One standout story is that of Henry "Box" Brown, a slave who in 1849 "mailed" himself to Philadelphia abolitionists in a wooden crate — a 27-hour journey via wagon, railroad, steamboat and ferry.
Down the block is a statue of Bill "Bojangles" Robinson, a local and accomplished tap dancer, known for tapping up and down stairs in a complex rhythmic pattern. He became the country's most highly-paid African American entertainer in the early 20th century.
After heated controversy, in 1996 a statue of tennis great Arthur Ashe joined the towering statues of five Confederate leaders on Monument Avenue, a boulevard that once symbolized what some called "Southern glory." Despite recent controversy over Confederate monuments throughout the South, these statues are still standing. Surrounded by children, Ashe holds a tennis racket in one hand and a book in the other.
The following websites provide further information about black history sites in the Richmond area: www.virginia.org (see Historic Sites), www.visitrichmondva.com (see Civil War and Black History Museum entries), and the Elegba Folklore Society at http://efsinc.org/tours.
In Hampton, Va.
A historic marker at ironically-named Point Comfort recognizes the spot where the first Africans, "20 and odd" from Angola, disembarked from the White Lion in Virginia in 1619. A Hampton History Museum room replicates the ship's galley, where slaves were crammed and transported, and showcases 17th century shackles.
Other exhibits at the museum relate the story of Cesar Tarrant, a slave who won his freedom by steering a ship for the Virginia Navy in a two-hour battle in 1777. Another panel explains that African Americans were once integral to the area's seafood industry.
Under Union occupation, Fort Monroe, built in part with slave labor, offered refuge to runaways. The fort imprisoned Confederate President Jefferson Davis from 1865 to 1867. From his cell's bed, he had to look at a Union flag, still there today.
An exhibit titled "When the Computer Wore a Skirt," at NASA's Langley Visitor Center in Hampton, celebrates the African American women made famous by the recent movie Hidden Figures. Three of the five lived in Hampton, and did some of the math basic to generations of aircraft and manned spacecraft. Another panel honors the World War II Tuskegee Airmen, America's first African American fliers.
Hampton University opened in 1868 with two teachers and 15 newly emancipated black students. It was founded by Gen. Samuel Armstrong, who was sent by the American Missionary Association to educate blacks. Besides Booker T. Washington, who walked to Hampton from West Virginia, and other notables, the university educated Native Americans from 65 tribes in the late 1800s.
The university's museum is the oldest African American museum in the U.S., and the only museum in the South open to African Americans until at least the 1920s. It is the first institution to establish a collection of African American art, started in 1894.
The Emancipation Oak looms near the university's entrance. Here, in 1863, locals gathered to hear the first Southern reading of Lincoln's Emancipation Proclamation. Under its branches, Mary Peake illegally started a school for children of former slaves.
Today, designated by the National Geographic Society as one of the 10 great trees of the world, it sports a canopy over 100 feet in diameter and a trunk at least six feet across. It is a true symbol of survival.
More information on Hampton is available at www.visithampton.com.
In Roanoke, Va.
Slave-holding plantations were not as prevalent in southwest Virginia as in other parts of the state, but the history of discrimination, struggle and survival is here too.
Roanoke's Harrison Museum of African-American Culture (www.harrisonmuseum.com) documents how, during segregation, local blacks proudly created their own schools, stores, doctors' offices and hospitals, especially in the historic Gainsborough neighborhood.
Today, a statue of Rev. Martin Luther King, Jr. stands tall. A mosaic at the City Market honors African American railroad workers.
Thirty miles away is the Booker T. Washington National Monument, a National Park Service site and formerly the Burroughs tobacco plantation, where Washington was born and freed.
A reconstructed cabin with a dirt floor gives visitors a glimpse of slave life. Here Washington ached for an education, later writing, "to get into a school house and study in this way would be about the same as getting into paradise."
Park rangers conduct educational programs, and offer 19th-century recipes for neckbones and gravy and Confederate cornbread. Learn more at www.nps.gov/bowa.
Reflecting on his youth, Booker T. Washington offered, "One man cannot hold another man down in the ditch without remaining down in the ditch with him." Perhaps Virginia is gradually getting out of that ditch.
At the same time, in the words of civil rights leader and Georgia Congressman John Lewis, "There's still a great deal of pain that needs to be healed."
Learn more about these and many other sites that commemorate black history in Virginia at www.virginia.org/blackhistoryattractions.