Travel
Exploring Umbria's picturesque villages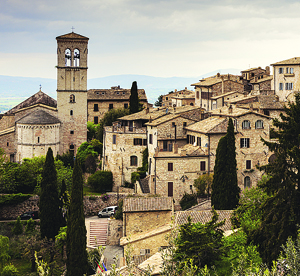 Assisi is one of the best known of the hill towns that dot Umbria, in the countryside of central Italy. St. Francis was born here in 1182. Medieval castles and churches dominate the town's skyline. UNESCO designated the Franciscan structures of Assisi as a World Heritage Site in 2000.
Photo by Henryk Sadura
In 1996, a book titled Under the Tuscan Sun recounted how author Frances Mayes purchased and restored an abandoned villa in the Tuscany region of Italy. The best-selling volume, and the movie that was adapted from it, helped establish the area as a major vacation destination for Americans.
Umbria, Tuscany's landlocked next door neighbor, has not been so celebrated and glorified. In fact, it is sometimes derisively dubbed "the poor man's Tuscany."
Yet that often-overlooked region encompasses a rich collection of artistic, scenic and other treasures that reward those who seek them out.
For starters, Umbria — pronounced Oom-bria by those who live there — boasts magnificent landscapes mirroring those that bedazzle visitors to Tuscany. The jagged Apennine Mountains lead to rolling hillsides that flatten into lush valleys along the banks of the Tiber River.
Fields of wild flowers vie for attention with the silver leaves of gnarled olive trees and rows of grape vines that change from summer green to vibrant reds and yellows as fall approaches.
Overlooking the scene are the true gems — towns that for centuries have perched on top of hills and spilled down toward the valleys below.
In many ways, time has bypassed these villages of stone buildings, winding cobblestone streets, and walkways so narrow it's sometimes possible to reach out and touch the walls on both sides.
Umbria's size, or rather lack of it, provides opportunities to check out a variety of inviting villages in a limited time. In an area about one-third the size of Maryland, nothing is very far from anything else, so it's possible to visit more than one hilltop village in a day.
While these ancient enclaves often appear identical when viewed from afar, there are differences that set each one apart.
Granted, the initial introduction may focus upon similarities — a central square, the ubiquitous main church adorned with architectural touches outside and art treasures within, outdoor cafes where locals and visitors alike gather to enjoy food and drink. Yet each has its own unique claims to fame that are well worth exploring.
Assisi and Spoleto
The two best-known towns are Assisi and Spoleto, and for very different reasons. Assisi is famous as the birthplace of St. Francis while, since 1957, Spoleto has hosted a multi-faceted feast of cultural events attracting a line-up of world-famous performers.
St. Francis of Assisi was born in 1182, and in his roles as a Roman Catholic friar and preacher he founded several religious orders. His birthplace retains much of its medieval character, and many structures still cast a rose-colored hue thanks to the limestone from which they were constructed.
The 13th-century basilica houses frescoes that depict chapters of St. Francis' life and are considered to be among the most important works of art in Italy.
Spoleto tells a very different story. Unlike many historic municipalities in Italy, it lacks a distinct central square. Instead, a jumble of medieval streets and lanes connect a cluster of piazzas.
Every summer, those narrow roads and walkways are overwhelmed by people during the annual Festival of Two Worlds — this year taking place from June 30 to July 16. This cultural buffet was founded in 1957 by composer and conductor Gian Carlo Menotti.
Since then, the potpourri of events — opera and jazz, ballet and modern dance, theater, visual arts and more — has brought the town to the attention of the world.
Spoleto also offers a treasure trove of reminders from its early Roman days, including the remains of a house with a mosaic floor, a restored first-century amphitheatre, and a first century temple.
In fact, most of Umbria reveals intriguing tangible evidence of Etruscan, Roman and Medieval influences — often in the same locale.
The Etruscans created a powerful civilization that included western Umbria, beginning around the 8th century BCE. It lasted until its assimilation into the Roman Republic beginning in the 4th century BCE.
Secret passageways
While other villages are less well known, each has attractions that warrant a look-see. You can't go wrong by simply turning off a main road when you spot a sign to a town, no matter how small or how far off the usual tourist path it may be.
The approach to Orvieto alone is worth a side trip. It rises up from the almost vertical faces of volcanic cliffs. This soaring image is replicated in the ornate façade of the duomo, a 13th-century cathedral that is one of the most elaborate in the country.
A very different experience awaits those who explore the vast underground labyrinth of tunnels, passageways and rooms that was dug out of the soft rock that lies beneath the buildings above.
This once-secret network, part of which dates back some 3,000 years, provided wealthy families with a means of escape outside the city walls during times of siege. The tunnel complex has recently been open to guided tours.
Perugia, the capital of Umbria, is home to several institutions of higher learning, including the University of Perugia, founded in 1308. It also is a cultural and artistic center, and hosts a number of annual festivals and other events.
Major evidence of Etruscan influence is found in both Orvieto and Perugia. In places, Etruscan, Roman and Medieval remains serve as reminders that all three cultures once held sway.
That's true in the town of Todi, where walls constructed when each of those societies reigned are still visible. In fact, Todi is one of the best preserved medieval towns in Italy, and its Piazza del Popolo is regarded as one of the country's most perfect squares from that period.
Another Medieval setting is encountered in Trevi, whose ancient center of alleyways, vaulted passages and churches is surrounded in part by the original 13th-century defensive walls.
Its hilltop position offers commanding views over the surrounding plains, and the groves that surround the village yield some of the country's best olive oil.
Olives, truffles and wine
Olive groves sprawl across the undulating hills of Umbria. The area is so well-known for its quality olives that it was the first region in Italy whose olive oil was granted a coveted Designation of Origin by the EU.
Photo by Victor Block
Along with countless architectural and art treasures that abound throughout Umbria, being part of Italy, there's no surprise that the region clings proudly to a well-deserved culinary reputation.
Simply pondering the list of specialties that fill restaurant menus can be a mouth-watering experience, and explain why the area is referred to as Italy's cuore verde ("green heart").
The olive oil produced in Umbria is considered among the best in a country that is known for the high quality of its olive oil. It was the first region in Italy whose olive oil was given the prestigious Designation of Origin classification.
Food here is typically hearty country cuisine, simply prepared to enhance the flavors of its top-quality ingredients. Meat and pastas are staples.
Prized locally grown truffles, more of the black than white variety, are added to a variety of dishes. Montefalco wine, which became the favored go-to beverage for my wife Fyllis and me, is named for the delightful little hill town surrounded by vineyards.
The hard-to-resist temptations of the table add to the sensory onslaught that envelops visitors to Umbria. They're part — but just a part — of what makes a visit there as memorable as it is enjoyable.
Using a tour company
Fyllis and I spent a week each in Venice and Umbria on a trip with Untours, which offers "independent travel with support." It more than met our expectations. The coddling began with an avalanche of material that goes well beyond the basic information needed to, as the company promises, "live like the locals."
In addition to details about sightseeing, shopping and getting around, we were provided with public transportation passes in Venice and a rental car in Umbria. We also received insider tips about everything from the Umbrian culture and restaurants, to food shopping and recipes of local favorite dishes.
Our first morning each week was spent at a detailed briefing from the onsite Untours representative, which included information about optional activities with other group members.
Our accommodations — a two-story apartment above a gelato shop in Venice, and a lovingly furnished two-bedroom apartment at a centuries-old farm in Umbria — added to the feeling of immersion in the setting.
Prices for Venice land packages begin at $1,369 per person (double occupancy) for one week; $1,889 for two weeks. For Umbria, $979 for one week; $1,289 for two weeks. Untours can also assist in obtaining reasonable airfares. For more information, call (888) 868-6871 or log onto untours.com.
Restaurant dinners are as outstanding and ample as they are reasonably priced.
Typical is the Trattoria al Palazzaccio near Spoleto. A selection of pastas is priced in the $6.50 to $9.50 range, depending upon the exchange rate, and the specialty of lamb with olive oil, wine and herbs costs $11. For more information, visit alpalazzaccio.it or call 0743-520-168. You may use googletranslate.com to read the menu in English.
Fish is the focus at the Nuova Parco del Clitunno in Campello sul Clitunno, which overlooks a lovely pond. Fresh-caught seafood includes trout, shrimp and daily specials. Among the ways trout ends up is in mousse ($7.50) and with pasta ($9.50), while grilled sea bass costs $14. For more information, call 0743-521-052 or visit nuovoparcodelclitunno.it.
For general information about Umbria, visit www.umbriatourism.it.