Travel
Feeding stomach and soul on Italian trail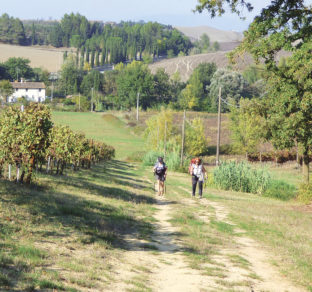 Hiking an ancient pilgrimage path through Tuscany can lead to enlightenment — and some epic meals.
Photo by Don Mankin
Long ago, religious pilgrims trudged up and down the Camino de Santiago in Spain, the Kumana Kodo Trail in Japan, and other lengthy footpaths to achieve spiritual enlightenment.
Many still do. Not only do these trails lead to sites of profound religious significance, but the physical challenge, even suffering, is believed to help pave the way to enlightenment.
Similarly, the thousand-year-old Via Francigena — the "road from France," which begins in Canterbury, England, and ends in Rome — offers plenty of chances for epiphanies.
But the section of that route that passes through Tuscany grants travelers the chance to sample life-changing food and wine as well. The incongruity wasn't lost on me, a person of prodigious appetite and secular beliefs, as I huffed and puffed up the steep, rocky trail on the first day of my recent five-day "pilgrimage."
The Italian tour company that hosted me on this trip, S-Cape Travel, billed it "The Best of the Via Francigena — Easy Hike." I don't question the veracity of the first part of the title, but I'm not sure about the second.
It was a lovely but often tough slog along shaded lanes, through forests, over medieval bridges, and past farms, vineyards, stately manor houses and tiny villages.
We took some much-needed breaks in the historic towns of Pietrasanta, Lucca, Siena and San Gimignano, and also visited castles, spas, a museum and a marble foundry.
We also spent a few hours at Bagno Vignoni, an all-female winery, where we tasted wine paired with music by Verdi, Miles Davis and Frank Zappa.
Rugged beauty, bountiful food
The first day of the hike was the toughest — more than 1,100 feet of elevation gain in the morning followed by a steep descent of 1,800 feet in the afternoon. The total mileage for the day was billed at close to eight miles, though the more tech-savvy millennials in our group noted that their smartphone apps measured closer to 11 miles.
Even the so-called easy days were no piece of cake. Those gentle hills of Tuscany that look so charming from the windows of a vehicle translated to a lot of up-and-down hiking with only short flat sections to catch my breath or give my sore knees a break.
But it was well worth it for the rural beauty, history, physical challenge and, possibly most important of all, the calories burned off each day. The hikes enabled me to indulge without guilt in the abundant bounty of a region famous for its gastronomy.
I worked hard for my meals, so I took advantage at every opportunity of the excellent locally-sourced Chianti, olive oil, pecorino, prosciutto, pasta and fresh produce at pretty much every meal, including lunches on the trail. Despite consuming molto calories every day, I didn't gain any weight.
The spiritual side
With all of Tuscany's worldly attractions, the irony is that what impacted me most was spiritual, or about as spiritual as this skeptical non-believer gets.
About two-thirds of the way through the hike, we toured the pilgrims' hostel near the Pieve di Chianni in Gambassi Terme, outside of Florence. As we exited, we saw an elderly man sitting at a table on the plaza, studying the trail's official guidebook — a book that happened to be written by Roberta Ferraris, one of our two guides.
We stopped to talk to him, to get his take on this adventure. An obviously fit 75-year-old from Canada, Marcel was a genuine pilgrim, not a tourist like us. He was several weeks into his hike along the full length of the Via Francigena, and, by his estimate, he was only two weeks from the end of the trail in Rome.
This was just the latest pilgrimage for him. He had already hiked the Camino de Santiago several times, logging thousands of miles on the trail.
My first thought was, "This guy is crazy," a religious zealot who bore little resemblance to anyone in my world. But the more he talked, the more I liked him. He asked Ferraris to autograph his guidebook, showed us his "passport" indicating the stops he had made along the trail, and patiently answered all of our questions.
He seemed vigorous but peaceful, clearly engaged in his pilgrimage and, I assumed, his calling and his life. I also noticed the twinkle in his eye and serene smile.
By the time we said goodbye, this encounter, which began as a distraction, ended up being the most moving experience of the trip.
I'm not sure how much of Marcel's charisma can be attributed to his religious passion, but for a moment it made me wonder what I might be missing. Was my skepticism preventing me from experiencing something more profound, both on the trail and in life?
This was not the first time I have wrestled with this issue, and I'm sure it won't be the last, especially as I get closer, to quote Dylan Thomas, to "the dying of the light."
My brief encounter with Marcel may not have been enough to actually change my secular point of view, but it was enough to soften my skepticism, open me up to another perspective, and consider that when it comes to questions of God, spirit and the meaning of life, I might not have all the answers.
S-Cape Travel's Via Francigena trips range from $480 to $996. The least expensive airfare from D.C.-area airports to Florence in September is $1,271 on Air France.
For more information and photos, go to the Don's website, adventuretransformations.com. Don will be leading a trip to Southeast Asia in October. For more information, go to explorer-x.com/msa-southeast-asia-2019.