Travel
Festivals to enjoy in Virginia during 2020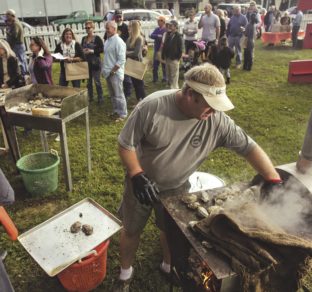 Sugary maple syrup, juicy red tomatoes, dainty pink apple blossoms, high-octane bluegrass — it's all classic Virginia.
From oysters to sand to fiddling, Virginia's festivals showcase the singular assets of the state's diversity and riches. Mark your 2020 calendar to attend these events:
Maple Festival, Highland County, Mar. 14-22
Highland County, 3,000 feet above sea level, is Virginia's "Little Switzerland." In its Ruritan clubhouses, church basements and school cafeterias, "maple" is a noun, verb and adjective.
Maple syrup is everywhere: on buckwheat pancakes, in sausage, chicken, barbecue, donuts, ice cream, mustard, sugar, butter, bread, pecans, candy, tea and candles.
Festival-goers tour sugar camps and sniff through the steamy "sugar shacks" where veteran maplers boil down sap by the gallons after it has drained through plastic tubes snaking down the hills from 15,000 tree taps.
Cloggers dance to rapid-fire bluegrass music, a leadup to the Maple Queen's coronation.
Monterey, the county seat, is a three-and-a-half-hour drive from Washington, D.C. For more information, visit highlandcounty.org.
Shad Planking, Wakefield, Apr. 15
When shad migrate up the James River to spawn, people gather and gab at the Sportsmen's Club amid aromas of smoked shad, baked beans and other mysterious scents wafting through the piney woods.
On April 15 (presumably after filing their taxes), the Wakefield Ruritan Club serves 350 shad, gently smoked on oak planks since 6 a.m. The tasty fish are suffused with a secret sauce created by a local dentist whose locked-up recipe's location is known only to a few Ruritanners.
The Beans Committee stirs a 50-gallon, sluggish concoction of beans, bacon, brown sugar, mustard, Worcestershire sauce and green peppers that has simmered for six hours in an apple butter kettle.
Virginia politicians have been mainstays at this event for years, but it's mostly all about hanging out in the woods, sipping spirits and eating shad, deep-fried shad roe and beans.
Wakefield is three and a half hours south of Washington, D.C. For more information, visit wakefieldruritans.com.
Shenandoah Apple Blossom Festival, Winchester, Apr. 24-May 3
Winchester does not wait for ripening fall apples to celebrate the favorite local fruit. In late April to early May, the town turns pink and green to honor the apple blossom.
Over 40 events explode, including band competitions, dances, dinners, orchard tours, a firetruck rodeo and an apple pie contest. With great pageantry, Queen Shenandoah is crowned as "loyal subjects," pages, princesses and maids fawn. Doors are festooned in the "Doors in Bloom" contest.
Celebrities serving as past parade marshals include First Lady "Lady Bird" (Mrs. Lyndon B.) Johnson, Arthur Godfrey, Jim Belushi, Lucille Ball, Pat Boone, Willie Nelson and "Lefty" Driesell.
Winchester is an hour and a half west of Washington, D.C. For more information, visit thebloom.com.
Tinner Hill Blues Festival, Falls Church, June 13
Blues of every flavor permeate Falls Church in a daylong celebration of the area's African-American legacy: boogie-woogie piano, old-time blues, acoustic, gospel, moanin' blues, happy blues.
The festival includes performances, brunch, art shows, films, lectures and an "instrument petting zoo," where youngsters can try out instruments.
The event organizers promote racial reconciliation. For more information or $25 tickets, check tinnerhill.org.
Hanover Tomato Festival, Mechanicsville, July 10-11
Tomato cuisine stars every July when vendors hawk fried green tomato BLTs, tomato grilled cheese sandwiches, tomato pies, remoulade sauce and pies. Other highlights: tomato arts and crafts, music, and the Best Dressed Tomato Contest.
Mechanicsville is two and a half hours west of Washington, D.C. For more information, visit hanovertomatofestival.com.
Pony Swim, Chincoteague, July 25-30
Thousands descend on Chincoteague for the annual Pony Swim made famous by Marguerite Henry's book Misty of Chincoteague. At slack tide, the Saltwater Cowboys swim the ponies across the channel from Assateague Island to Chincoteague Island.
The first foal to come ashore is named King or Queen Neptune and given away in a raffle. After the swim, the ponies "parade" down Main Street to the carnival grounds for auction, with proceeds going to charity.
The Fireman's Carnival, a fundraiser for volunteer firefighters, features rides, raffles, corn dogs, cotton candy and games.
Chincoteague is three and a half hours south of Washington, D.C. For a schedule of events, see chincoteague.com.
Old Fiddlers' Convention, Galax, Aug. 4-8
Since 1935, Galax's Moose Lodge 733 has staged the biggest, oldest fiddlers' convention in the country — a three-day festival of non-stop bluegrass and country music.
Hundreds of musicians compete for cash prizes in old-time fiddle, bluegrass fiddle, dobro, mandolin, dulcimer, bluegrass banjo, clawhammer banjo, autoharp, guitar, folk singing and flatfoot dancing.
Bands with names like "Slim Pickins" and the "Whooping Holler String Band" rip tunes into the night as the crowd whoops. Festival-goers can buy handmade instruments and crafts and indulge in downhome cookin' like country-fried steak sandwiches, Polish sausages, funnel cakes and deep-fried onion "blossoms."
Ticket prices are $7-$13 per day. Galax is five hours southwest of Washington, D.C. Visit oldfiddlersconvention.com for details.
Neptune Boardwalk Weekend, Virginia Beach, Sept. 25-27
Virginia Beach's end-of-summer bash features sporting events, a surfing competition, and arts and crafts, with 250 exhibitors running the length of the 34-block boardwalk.
There's the Royal Court of King Neptune with tritons and princesses, but the highlight is the International Sandsculpting Championship, which attracts artists from all over the world who make elaborate, arty sand creations up to 10 feet tall.
Virginia Beach is a three-and-a-half-hour drive from Washington, D.C. Visit neptunefestival.com for pictures of past winners.
Taste of Brunswick Festival, Lawrenceville, Oct. 10
Around 10,000 ravenous adventurers head to southern Virginia for Civil War re-enactments, bluegrass and gospel music, a car show and the culinary centerpiece: more than 4,000 quarts of Brunswick stew, a tasty mélange invented in Virginia in 1828.
Aficionados swear by the critical ingredients: squirrel or rabbit meat (now often replaced by chicken), bacon, onions, bread, seasonings and butter. Stewmasters compete in a stew cook-off. Locals are so high on it that they formed the Brunswick Stewmasters Association to teach the next generation how to make the authentic concoction.
Lawrenceville is three hours south of Washington, D.C. Visit tasteofbrunswickfestival.com.
Peanut Fest, Suffolk, Oct. 8-11
You can smell peanuts a quarter-mile away at the Peanut Fest, which features a gleaming, eight-foot Mr. P-nutty. Since 1941, locals have venerated this all-purpose legume at their festival, attracting 125,000 people every year.
The Ruritan Club hosts an all-you-can-eat shrimp fest, barbecue and live bands. There's a demolition derby, truck and tractor pull, motorcycle rally, horseshoe competition, cornhole beanbag tournament, music, fireworks and peanut queen crowning.
Creative types compete in the peanut butter sculpting contest using a five-pound block of this favored spread.
Suffolk is three and a half hours south of Washington, D.C.  See suffolkpeanutfest.com.
Oyster Festival, Urbanna, Nov. 6-7
Oysters breaded, deep fried, steamed, boiled, stewed, Rockefellered and frittered are wolfed down amid oyster lamps, crowns and jewelry at this annual festival.
Around 125 food and craft booths line the streets, and marching bands and oyster floats parade through Urbanna. The climax of the two-day festival is "the official oyster shucking contest of Virginia," where amateurs and professionals compete at breakneck speed to pry open recalcitrant bivalves, ending in a "shuck-off" between the top man and woman. Officials crown the Oyster Queen and Little Miss Spat.
Urbanna is two and a half hours south of Washington, D.C. See urbannaoysterfestival.com for details.
50th Scottish Walk, Alexandria, Dec. 4-5
Bagpipes whine, Scottish clans strut their tartans, and dancers, Scottie dogs, classic cars, a Santa bagpiper and more bounce and roll through Old Town's streets every December.
At the Taste of Scotland, festival-goers sample spirits such as scotches from Scotland and Scottish ale and beer. Some Old Town homes, decorated for the holidays, are open. A holiday boat parade of lights brightens the night sky.
Later in the month, Santa arrives on water skis. For photos of the event and others in Old Town Alexandria, go to visitalexandriava.com.
For a list of some 2020 festivals in Maryland and the District of Columbia, visit thebeaconnewspapers.com/festivals.