Travel
Don't miss these festivals in D.C. and Maryland in 2020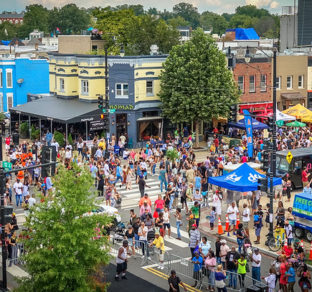 Photo by Ted Eytan
D.C.'s festivals here reflect the city's international population. While we all know about the National Cherry Blossom Festival in the spring and the Smithsonian's Folk Life Festival in the summertime, here are some lesser known celebrations to check out in 2020:
Blossom Kite Festival, Mar. 28
Professional kite flyers impress amateurs at this annual festival, formerly the Smithsonian Kite Festival, as part of the National Cherry Blossom Festival. Every March, the sky around the Washington Monument fills with colorful, swooping kites. The event starts at 10 a.m. on Sat., Mar. 28. Bring your own kite, buy one or make one on-site at the activity tent. To learn more, go to nationalcherryblossomfestival.org.
One Journey Festival, D.C., June 27
One Journey is an annual festival that celebrates refugees and their host communities. In its third year, the festival will highlight art, food, music, dance and storytelling of displaced people. The free festival takes place on Sat., June 27 from 11 a.m. to 6 p.m. on the lawn of the Washington National Cathedral. To learn more and register, visit onejourneyfestival.com.
International Food and Craft Festival, Silver Spring, Md., Aug. 2
Experience a little bit of culture from all over the world. At the International Food & Craft Festival, go from one end of the globe to another, one table at a time. More than 60 artists and small businesses will represent their heritage with food and crafts for all — as a DJ plays music from different countries. The festival will take place the afternoon of Sunday, Aug. 2. For more information, visit http://bit.ly/IntFoodandCraft.
Takoma Park Folk Festival, Takoma Park, Md., Sept. 8
Takoma Park closes its streets for the annual music and dance festival. Sounds from old-time fiddle, bluegrass, folk-rock and Afro-Latin fusion fill the air as dozens of artists perform on six stages. Wander through Old Town Takoma, sample food from local restaurants and shop for handcrafted items such as jewelry, quilts and soap. The festival will be held from 10:30 a.m. to 6:30 p.m. at the Takoma Park Middle School. Visit tpff.org.
Mark your calendar for these 2020 festivals in the state of Maryland:
Beer, Bourbon and BBQ Festival, Lutherville-Timonium, Apr. 3 to 4
Listen to live bluegrass and taste different kinds of beer and bourbon. Enjoy games like jenga, basketball, ping pong and Connect Four while listening to live music and seminars from experts in brewing and grilling. General admission costs $29, with special tickets available for $49 to $59. The Maryland State Fairgrounds is located two hours away from D.C. To learn more, visit Timonium.beerandbourbon.com.
Maryland Eid Bazaar, Jessup, Md., May 16
This year, Ramadan takes place from Thurs., Apr. 23 until Sat., May 23. Celebrate this Muslim tradition at the third annual Maryland Eid Bazaar. There will be clothing and jewelry to purchase, along with henna stations, where artists apply temporary hand tattoos. Vendors will serve Iftar, the meal eaten after sunset during Ramadan. The bazaar takes place from noon to 10 p.m. at the Holiday Inn Columbia in East Jessup. For more information, visit http://bit.ly/EidBazaar.
Mac and Cheese Festival, Baltimore, May 16 to 17
There's no such thing as too much cheese. With over 30 kinds of macaroni and cheese available at this festival, discover your new favorite. You can even vote for the best recipe. Craft beers, wines and whiskey are also available, along with live music. Tickets cost from $15 to $45 and will sell out fast. To purchase a ticket, visit http://bit.ly/macandcheeseBalt.
World Heritage Festival, Baltimore, June 6
Baltimore has a lot of culture to celebrate. Attend the World Heritage Festival and taste ethnic food, including desert, and enjoy dance performances from around the globe. There will be a kid zone with activities throughout the day for grandchildren. Additionally, you can purchase traditional art and jewelry to celebrate the city's diverse heritage. The free festival takes place from 11 a.m. to 6 p.m. at the West Shore Park. To learn more, visit http://bit.ly/BaltJune2020.
Crab Festival, Leonardtown, Md., June 13
St. Mary's County takes the state's crustacean very seriously. At the annual crab festival, you can try hard crabs, soft crabs, crab cakes, crab soups and other seafood. There will be live music, along with activities including crafts and a car show. While eating your favorite crustacean, get a free vision and hearing screening. Admission costs $20 in advance or $24 at the door. Leonardtown is two hours from D.C. For more information, go to http://bit.ly/LeonardtownCrab.