Travel
Five extraordinary towns on Italy's coast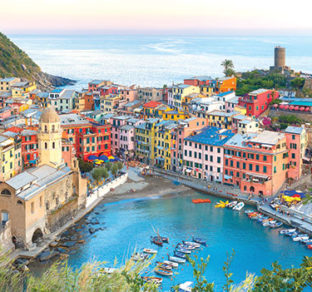 Vernazza, one of Italy's most picturesque fishing villages, is linked by footpath to the four other villages in Cinque Terre National Park.
Photo © Olgacov | Dreamstime.com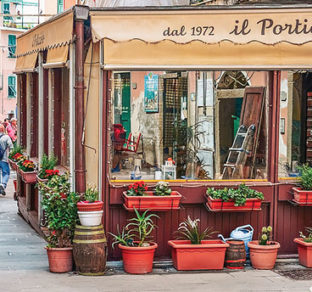 Explore the five coastal villages of Cinque Terre, Italy.
© Wirestock | Dreamstime.com
Imagine a Medieval town overlooking the Mediterranean Sea, like a fantasy setting for "Game of Thrones" (except brighter and with less blood).
Now imagine five of these towns and you have Cinque Terre, Italy — literally, "five lands" in English.
In October, I visited Cinque Terre, along with my wife and a friend, after spending nine days in the urban turmoil of Rome, five hours south.
Don't get me wrong, Rome was great, but after a few days of traffic and noise, I was ready for something different. I wanted to wash away the tumult of Rome with views of land and water, rather than views back in time. I craved scenery rather than antiquities.
The five lands of Cinque Terre
Cinque Terre, a UNESCO World Heritage Site and national park, is a string of five centuries-old fishing villages on the northwestern coast of Italy, about an hour north of Pisa. It's a place from another world, another time.
Colorful houses on rugged promontories and cliffs, Medieval fortresses and churches, steep terraces covered with vineyards and olive trees, sweeping sea vistas, and harbors filled with fishing boats are visible from the villages and the seven miles of hiking trails that connect them.
The towns — Monterosso, Vernazza, Corniglia, Manarola and Riomaggiore — are only a few miles apart, so it's easy to visit all of them via a train that runs every few minutes or by well-traveled hiking paths.
They are similar in terms of the spectacular views and multicolored houses, but differ in setting, size and layout. We chose to stay in Corniglia primarily because we were able to find a suitably large Airbnb apartment there.
At home in Corniglia
Corniglia is the smallest of the five villages and the only one perched on a hill rather than on the water. To get from the train station and to our apartment we had to walk up a switchback staircase of about 380 steps to the village.
This was less inconvenient than it might sound, since the staircase offered several landings where we could stop, enjoy the view, and catch our breath.
There is also a shuttle that runs between the train station and the villages, but most of the time we opted for the stairs to burn off the many calories we consumed at the excellent trattorias where we dined during our four-day visit.
For the first couple of days, we braved the steps to explore the fairytale town of Corniglia, wandering down winding passageways and alleys, and glimpsing peek-a-boo views of terraced hillsides and sparkling sea between the rows of houses.
On our first exploration, we ended up in a plaza and ate stuffed mussels and pasta at an outside table where we could observe other people wandering by.
Another excursion led us to a courtyard with views of the Mediterranean as well as Vernazza, the town a couple of miles to the north, and Manarola, the town three miles to the south.
And on another walk, we ended up at a trattoria in front of a church, where we ate La Pinsa — gluten-free pizza made from rice flour — and were entertained by a garrulous couple from Scotland. With their thick Glaswegian accents, I barely understood what they were saying, but their gusto and spirit made me laugh, nonetheless.
Exploring the other villages
We hopped a train to Monterosso, the largest and most northerly town. Situated at the water's edge, Monterosso is the only town in Cinque Terre with a sandy beach.
We walked along the beachside promenade to the scenic harbor and picked out a restaurant among the many in the plaza nearby. I ate an excellent seafood pasta with clams, mussels and squid.
On our last full day, we hiked to Vernazza. It's a moderately challenging two-mile hike on a well-maintained, rocky trail with excellent views.
The first two-thirds of the trail winds gently uphill through groves of trees to a café at the peak, where we stopped for lemonade slushies and beer before heading down on the steeper, sun-exposed final third into Vernazza.
Vernazza was the most beautiful of the four towns we visited. Its upper section sits atop a rocky promontory jutting out into the sea, while the lower section leads down to the harbor and a small, rocky beach.
The waterfront is filled with restaurants. We picked the liveliest one with a free table and restored our depleted bodies with pasta, a warm seafood salad with lobster, octopus, mussels, and clams, and lots of water, beer and wine.
We still had several hours of daylight and a yen to see more, so we took the train to Manarola, the oldest of the five villages. Manarola is long and narrow. The main drag leads to a small waterfront, where men much younger, leaner and daring than I dived off a rock just offshore into the water. I ate gelato and watched them dive.
If we had more time, we would have visited the southernmost town, Riomaggiorre. Next time for sure.
I have been to Italy three times, visiting Rome, Pompeii, Venice, Florence and now Cinque Terre. I loved all of it.
But if I had to pick one place to re-visit, this would be it. There are more trails to hike, passageways to explore, trattorias to visit and sunsets to watch. And I still have one more land to visit.
If you go
Round trip, one-stop flights from the D.C. area to Milan, one of the closest major cities to Cinque Terre, cost approximately $500 during the off-season.
Airfare to and from Florence, which is about two and a half hours inland, costs around $700. Trains from Milan or Florence take about three hours. Fares range from $20 to $30 roundtrip.
The Cinque Terre Train Card provides access to unlimited travel among the five towns and to the hiking trails, plus the Corniglia shuttle between the train station and the town. The card costs about $18 for one day, $33 for two and $47 for three.
Try to find an Airbnb rental, or rent a room in Corniglia at Villino Azzurra. The apartments range from $80 to $120 per night.
As for restaurants, it's Italy, so you can't go wrong. In Corniglia, we ate pizza at A'Caneva; in Monterrosa we had fresh seafood at Restaurant Ciak; and we had an excellent seafood dinner at Il Gambero Rosso in Vernazza..
For more information, you can visit cinqueterre.eu.com.