Arts
Five upcoming plays with Jewish themes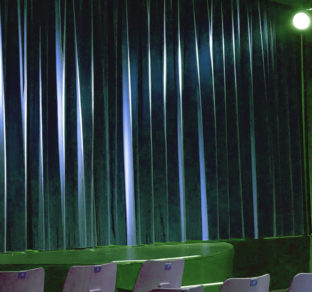 In August, September and October, five theaters in Montgomery County will produce plays with Jewish themes.
It's entirely a "happy coincidence," says David Fialkoff of the newly formed Jewish Community Theater of Montgomery County (JCTMC), as the plays were not planned to coincide.
As its name suggests, the group is dedicated to presenting plays and musicals in the county about the Jewish religion, people and culture. While many of the plays are historical in nature, their themes of immigration and prejudice strike a contemporary chord as well, Fialkoff noted.
The Melting Pot
The premiere production of JCTMC will be presented at and in conjunction with Temple Beth Ami in Rockville. Written in 1908 by Israel Zangwill, this is the play that popularized the phrase "melting pot" as a nickname for America. The play takes a hard look at anti-Semitism and anti-immigrant hatred, while still finding room for humor, romance and hope.
The Melting Pot will be performed on Aug. 11 at 8 p.m. and Aug. 12 at 1 p.m. Tickets are $25 for the Aug. 11 show; $10 for the Aug. 12 show. The play will be performed at Temple Beth Ami, 14330 Travilah Rd., Rockville. To learn more, see facebook.com/JCTMCtheater.
The Last Five Years
This emotionally powerful and intimate musical by Jason Robert Brown follows an interfaith couple through their five-year relationship, as they fall both in and out of love.
Jamie Wellerstein, a rising novelist with strong Jewish roots, works to balance his suddenly successful career while embarking on a relationship with Cathy Hiatt, a struggling non-Jewish actress.
The Last Five Years is produced by the Montgomery Playhouse and Theatre@CBT. It will be presented at the at the Randolph Road Theatre, 4010 Randolph Rd,, Silver Spring, from Sept. 14 to 16 and 20 to 23. Tickets are $22. For more information, see facebook.com/TheatreatCBT.
Kindertransport
Kindertransport is based on the experiences of children who were allowed to leave Nazi Germany for England in 1938-39, and who were separated from their families, many of whom perished during the Holocaust.
Through flashbacks, the play presents the hardships faced by Eva at three different stages of her life: Eva as a 9-year-old child sent on a Kindertransport and taken in by a British family; Eva at 17, now assimilated and completely anglicized; and Eva, now in her 50s and known as Evelyn, who is confronted by her daughter, Faith, and forced to acknowledge her unspoken past.
The play is produced by Sandy Spring Theatre Group and presented at the Gaithersburg Arts Barn, 311 Kent Square Rd., Gaithersburg. It will be onstage Sept. 15,16, 21, 22 and 23. Tickets are $20 for adults; $12 for children. To learn more, see sandyspringtheatregroup.weebly.com
The Diary of Anne Frank
Produced by Rockville Little Theatre at the F. Scott Fitzgerald Theatre in the Rockville Civic Center Park, this new adaptation brings the audience into the secret annex where 13-year-old Anne and seven other Jews evade Nazi deportation.
For over two years, all that will stand between them and the concentration camps is their trust in one another and the bravery of those harboring them. Anne's compelling words come alive, urging people to stand up for one another in the face of intolerance, fear and hate.
The Diary of Anne Frank will be onstage Sept. 28 to Oct. 7 at the F. Scott Fitzgerald Theatre, 603 Edmonston Dr. Tickets are $22 for adults; $20 for students and seniors. For more information, see rlt-online.org.
A Shayna Maidel
Produced by the Peace Mountain Theatre Company at Congregation Har Shalom in Potomac, this play takes place in 1946, after World War II, in the home of Rose Weiss, with flashbacks to life in Poland, as two sisters reunite after the Holocaust. Flashback scenes move fluidly in and out of time before the war, during the war and in 1946.
The play will be performed at 8 p.m. on Oct. 11, 13, 18 and 27, and at 2 p.m. on Oct. 14, 21 and 28. Post-show discussions will take place on Oct. 14 and 21. Har Shalom is located at 11510 Falls Rd., Potomac. To learn more, see peacemountaintheatre.com.