Cover Stories
Foodies grow and see green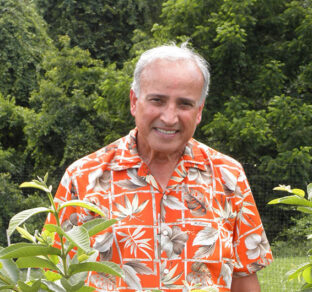 Virginia farmer Sabry Alsharkawi started an organic farm decades ago, selling his plants and herbs at local farmers markets. He and other entrepreneurs in the region have launched successful food-based businesses selling everything from baked goods to hot sauce.
Photo by Glenda Booth
Many of our grandparents made food from scratch — such as jam, biscuits, applesauce, even whiskey. Today, some local entrepreneurs over 50 are confirming that it's possible to do it and even make a living at it.
With a mindset of "If you can't find it on the grocery shelves, make it yourself," these enterprising older adults have built robust businesses making and selling specialty foods, from pies to hot sauce.
Joyce and Travis Miller, for instance, make around 3,000 gallons of hickory syrup a year in their kitchen in Berryville, Virginia.
Eleven years after Joyce retired from teaching and Travis from retail management, "It just happened," Joyce said. Travis is a "foodie" who had experimented with sassafras, she explained, and got curious about hickory bark.
When the couple researched hickory bark's possibilities, they learned that Native Americans used it as a medication, adding something sugary like honey to create a syrup to treat headaches, joint pain, inflammation and cramps.
The Millers found a knowledgeable professor in Michigan to advise them, and started tinkering.
First, they clean, toast and cook the bark in water to make a liquor-like substance. Then they let it age a few days, add raw sugar and heat it again.
They age some batches for 100 days in whiskey barrels from Purcellville's Catoctin Creek Distilling Company so the syrup picks up the whiskey flavor. Then they return the barrels to the distiller, who reuses the barrels for whiskey.
In 2011, on their first retail venture, the Millers took 48 bottles of syrup to a Virginia farmers market and sold out. Today, they make seven flavors of hickory syrup and seven flavors of honey, which they sell at farmers markets, historic sites, wholesale outlets and food shows.
Urging customers to think beyond pancakes and French toast, Falling Bark Farm's website has recipes for hickory-flavored entrees, cocktails, marinades, desserts and sauces.
Baking for a living
Grace Banahene learned to bake growing up in Ghana. In 1983, after moving to America, she turned a hobby into a livelihood.
Banahene started a baking business in her home, an endeavor so successful that, in 1987, she moved it into a commercial building in Herndon, Virginia, where it is today.
The faithful customers of Grace's Pastries adore her sweet and savory breads, scones, croissants, strudels, cakes, cookies, fruit and meat pies, which she sells at eight Virginia farmers' markets, from McLean to Old Town, Alexandria.
She and her personal "army" of four sons often work into the night and load the van for the next morning's markets.
Banahene said she loves meeting people as they ogle her multi-table spread. "When I don't see my regular customers, I ask, 'What's goin' on?'" she said.
Growing green
Virginia farmer Sabry Alsharkawi was a "green" farmer before the practice became de rigueur. He started his business, Sharkawi Farm, because he couldn't find quality products grown without chemicals in stores.
Why launch his own company?  "Because I love it," he said.
Since 1985, Alsharkawi has grown chemical-free herbs and blooming plants in Broad Run for a loyal clientele at Northern Virginia farmers markets.
His stall bulges with rosemary, thyme, basil, cilantro, stevia, sage, spearmint, dill, bay leaf and more. From April to November, he also grows plants like lemongrass, nasturtiums, Japanese and patio eggplants, and fig and guava trees.
Trained in agriculture, Alsharkawi carefully plants seeds on top of the soil so the sun can promote germination, mists them hourly for seven to 10 days, hand irrigates some plants and uses drip irrigation for others.
For pest control, he uses neem oil and insecticidal soaps. Commercial producers do not give plants this kind of hands-on attention, he maintains. They focus on quantity; Alsharkawi strives for quality.
Alsharkawi also mixes and sells teas. Growing up in Egypt, he drank tea daily. Egyptian hosts routinely serve tea to guests without asking, he said with a chuckle. He gently dismisses American brands of tea, asserting that if people knew the contents, they would not drink them.
He imports tea leaves from India, Ceylon and Japan, and mixes leaves with flavors like orange, anise and hibiscus. He makes and sells 20 popular teas, such as Paradise Black, Fiji Green, Imperial Spice, Cold Comfort and Relaxing Tea.
Healthy ketchup
When Fairfax County resident Abe Karmarck learned that a leading ketchup brand has more than half a pound of sugar in each 20-ounce bottle and watched his children slather it on and slurp it up, he knew he had to do something.
Karmarck's research found that most ketchup has proportionally more sugar than vanilla ice cream (six grams per ounce). And many commercial barbecue sauces are "diabetes in a bottle," according to Karmarck, with one-and-a half times more sugar than a Krispy Kreme donut.
So, he started making his own ketchup in 2017, creating other healthy sauces later. His True Made ketchup, sold on local grocery store shelves and Amazon, has no added sugar and contains only two grams of natural sugars from carrots, butternut squash and spinach — more than one-half pound of vegetables in every bottle.
Karmarck also makes low- and no-sugar barbeque sauces, srirachas, hot sauces and mustards. True Made's sriracha (called veracha) has tomatoes, spinach, carrots, butternut squash, jalapeno peppers, cayenne, vinegar and salt, but no added sugar.
His products sell without the high-fructose corn syrup, refined sweeteners, artificial sweeteners and preservatives found in most commercial products. The company motto: "We turn junk food into superfoods."
Hot sauce adds spice to life
Cooking fiery hot peppers in his home kitchen almost made U.S. Army Special Forces veteran Chris Crum pass out. But the peppers' allure inspired him and his partners, Russ and Doug Clift, to create eight flavors of hot sauces and to found Crum's LLC in 2014.
The partners have mastered hot sauce gastronomy by melding multiple ingredients with pepper varieties, such as ghost and scorpion chiles, red jalapenos and Carolina reapers.
Their Ghost Pumpkin and Fatali Chile sauces won first place Scovie awards, a competition for fiery foods. Their Grim, Hot Ta Molly and Peach Habanero sauces have won Flave awards, an international competition for small- to medium-sized businesses that make original products.
Crum's sauces are sold in many local stores as well as in Kansas, Oregon and Colorado. For each bottle sold, the company donates to the Green Beret Foundation.
On incorporating hot sauces into one's meals, the "Crummers" urge customers to think creatively. "Gold" can accent Italian food like tomato sauces, and "Cool Cucumber" can serve as a salad dressing.
You can put Crum's hot sauces "on everything and in everything," the website touts, from "breakfast time to cocktail hour." And Crum insists that Grim's hot and salty qualities make it a perfect topping for vanilla ice cream.
For more information, visit Falling Bark Farm, fallingbarkfarm.com; Grace's Pastries, thegracespastries.com; Sharkawi Farm, marketspread.com/vendor/4870/sharkawi-farm; True Made Foods, truemadefoods.com; and Crum's Hot Sauce, crumssauce.com.