Travel
For baseball fans and foodies: Ft. Myers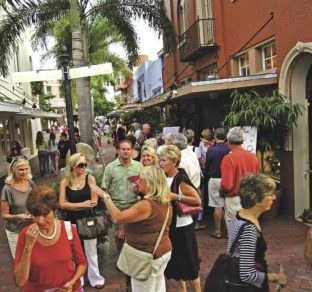 Tourists enjoy gallery hopping at an "art walk" in Downtown Fort Myers, Florida, two hours south of Tampa. In addition to a thriving arts scene, the city has many lively restaurants and breweries.
© The Lee County Visitor & Convention Bureau
Short phrases help jog the mind's recall for trips. On my first trip to Fort Myers, Florida with my husband and two elementary-age children, in the 1980s, the key phrase was "banyan tree."
For our most recent trip there, after my husband and I had been retired for a decade, the key phrase was "baseball plus food" — beyond Cracker Jacks and hot dogs, that is.
While we all eat whether or not we're traveling, 35 percent of people specifically "travel to experience local delicacies," according to the website Booking.com. Virtually every destination, including Fort Myers, seeks to attract food-lovers.
Red Sox & Minnesota Twins
For some baseball lovers, meeting — or just seeing — a professional player in person ranks higher than a good meal.
Fort Myers' Daniels Parkway corridor leads to both JetBlue Stadium, where the Boston Red Sox play, and CenturyLink Sports Complex, home to the Minnesota Twins as well as minor-league teams.
Red Sox fans might know that their team plays more than 20 games at JetBlue Park — a state-of-the-art ballpark that holds up to 11,000 people. Players acknowledged the success of their world championship season in 2018 began right here in Fort Myers.
Because my family's trips began by early June (lodging prices were lower than in winter, though not as low as in August), we've missed the early January sports training camps open to the general public. (If you jump on a flight soon, you can make the January 12-26 men's camp.)
The next-best thing to training camp is a tour of JetBlue Park, which is available starting in early February — make a reservation at (239) 226-4783.
Or take in an exhibition game at CenturyLink's Hammond Stadium. From February 13 to March 21, fans can watch games and batting practice for free.
According to Mark Weber, manager of Florida Business Operations, every game during spring training is a sell-out, so get your tickets early. But with games happening nearly every day during training, you can often grab tickets when you arrive.
In addition to seeing the pros, watch college teams compete at these first-rate facilities — or follow your grandkids from the stands at one of many prominent baseball camps for youths.
February 17 is this year's big open house, which includes a health fair and a baseball clinic for kids out on the field. The latter offers an opportunity for young people to mingle with some players and score some autographs — a highlight of any trip with grandchildren.
Another optimum time to visit is the three-week fair held during November.
Pizza, chocolate, comfort food
If you are traveling with grandkids, they'll love Fine Folk Pizza at 11300 Lindbergh Blvd., where they can learn how to toss pizza dough into the perfect crust.
Even though we didn't have kids in tow, our server let us try for ourselves, and we managed to avoid having the growing circle of dough land on our heads. The vegan pizza, made with cashew mozzarella, is an excellent addition to the traditional menu.
Lindbergh Boulevard is also one of the three Fort Myers locations for Norman Love Confections, a "chocolate and dessert salon" where sweets, including artisanal gelato, are works of art.
Though we enjoyed a fine dinner at the Westin Cape Coral Resort, our most interesting evening meal was the comfort food at the 68-year-old Farmers Market Restaurant at 2736 Edison Ave. My husband's crispy-but-juicy Southern fried chicken and my dinner of "sides," (slow-simmered collards, pickled beets, cornmeal-crusted okra and stewed tomatoes) tasted like the dishes my maternal grandmother prepared in her kitchen on Virginia's Eastern Shore in the 1950s and '60s.
Part of the appeal of dining on the site of Florida's oldest farmers market was arriving there after driving through a neighborhood of well-kept 1940s and '50s white bungalows in a part of southwest Florida reflecting an earlier industrial period.
To really get to know an area, we've always tried to see the real world of every destination — not just the world surrounding four- and five-star resort properties.
We were welcomed to the Farmers Market Restaurant by smiling locals, including co-owner Betsy Barnwell. Part of the third family to own the restaurant, Barnwell told us that teachers, lawyers and law-enforcement officers represent a typical cross-section of diners that mingle there in the evenings.
A great place to stop before or after dinner is the Fort Myers Brewing Company, 12811 Commerce Lakes Dr., which offers more than 20 of its brews on tap. In winter its Keg Nog stout, brewed with seasonal spices such as cinnamon and nutmeg, pays homage to spiced elixirs — though as one who leans toward India Pale Ales, I preferred one called "Clean Shave."
Another winter specialty, Ambruana, is aged in Cypress wood from Brazil. The brewery has also tapped into the trendy hard seltzers (carbonated alcoholic drinks; basically spiked, flavored seltzer). Its lemon-lime and watermelon flavors are popular, served over ice.
Estates worth a visit
If you haven't visited Fort Myers since 1990, when Henry Ford's winter home opened to the public adjacent to that of Thomas Edison, it's worth another trip.
These adjacent properties, situated beside the Caloosahatchee River, include a historical museum and 21-acre botanical garden. As I indicated before, for me, the central banyan tree that covers nearly an acre of ground is a strong visual memory.
But the most striking memory left with us was of two now-famous men responsible for the invention of much that makes up the modern world. At the Edison site, you'll see some of the first phonographs and movie projectors, as well as a 75,000-watt light bulb and a 1905 jukebox playing "It's a Long Way to Tipperary."
At Ford's home, a garage houses several original Ford cars. We enjoyed a guided tour replete with tales lending personality to these men and their families.
Edison's daughter Madeline, who wrote the irreverent "Rules for Guests at Seminole Lodge," showed she had become tired of questions about the glamorous town east of Fort Myers. She wrote, "Don't ask us about Palm Beach. We don't want to know."
A round-trip flight from D.C. to Fort Myers in February costs $220 on United Airlines.
For more information about the area, visit fortmyers-sanibel.com or read 100 Things to Do in Fort Myers & Sanibel Before You Die, by Nancy Hamilton.