Travel
Four presidents who retreated to Virginia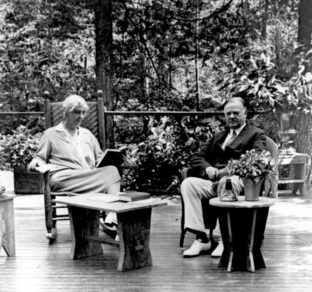 President Herbert and Lou Hoover take in the view from their home in the Blue Ridge Mountains.
U.S. President Theodore Roosevelt was a gregarious, swashbuckling outdoorsman who hunted elephants in Africa and bears in Colorado. He came from wealth and owned a 23-room mansion, Sagamore Hill, on Long Island's Oyster Bay.
But when Teddy and wife, Edith, wanted to relax, they traveled four hours south of Washington to a plain little wood-frame cabin in Virginia's woodlands called Pine Knot.
There they indulged in solitude and studied the "little forest folk," as the president called the wildlife. Postal officials added a car to the mail train, and the Roosevelts disembarked at a dot on the map called North Garden.
Once in office, most U.S. presidents soon feel compelled to escape Washington's pressure cooker and the oppressive summer heat.
President Donald Trump has his private club getaways in Florida and New Jersey. Richard Nixon lolled around on Bebe Rebozo's houseboat in Key Biscayne, Florida. Franklin Roosevelt opted for Canada's Campobello Island and, after being struck by polio, a cottage at Georgia's Warm Springs.
But four presidents chose rural Virginia for their private retreats. Three of these sites are open to the public today.
Pine Knot
In 1905, Edith Roosevelt bought an unpretentious, rustic cottage on 90 forested acres for $250 in Albemarle County "for rest and repair for the President."
"The Tsar and Tsarina would have found it somewhat confining since it consisted of one rough-cut, stone-chimneyed boarded box, with two smaller boxes upstairs," she wrote, describing the first-floor lodge-type room and small bedrooms. "The pitched roof was overlong in front, creating a shaded 'piazza' at mosquito level."
Of course, the Roosevelts could retreat to Sagamore Hill as well, but Edith said her husband needed wilderness, since at Sagamore Hill the White House in effect went with them.
Throngs of cabinet members, legislators, ambassadors, potentates, envoys, generals, industrialists, labor leaders, writers, historians, architects, artists, naturalists and others descended on the home, and telephone and telegraph lines linked it at all times with Washington.
Not so at Pine Knot. The house had no electricity, heating, insulation, telephone or indoor plumbing. The President's chief domestic chore was to "empty the slops." (He did not know that Edith had the Secret Service patrolling the woods.)
After exiting the train, Roosevelt did not read a memo, choosing to listen to the critters over the chatter of government big wigs.
He unwound by watching birds from the porch, one day identifying 75 species by their call. He also may have had one of the last sightings of the nearly extinct passenger pigeon in 1908.
He wrote his son Kermit in 1906 that he left the cabin under a brilliant moon for hunting and, after 13 hours in the woods, got one turkey, "a beautiful side shot at about 35 yards."
In another letter to Kermit he said, "It is really a perfectly delightful little place; the nicest little place of the kind you can imagine. Mother is a great deal more pleased with it than any children with any toy I ever saw."
Other than family, the Roosevelts had only one friend visit from 1905 to 1908.
Today you can tour sparsely-furnished Pine Knot by appointment, surrounded by oaks, redbuds, dogwoods and scampering critters, much as it was in the Roosevelts' day. A large farm table is the only remaining piece of Roosevelt furniture.
Rapidan Camp
President Herbert Hoover and his wife, Lou, made 70 trips to their 164-acre retreat among Blue Ridge Mountain hemlocks and rhododendrons in today's Shenandoah National Park. They named the 13-building enclave Rapidan Camp for the Mill Prong and Laurel Prong streams that merge to form the Rapidan River.
The president gave the Marines, who built it, three criteria in choosing a site: it should be at least 2,500 feet in elevation, within 100 miles of the nation's capital, and have excellent fishing. Every building was within earshot of a babbling stream to "reduce our egotism, soothe our troubles and shame our wickedness," he wrote.
The plain, pine-board buildings were designed to harmonize with the natural surroundings. The compound had the president's cabin, cabins for 25 guests, a mess hall, offices, a community center, servants' quarters, stables and a dog kennel. The Hoovers, both geologists, brought the outside in by "decorating" with rocks, crystals and hemlock branches.
While decompressing, the president also used the camp to address the nation's problems. "I have discovered that even the work of government can be improved by leisurely discussion of its problems out under the trees where no bells ring or callers jar one's thoughts," he said.
An airplane dropped mail daily, and the president's cottage had a telephone. Famous people visited, including Thomas Edison, Edsel Ford, Winston Churchill and British Prime Minister Ramsay MacDonald. The press was not welcome.
An avid angler, Hoover fished, not just for policy solutions, but for sport and escape. While fishing, he could "find relief from the pneumatic hammer of constant personal contracts," he said. He built dams in the streams to create trout pools, and fed the fish beef hearts.
Today's visitors can explore the woodsy paths, footbridges, streams and three still-standing buildings: the president's cabin, dubbed the Brown House (facetiously named to differentiate it from the White House), the Prime Minister's Cabin and Creel Cabin.
The Brown House is restored to its 1929 appearance with some original furnishings. The Prime Minister's Cabin has exhibits on life at the camp and Hoover's Depression-era presidency.
Poplar Forest
Building a private retreat was not the novel idea of hassled, 20th century presidents. Thomas Jefferson was the pioneer. He chose a 4,800-acre site near Lynchburg in what he called "western country," and designed and built Poplar Forest there.
While in Europe for five years, Jefferson had studied European architecture. For his hideaway, he drew on the designs of 16th-century Italian architect Andrea Palladio to build a neo-classical, country villa so he could "detach myself from public life, which I never loved," he wrote.
Built between 1806 and 1823, the one-story brick house sits on a high basement, with four elongated octagonal rooms that surround the cube-shaped central chamber. A 16-foot skylight and tall, triple-hung windows illuminate the interior.
Reflecting Jefferson's love of geometry, Poplar Forest was the first octagonal house in America. Two artificial mounds on each side of the sunken lawn screened octagonal privies.
While he started building it during his presidency, it came to be a favored respite in his retirement because Monticello had become an almost unbearable clamor of children, grandchildren, slaves and uninvited guests. At Poplar Forest, a three-day horse ride (90 miles) from Monticello, he rekindled his spirit in tranquility.
In 1811, at age 69, he wrote to a friend, Benjamin Rush, that he went to Poplar Forest three or four times a year, staying up to a month at a time. "I have fixed myself comfortably, keep some books here, bring others occasionally, am in the solitude of a hermit, and quite at leisure to attend to my absent friends," he penned.
Today, visitors can take guided tours of the house and self-guided tours of lower-level exhibits, offices, grounds and slave quarters. Exhibits describe restoration, archaeology and slave life. A computer model demonstrates Jefferson's landscape design.
Wexford
While Jack and Jacqueline Kennedy could have escaped Washington to family compounds in Hyannis Port, Mass.; Palm Beach, Fla.; or Newport, R.I., the couple chose 39 acres of farmland near Middleburg, Va.
While he was a U.S. senator, Jack became familiar with Loudoun County when he leased Glen Ora — a 400-acre farm in Virginia horse country, 40 miles from the White House.
Jackie designed a 3,500-square-foot stone and stucco ranch-style home, intended to be "nothing elaborate," said Pamela Turnure, the first lady's press secretary.
Completed in 1963 for $127,000, it had seven bedrooms, a Signal Corps switchboard, bomb shelter, stables and Secret Service workspace. They named it Wexford for the Ireland county where the Kennedy family originated.
At Wexford, Jackie could indulge in her horseback-riding passion. Caroline, age 6, rode her pony, Macaroni, and Jack buzzed 3-year-old John, Jr., around in a golf cart and hit golf balls in the pasture.
The president wrote, "This house may not be perfectly proportioned, but it has everything — all the places we need to get away from each other — so husband can have meetings…wife paint…all things so much bigger houses don't have. I think it's brilliant!"
Jackie and the children visited at times by helicopter or limousine without Jack. Sadly, they went there together only twice, in October and November 1963. Jackie sold Wexford in 1964 for $225,000. Today's owners bought it in September 2017 for $2.9 million.
A private getaway may be an illusory notion in today's hyperconnected world. But these four presidents understood the need to de-stress in settings far simpler than the high-stress White House.
If you go
Rapidan Camp, in Shenandoah National Park, is managed by the National Park Service. Grounds are open year-round. From spring through fall, rangers host tours.
See more at www.nps.gov/shen/learn/historyculture/rapidancamp.htm. Register at www.recreation.gov or call (877) 444-6777.
Pine Knot is owned by the Edith and Theodore Roosevelt Pine Knot Foundation and is open by appointment. For information, see www.pineknot.org or call (434) 286-6106.
Poplar Forest is owned by the Corporation for Jefferson's Poplar Forest. Guided tours are offered daily, March 15 through Dec. 30, with self-guided tours on weekends from mid-January to mid-March. See www.poplarforest.org, or call (434) 525-1806.
All sites require a car to visit. Amtrak has service to Charlottesville and Lynchburg.
Glen Ora and Wexford are not open to the public.