Arts
From CIA to pageant circuit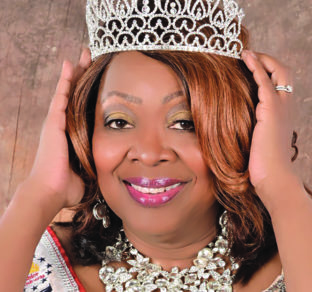 Karen Moore tries on her crown as Ms. Senior Maryland USA 2018. The Hyattsville resident also won the Ms. Maryland Senior America pageant in 2017 after retiring from a career in the CIA spanning more than four decades.
Photo courtesy of Karen Moore
Karen Moore won her first competition at age 4. To reach the microphone in a talent contest at her nursery school teacher's church, she had to stand on a chair. She crooned a song called "God Bless Us All," popular in the early 1950s.
Now 69 and a resident of Hyattsville, Md., Moore has continued to wow pageant audiences over the years. She was once a finalist for Cherry Blossom Princess around 1970, and competed in the Miss Black D.C. pageant.
In 2015, she was selected American Classic Woman of the Year (a D.C. pageant), and in 2017 was crowned Ms. Maryland Senior America. Earlier this year, she was crowned Ms. Senior Maryland USA, a different pageant (about which more later).
"I've always been a competitive person and, being retired now, there's not a lot of opportunities to compete for stuff," Moore said.
"Plus, you meet a lot of very interesting women in these contests. I haven't really seen divas. It's very fulfilling experience to me."
Moore moved back into the world of pageants after she retired from a 43-year career with the CIA in 2011. She's quick to point out that she wasn't a spy, but rather worked in human resources, as the agency's senior diversity manager.
In that role, she traveled to more than 30 countries, talking about personnel issues and training employees.
A lifelong dream
In her youth, Moore said, "I had aspirations of becoming a model and actress because I was very involved in theater and singing in different places.
"But my parents had a different view because they felt minorities wouldn't do well at that time. [They saw] that there were very few minorities, black, Hispanic or Asian, who were doing very well," Moore said.
Instead, they wanted Moore to become a teacher. She briefly acquiesced, going to college for a year before dropping out.
Her parents both worked at the CIA. But it wasn't until Moore discovered that her mother sang in a lunchtime chorus in the agency's cafeteria that her interest in working there as well was piqued.
Even then, she didn't think she'd be at the CIA for long. "I was only going to stay long enough to pay off my car, and then I was going to go off to seek my fortune, maybe in New York."
Finding love online
Instead, Moore stayed in the Washington area, marrying and raising three daughters. She divorced in her 30s and was single for the next 30 years.
But she had a friend who had met some men online, and Moore eventually decided to take the plunge, signing up with Match.com.
About a month later, a man named Ray Murrell from Dale City, Va., contacted her. She ignored him, deciding he lived too far away to make a relationship work.
She ignored his second email as well. But by the third, she answered, telling him they were too far apart. He said he would come to her.
So they met for lunch at a seafood restaurant and talked so long the restaurant started setting up for dinner. The next day, a car crashed through the restaurant's window.
"We laughed about it, and said that had to be a sign that this was a significant relationship," Moore recalled. "I liked how close he was with his family, particularly his grandchildren. That won my heart because often men aren't close to their families.
"A year after dating exclusively, he started talking about marriage. It was scary for me because of the way my first marriage ended. And I'd been on my own for so long."
But after five years of dating, the coupled married last August, with Murrell moving to Maryland.
What a pageant is like
In June, Moore traveled to Las Vegas to compete in the Ms. Senior USA pageant (not to be confused with the Ms. Senior America competition, which has its own pageant in October in Atlantic City, N.J.).
While she didn't place in the national Ms. Senior USA pageant, Moore said she had a thoroughly enjoyable time — especially creating a costume that paid homage to her home state, which every contestant had to fashion.
After deliberating for a while, she decided to dress up as a crab, donning a red dress, sparkly red shoes and draped in the Maryland flag. Topping it all off was a red hat with crab legs and googly eyes. Oh, and she also carried a crab net with fake crabs. As Ms. Senior Maryland USA, she rode in Takoma Park's July 4th parade.
When she's not competing, Moore stays busy in a number of performing groups. She is active in several church choirs and has sung with local choirs onstage at the Kennedy Center and Ford's Theatre. In 2015, she was selected to join the six-member singing group Prince Georges' Seniors on Stage.
Moore also likes to work as an extra in locally shot TV shows, movies and commercials. Although she's not supposed to divulge what she has worked on, she shared that readers can find her in the funeral scene in TV's "House of Cards" finale.
While the work can be fun, it can also be tedious doing take after take. And while the hours are long (up to 14 hours a day), and the pay low ($80 to $100 a day), the food can't be beat, she said. The craft tables, where production crews are fed during shoots, are always overflowing with high-quality food, including shrimp scampi and steak.
In addition, Moore volunteers her time to give back to the community. She helps Women I Know, an outreach ministry working with abused and homeless women.
Also, she is a guardian for her mentally challenged brother, and serves as a board member, sharing her experiences and advice, with the Wholistic Care Service, a nonprofit that provides services for D.C. adults with disabilities.
All this fits within the realm of Moore's philosophy of life, which she shared at a recent pageant:
"To be loving and helpful to all that I meet….To ease pain, so life is not so hard. To invest in myself to be healthy and strong. To give of my strength to those who are weak. To lift up mankind with my smile and my song."
To learn more about pageants for older women, see www.facebook.com/Ms.SeniorUSAPageant, www.facebook.com/AmericanClassicPageant and http://senioramerica.org.