Cover Stories
From local band to Hollywood star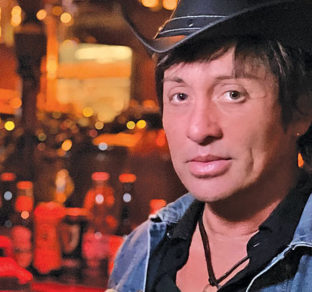 Ellicott City native Johnny Alonso, 51, stars in the Netflix series "Outer Banks." This month his new movie, "Harvey," which he both directed and stars in, will have a premiere at the Senator Theatre in Baltimore.
Photo courtesy of Johnny Alonso
For actor, producer and Ellicott City native Johnny Alonso, the road to Hollywood didn't start in the traditional way.
The son of two doctors, Alonso first took to the stage as a teenager with a band he formed with his brother, James, and two neighbors. As lead guitarist and singer for the band, Alonso discovered his love for performing.
"That's really where my acting career began," said Alonso, now 51. "Being in a band, I figured out that there was a lot of acting on stage. Whether you believe it or not, it's a show…It's all an act. And I realized that there were ways of controlling the crowd by a certain way of acting."
With their unique sound and talent, the band managed to make two records and tour across the country during Alonso's late teenage years. But when he was 19, the band fell apart.
"After [the band] dissolved…I realized right then and there that I still wanted to entertain," he said. "So I was like, 'You know what, man? I'm going to try hand at formal acting.'"
To NYC and a lucky break
Alonso began his education at New York University and the prestigious Actor's Studio program in 1991.
Although the program doesn't allow students to audition for professional jobs until after graduation, Alonso earned his big break when a couple of talent scouts came to observe one of his classes.
"Right time, right place," Alonso remembered. "I am doing monologues by myself, and there is this casting director named Judy Henson from ABC network that saw me and said, 'I need to talk to him.'"
Alonso's acting career began with some commercials through agencies in New York and Baltimore. Things started to take off for him in 1992 with a made-for-TV movie on "CBS Schoolbreak Special." Then, four years later, Alonso really gained recognition as Johnny Kowolski on the PBS series "Numbers Alive!"
Following this, Alonso starred as the host of "NASA 360" and had roles on popular television shows like "Rules of Engagement," "Dawson's Creek," "Gotham" and what he said was his favorite show, "One Tree Hill."
As a band manager named "Joey D" on "One Tree Hill," Alonso thrived in the role because of his background in music.
"When I was offered the role of Joey D on 'One Tree Hill,' I was only offered two episodes. But I played it so strong — I came in like a stealth bomb — they offered me four more episodes.
"I knew the lingo, I knew the body language of a band manager, a talent agent," Alonso said. "I was very comfortable on the WB network, the CW network, playing Joey D. And that just opened so many doors after it."
Netflix and a new film premiere
Now based in Los Angeles, Alonso has built a career as an actor and a producer, including his latest work on season two of the hit Netflix show "Outer Banks."
This fall, Alonso is excited about his upcoming film, "Harvey," which he stars in and directed. Not to be confused with the Jimmy Stewart comedy of the same name from 1950, this "Twilight Zone"-like psychological thriller has a 1980s-vibe and features Alonso as a "psycho surfer."
The pandemic could have stalled "Harvey," but fortunately the film was one of eight independent union films cleared by the Screen Actors Guild – American Federation of Television and Radio Artists in November 2019. With that permission, Alonso and his crew then edited and produced the work throughout 2020 amid COVID-19 regulations.
The film's sold-out Hollywood premiere took place in mid-October. It will premiere in Baltimore at the Senator Theatre on November 18 before being released on a handful of different platforms beginning in January.
Possible Ellicott City project
Alonso has other projects in the works, including one he hopes to film in Ellicott City. The movie, "Heavy Metal Haunting," is about a band that needs a break from the rockstar lifestyle and decides to decompress in a comfortable location: a house in Ellicott City.
Alonso is in contact with the Maryland Film Commission, he said, "and they're really excited about it. So if everything pulls through, 'Heavy Metal Haunting' will be shot in Old Town [Ellicott City]."
Next Alonso will be featured in an upcoming episode of the paranormal series "A Haunting," in which he played a role in both 2006 and 2014. In the episode called "Nevermore," after the Edgar Allan Poe poem "The Raven," Alonso will play a guest lead role. The hour-long episode will air the week of Thanksgiving.
For Alonso, it seems there's always a new project to look forward to.
"From 'Outer Banks,' to 'Harvey,' to 'A Haunting,' I've been pretty wiped out, been pretty spent," Alonso said. "But if you ask me, I have one of the coolest jobs ever."