Cover Stories
From standup to news anchor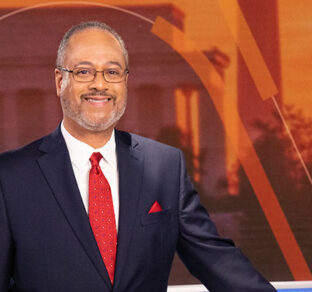 NBC News4 Today anchorman Tony Perkins worked as a standup comedian for a decade before landing his first television position. Perkins will be interviewed live at the Beacon 50+Expo in Silver Spring, Maryland, on Oct. 22.
Photo courtesy of NBC4
Some people enjoy a challenge. News anchor Tony Perkins — who started his career in standup comedy — is one of them.
The first time he stepped on stage at a comedy club 40 years ago, the crowd erupted in laughter and applause. But the second time was another story.
"I went back two weeks later with all new material and bombed," Perkins, now 64, recalled in an interview with the Beacon.
"I thought, well, this is interesting. You might be the greatest comedian in the land two weeks ago, and tonight I'm not getting anything…That was kind of what hooked me, and I just kept going and going," he said.
Perkins turned that tenacity into a decade-long career in standup, which was followed by a much longer successful career in radio and television.
After stints at "Good Morning America" and "Get Up DC," Perkins is now a beloved news anchor at NBC's News4Today in Washington, D.C. He calls it "literally a dream job."
Perkins will be interviewed on stage about his varied career at the Beacon's 50+Expo in Silver Spring, Maryland, on Sunday, October 22.
Childhood influences
Perkins was born in the Bronx, New York, and his family moved to (and all around) the D.C. area starting when he was five years old. He attended elementary school in Southeast Washington, D.C., junior high in Prince George's County, Maryland and high school in Alexandria, Virginia.
Although Perkins was shy in school, he would host mock gameshows at home with his younger brother, Scott. Using a hairbrush as a microphone, he would interview his family members and ham it up.
A public speaking class in high school gave the diffident student newfound confidence. Perkins went on to become the first black editor-in-chief of the Mount Vernon High School newspaper.
He came by his love of radio naturally. Perkins' father, who he has called "Mr. Charming," was a DJ at WOL, a popular AM radio station in D.C. in the 60s. As a teenager, Perkins also visited the "powerhouse" Philadelphia radio station where his uncle worked. "I thought it was very cool. I was attracted to it," he said.
"I would hear my father on the radio and I would get to go to the station," Perkins recalled. "I thought it was very mysterious — you're talking to the microphone, and it's going out to thousands of people."
Perkins has also been intrigued by television personalities like Johnny Carson since he was a child. "I was fascinated by [television]; drawn to it. I started to have a sense of "Ooh, I'd love to do something like that someday,'" he said.
As a college student at American University, Perkins helped found the campus television station. His first time on the air was at the school's student-run radio station, WAMU. Perkins would write a few jokes to introduce people on air.
"I liked to laugh, and I found I liked to make other people laugh," he said.
The problem was, it's hard to hear an audience laugh from a radio studio. So, one evening, Perkins decided to try out open mic night at Garvin's, a comedy club in downtown D.C.
That's when he became "hooked," traveling up and down the East Coast, doing gigs and working full-time in standup. "It was a crazy, risky decision. But I was single; I was young."
It turned out that doing comedy was "one of the best decisions I ever made," he said. Perkins got his first break in radio after a comedy gig. After local radio personality Donnie Simpson saw his act, "he pretty much hired me on the spot," Perkins said.
Simpson, who remains one of Perkins' closest friends 30 years later, brought him on as a writer and producer for "The Donnie Simpson Show" on WKYS-FM.
Perkins stepped away from standup around the time he met his future wife, Rhonda. With his foot in the door in radio, Perkins landed more positions at D.C.-area radio and television stations, and his baritone humor quickly attracted a larger audience and wider recognition.
After only a couple of years at DC Channel 20, he won an Emmy Award for a "fun little entertainment and comedy show" he hosted on Saturday afternoons called "DC 20 Breakaway."
Hitting the big time
A few years later, he was hired as a weather forecaster at Channel 5's "Fox Morning News."
Just six years after that, Perkins was offered the "Good Morning America" weather anchor position and moved to New York City, commuting to his home in Virginia on weekends.
In 2005, after his son was born and "being on call 24 hours a day," he said, Perkins left the blockbuster morning show and settled again in Virginia, returning to Fox 5. There he won a second Emmy.
In 2019, he moved to CBS' Channel 9 to became the anchor of "Get Up DC!" All the while, Perkins was co-hosting podcasts and radio shows, including another stint on "The Donnie Simpson Show," where his career began.
But working at NBC was always Perkins' goal. "I grew up watching NBC. I was a huge fan of 'Tonight Show' with Johnny Carson. I loved SNL ['Saturday Night Live']," he said.
"I have pictures of myself when I was a teenager outside the NBC entrance, pointing at the NBC logo as if to say, 'I want to be working here someday.'"
Perkins finally became an NBC anchor in March 2023. Now that he has his dream job, he's not planning to retire anytime soon. "I don't feel like I'm anywhere near done," Perkins said.
After all, he's still learning every day.
"These jobs that I've had have allowed me to learn a lot," he said. "If you're a TV news anchor or even a talk show host, you really have to know a little bit about a lot of things and be a quick study."
Comedy roots
This month, Perkins is featured in an upcoming documentary about black comedians. "The Mecca of Comedy," which premieres at Union Stage in D.C. on Oct. 8, includes interviews with Perkins, Martin Lawrence, Dave Chappelle, Wanda Sykes and other comedians who got their start in the District.
When Perkins was on the comedy circuit, he used to close his act with an impression of Bob Dylan singing the theme song to "The Flintstones." It killed.
"I always figured, well, this will be surprising to people, coming from a black comedian," he said with a chuckle. "That always did very well for me."
Come to the Beacon 50+Expo on Sunday, October 22, to hear and meet Tony Perkins. The expo will take place from noon to 4 p.m. at the Silver Spring Civic Building in downtown Silver Spring, MD. For more information, visit thebeaconnewspapers.com/50expos or call (301) 949-9766.
Correction: The print version of this story refers to Carmen's comedy club. In fact, the name of the club where Perkins got his start was Garvin's.