Cover Stories
Get fit for free if 65 or better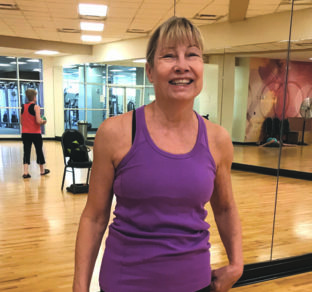 More than 13 million Americans are eligible for free classes and gym memberships through the SilverSneakers program. Instructor Dottie Longo, above, teaches safe, fun classes catered to older adults at an L.A. Fitness in Arlington, Va.
Photo by Michael Doan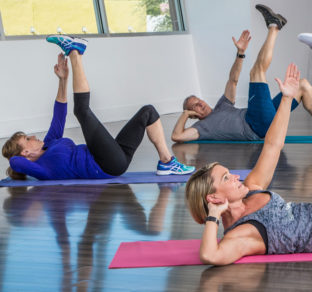 Photo by Tivity Health
You'd never mistake Dottie Longo for a Marine drill sergeant. The 67-year-old fitness instructor encourages her students, including me, with phrases like "if you can," "at your own level" and "don't overdo it." No one is ever asked to "go for the burn."
In a recent class, Longo announced, "I'm doing eight repetitions with my two-and-a-half-pound weights. You can use a lighter weight — or none at all — if you'd like."
So we go at our own pace in my eight-person SilverSneakers class at L.A. Fitness in the Crystal City neighborhood of Arlington, Virginia. Some of us even sing along to the '60s and '70s music during the one-hour, twice-a-week class for people 65 and over.
"A lot of seniors are intimidated by gyms — the layout and all the fitness equipment," Longo said. "Our SilverSneakers class provides them a certain amount of comfort at their particular skill level. That's my job."
A national program
SilverSneakers is part of a 27-year-old program administered by Tivity Health. Currently, the program can be accessed at 16,000 gyms nationwide.
In the Washington, D.C. area, there are about 60 affiliated health club locations, as well as several SilverSneakers FLEX sites offering classes in such locations as churches, recreation centers and adult-living communities.
Best of all, it is free. In fact, SilverSneakers members can go into most participating gyms and use all of their facilities and join any class.
The costs are covered for Medicare recipients who either participate in a Medicare Advantage plan or have Medicare Supplement insurance from most of the major companies.
However, only 3.6 million of the more than 13 million people eligible for SilverSneakers are stretching, lifting weights and dancing in classes around the country. Nearly ten million older adults are missing out on a great opportunity to get fit for free.
Why would insurers pay to let you exercise and take classes at Gold's Gym, Planet Fitness or your neighborhood Y? For one thing, it saves them money.
A researcher for Tivity reported that SilverSneakers participants incurred $2,144 less in healthcare costs over a three-year period compared to nonparticipants.
And why would participating gyms let these SilverSneakers members swim in their pools, lift their weights and join their yoga classes?
Simply put, gyms need members, and it doesn't matter whether individuals or insurance companies pay the fees. Also, older adults often use the clubs at otherwise quieter times of day.
At Gold's Gym on Layhill Road in Silver Spring, Maryand, SilverSneakers classes, which they call Fit for Life, are very popular, according to front desk manager Shannon Roundtree.
"That class is full almost every time. It's like they're friends," Roundtree said of the participants. "A lot of people like to use their SilverSneakers membership at our gym because they're around people their own age."
A workout with new friends
Each Tuesday and Thursday morning, I bike or drive to my L.A. Fitness, pick up weights, rubber balls and a chair (for a few seated exercises), and get ready to rumble.
Longo kicks off class with light aerobic activity, such as marching or dance steps, for about 15 minutes to get us warmed up. Then she often has us lift weights or roll rubber balls along our limbs to lightly stretch our muscles.
Sometimes we do gentle yoga-like postures on the floor to strengthen our backs. "Engage your abs," she reminds us.
Two classmates in their 60s, Jeanne Iglesias and Jane Petofsky, like to sing along to the Motown and disco songs. "Forever Young" seems appropriate. So do "Ain't No Stopping Us Now" and "Solid as a Rock."
And everyone laughs when "Sugar Shack" comes up because they know I hate the song. (But I happily sing along with my new exercise friends anyway.)
"One of my goals was to help people to be part of a community together and want to come to class," Longo said, "and to strengthen their bodies and feel good about it."
Longo, a retired mortgage underwriter, has been teaching since October, when another L.A. Fitness instructor encouraged her to get certified.
After taking a class in basic fitness, she applied to SilverSneakers and took its online courses and an exam to become certified. Then L.A. Fitness hired her as an instructor. (Details on how to become an instructor are available at silversneakers.com.)
Teaching classes "has given me more self-confidence than I have ever had," Longo said. "I have exercised all of my life. But when you get up in front of a class, it is a new ball game. I have to remember what is coming next in the routine, and I have to keep to the beat of the music."
Each class is tailored to ability
Like all SilverSneakers instructors, Longo adjusts the class to the level of all participants. She wants to challenge members, but not beyond their comfort level.
"I want everyone to know they can sit down on the chair and exercise if they wish," she said. Even people in wheelchairs can participate.
One advantage of the class is the weight training, which many studies have suggested is key to longevity. "It's one thing even healthy older adults don't do," Longo said. "They walk, they do yoga, but they don't understand that weight training is also really important to maintain muscle mass as we age."
The class Longo teaches is considered "classic" SilverSneakers, but there are a variety of classes offered at other gyms in the area, including Latin dance, yoga, water aerobics and so-called BOOM classes — three half-hour sessions per week with higher intensity. Some also emphasize cognitive health and fall prevention techniques.
SilverSneakers members are a dedicated bunch, according to Kurt Lawson, customer service manager of the Dupont Circle location of Washington Sports Clubs in Washington, D.C. (Their location in Bethesda, Md., also accepts program participants.)
Although Lawson's gym doesn't offer specific classes for older adults, SilverSneakers members can take any of the classes offered and use the equipment. "Generally, the people who are SilverSneakers members use the facility quite a bit," Lawson said.
"One of my SilverSneakers members comes in twice a day," he noted. "One day I saw her birthdate, and I'm like, 'Wait a minute, she's in her 70s!' She doesn't look like it because she's in here all the time, working out."
Health club members younger than 65 can join any SilverSneakers classes offered by their gym, too. Michelle Abboud, 51, joined one of my classes. "I get to work out my support muscles and get structural stability, which complements the Zumba classes I take during the rest of the week," she said.
So how do I feel after taking the class? Well, good! It covers most of the stretching and weight training I need. Because I already ride a bike, the class's short aerobic activity is perfect. I like the people and the gym atmosphere, and my back trouble is less likely to reoccur.
When he was exactly my age, 77, my arthritic grandfather told me, "Mike, don't get old." But back then, they didn't have fitness programs like SilverSneakers.
I plan to defy my grandfather and grow old anyway. Someday.
To find out if you are one of the 13 million people eligible for a free SilverSneakers membership, and to find nearby locations, visit Silversneakers.com, email support@silversneakers.com or call (866) 584-7389.