Cover Stories
Going solar in Howard County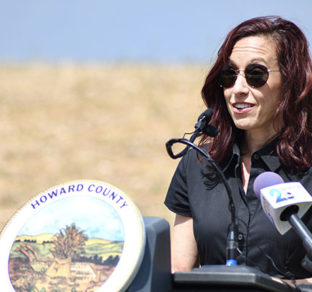 Howard County employee Amy Gowan speaks in May at Rural Rhythm Farm in Dayton, one of three county farms setting aside land for a "solar farm." The solar panels to be installed on the farm will generate energy for homeowners eager to power their homes with renewable solar energy. In May, a law was passed to promote solar energy generation throughout the county.
Photo courtesy of Howard County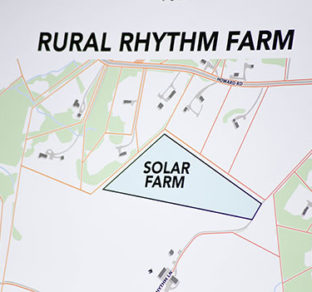 Photo courtesy of Howard County
Howard County resident Ari Silver-Isenstadt has spent the last decade trying to reduce his carbon footprint to protect the environment, including switching to renewable energy.
He and his wife first got their feet wet with renewable energy more than 10 years ago, when they installed solar thermal panels that used the heat of the sun to warm their hot water tank.
After that initial foray into renewable energy, Silver-Isenstadt had solar panels installed on the roof of their Laurel house — twice.
The first time, they purchased some panels using federal, state and local tax incentives that lowered the upfront cost of ownership.
The second time, they leased panels through a solar company so there was little to no upfront cost; only a monthly fee covering the panels plus power. In both cases, they saved money on their electric bills.
"Solar doesn't power all our electricity needs," Silver-Isenstadt said, "but the solar panels drive the meter backwards." In fact, he said, some months they haven't had to pay energy bills at all.
Silver-Isenstadt's use of renewable energy, along with his electric vehicle and vegan diet, means that his carbon footprint is much lower than the average American's.
"We still have a disappointingly high carbon footprint, but I'm happy with what we have been able to do," he said.
County's renewable energy push
Howard County Energy Manager Leah Miller hopes more residents will follow the lead of people like Silver-Isenstadt.
Through its website livegreenhoward.com, the county offers residents ways to incorporate solar energy in their homes and adopt other sustainability measures.
One way to "go solar" is to purchase rooftop panels to install on a south-facing, sloped roof. As Silver-Isenstadt found, the initial investment can be expensive, costing on average $15,000 to $25,000, before tax credits. Miller noted, however, that "the energy cost savings can be worthwhile."
Another option is to hire a company to install its own solar panels on your roof. Since the company owns the panels, there's little or no cost to the homeowner. Although they won't save quite as much money on their power bills, residents can feel good about reducing their carbon footprint.
How to go solar in the shade
But not everyone owns a house, and not all homeowners have sunny, south-facing, sloped roofs. In those cases, Miller recommends looking into something called a community solar program.
Residents pay a nominal fee to "subscribe," and the company uses those investments to build or use a commercial solar facility in the region, allowing residents to lower their energy costs by at least 5% per month.
The model works well for Miller herself. "I participate in community solar program for my own electrical needs because I have a shady roof," Miller said.
Miller found a program through a nonprofit called Solar United Neighbors. She visited its website, solarunitedneighbors.org, typed in her ZIP code, and browsed the active solar projects in need of subscribers.
Subscribers receive a credit on their electricity bills; the credit depends on the amount of energy used and the individual's investment in the program.
"With community solar, you can purchase or lease a 'share' or subscription in a community solar project; or start a project with your neighbors. Every month, you receive a credit on your electricity bill for the energy produced by your share," according to the Solar United Neighbors website.
As Kimberly Armstrong, program director for Solar United Neighbors, puts it, the community solar subscription model "makes it more equitable for everyone to participate in clean energy, no matter where they live."
Wind power
Another option for people who want to use renewable energy is to switch their electric service provider to one that uses wind energy or another type of renewable energy.
"It's easy to switch," Miller said. "Residents just need to contact the supplier they want to work with." (Compare offers from residential suppliers at mdelectricchoice.com/shop.)
But don't overlook the cheapest way to save on energy costs: use less of it.
"Residents can do simple things like unplugging appliances not in use and turning off lights when leaving rooms," Miller said. Replacing regular lightbulbs with LED lightbulbs helps save money and energy, too.
Miller also suggests that homeowners request a free energy checkup from Empower Maryland, which can suggest ways to save energy. Visit their website at energy.maryland.gov and click on EmPower on the left.
Efforts to be climate friendly
Howard County is not only educating residents on using renewable energy; they are using it themselves.
When Howard County's executive Calvin Ball took office in 2019, Miller said, "one of the first things he did was pledge to reduce greenhouse gas emissions by 45% by 2030, with the goal of reaching zero by 2050."
The county government has a goal to use solar for 20% of its energy usage by 2024, Miller said, "and we are well on our way to surpassing that."
To do so, the county established an agreement with a New Jersey-based solar power company, CI Renewables, which maintains solar panels and arrays on county-owned as well as private land.
They will generate 44,000,000 kilowatt-hours a year, covering more than half of the county's energy usage. In fact, Miller believes that number may be closer to 75%.
Howard County solar projects include the following:
—Solar panels in parking lots. Howard County has added canopies with solar panels to one of its parking lots and plans to build more at the East Columbia Library, the East Columbia 50+ Center and the Gateway Building. These canopies not only generate solar power but provide shelter and shade.
—Rooftop solar panels. The county has installed rooftop panels on many buildings, including the Miller Branch Library, the Howard Building and the District Court. The county is pushing for new buildings to be designed to allow for more rooftop panels.
Through these projects, the county is modeling the effective and cost-efficient use of solar power and inspiring residents to do what they can.
For Silver-Isenstadt, his investments have paid off financially and emotionally, by helping him live consistently with his values.
"We want to support the solar industry," Silver-Isenstadt said. "We want to be role models for the neighborhood and live in a way we can explain to the next generation. If not us, then who?"
Find out more about ways to use renewable energy at Howard County's website, livegreenhoward.com.