Travel
Good times in Louisiana Cajun country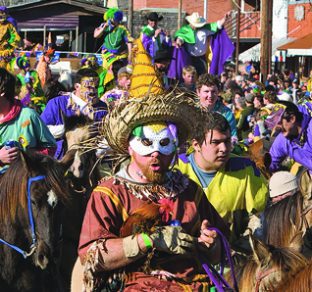 Each year, the town of Mamou, La., like many in the Cajun country of Louisiana, holds a colorful and raucous Mardi Gras celebration on the day before Ash Wednesday, which marks the beginning of Lent.
© Philip Gould/Lafayette Travel
Let the good times roll, they say. In French, "Laissez les bons temps rouler." And roll they do in southern Louisiana's Cajun Country.
Locals love to sing, dance, cook, eat and party hard in year-round festivals that celebrate cracklin's, catfish, crawfish, shrimp, boudin, gumbo, okra, frogs, ducks, alligators, zydeco, petroleum and sugarcane, for starters.
And that's all in addition to the big February blowout — Mardi Gras — with its orgy of beads, masks, parades, king cakes and extravagant balls.
New Orleans' revelry is renowned, but Mardi Gras also explodes in Cajun Country towns like Lafayette, Eunice, Jeanerette and New Iberia.
Cajun Country is a part of southern Louisiana consisting of 22 parishes (or counties) in the 150-mile Atchafalaya Basin — the nation's largest river wetland.
Also called Acadiana, the region is named for L'Acadie, the Nova Scotia homeland of French-speaking settlers who were kicked out by the British when they refused to pledge allegiance to Britain and forsake Catholicism in the 1700s. The refugees were attracted to Louisiana's French heritage (Louisiana is named for France's king Louis XIV), and they adapted over time to the region's watery landscape.
This is also Creole country — home to people descended from settlers of French or Spanish origin. Some have African or Native American ancestry, too. Acadiana is truly an ethnic potpourri known for its unique culture and history.
Bayous and zydeco
The region is a mushy, marshy maze of sluggish channels called bayous that connect sprawling floodplain forests, cypress-tupelo swamps, backwater lakes and wetlands.
These hot and humid wilderness "saunas" exude mystery and enticement, qualities that inspire a savory cuisine, like famous slow-cooking gumbos, shrimp étoufeé and crawfish stew. Many Cajun dishes merge multiple ingredients that gurgle and simmer like a smarmy swamp on a hot day.
And there's something about these wetlands that brings out the musical talents of the people, both professionals and amateurs. Remember the song that goes "Shrimp boats are acomin'. There's dancing tonight"? Or that Hank Williams line, "Jambalaya, crawfish pie, filé gumbo"?
It doesn't take much to get most locals onto the dance floor twirling to fast-paced, zydeco tunes like "Lache Pas Pa La Pate" (Don't Let Go of the Potato) or "Les Haricot Sont Pas Salés" (The Snap Beans Aren't Salty). Zydeco bands, featuring guitars, accordions and apron washboards called frottoirs, are as common as coffee pots.
Happy Lafayette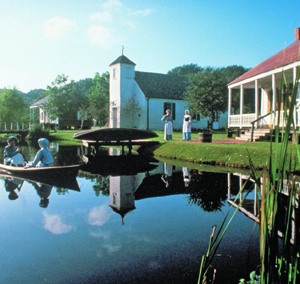 Acadian Village in Lafayette, La., depicts life in 19th century southwest Louisiana, showcasing historic homes alongside winding bayous, as well as a blacksmith shop and general store. Most of the buildings are authentic and were relocated to the village from nearby towns.
Courtesy of Lafayette Convention & Visitors Commission
Lafayette is the unofficial "capital" of Acadiana, and the center of Cajun lore, the region's rich mix of French, Spanish, African and Caribbean traditions.
"If you want to know Cajun culture, this is the place to come," said Dianne Monteleone, a retired history teacher and volunteer at the visitor's center. The Wall Street Journal's Marketwatch.com labeled Lafayette "the Happiest City in America."
The Acadian Cultural Center tells the Cajuns' story through exhibits, ranger programs, films, wetland walks and boat tours. It recounts how, after decades of suppressing their heritage (speaking French in school was stigmatized as a sign of ignorance), Cajuns restored pride in their culture.
This National Park Service site shows a film, The Cajun Way: Echoes of Acadia, documenting the Cajuns' exile. It includes clips from a 1929 silent film, Evangeline — the story related in Henry Wadsworth Longfellow's 1847 poem about an Acadian girl searching for her lost love, Gabriel, during the deportation.
Vermilionville, a 23-acre living history folk life park, honors Acadian, Native American and Creole 18th and 19th century cultures. In 19 Acadian-style structures, including traditional homes, artisans spin cotton, carve wooden decoys, make cornhusk dolls and weave palmetto leaves.
Front and center is the dance hall, where jam sessions heat up every Saturday and dancers of all skill levels take to the floor in lively jigs, waltzes and two-steps.
In the St. John the Evangelist Cathedral, a Dutch-Romanesque edifice, visitors seeking spiritual comfort are reminded of nature's wrath in these parts by a flyer, the "Prayer for Safety in Hurricane Season." It reads in part: "The Gulf, like a provoked and angry giant, can awake from its seeming lethargy…yearning for a stormless eternity."
Union soldiers once camped on the church's grounds, under the now-500-year-old, 126-foot-high St. John oak, and among the churchyard's aboveground tombs dating back to 1820.
Small towns and swamps
Straying from America's happiest city may be tough, but many gems await the curious in nearby small towns, eateries, historic churches, oyster bars, antique shops and dance halls.
St. Martinville spotlights Evangeline with a statue in the graveyard next to the Mother Church of the Acadians, St. Martin de Tours. At the Acadian Memorial, a bronze wall of names honors 3,000 Acadians who fled to Louisiana, and an eternal flame symbolizes human resilience. Next door, the African American Museum traces the diaspora from West Africa.
Alligators are part of life here, central to the local culture. Confederate soldiers wore alligator shoes, and today, farmed alligators end up on dinner plates.
Chances are you'll see some on a boat tour in the Atchafalaya Basin's 860,000 acres of swamps, bayous and backwater lakes. You'll also likely see slithering snakes, great white egrets taking flight and basking turtles.
Passionate cooking, eating
Whether it's sauce piquant, gumbo, jambalaya, turtle soup, oyster pie, shrimp remoulade, catfish Orleans, oysters Rockefeller, crawfish étoufée or grilled gator tail, people in southern Louisiana live to eat, they say.
In her Cajun cookbook, titled Who's Your Mama, Are You Catholic and Can You Make a Roux?, Marcelle Bienvenu, the "Queen of Cajun Cooking," says that cooking is a passion, and preparing and serving it are "an intimate form of communication."
The cuisine, like the people, is a rich mélange: tomatoes from the Creoles; the spicy herb filé from Native Americans; okra from Africans; rice from the Chinese; the roux from the French. Gourmands might say that Cajun cooking combines multiple ingredients in a single dish that Cajuns created originally to feed large families. Creole dishes, with French and Spanish origins, often feature sauces.
Today, these distinctions are blurred. Louisiana chefs maintain that Cajun and Creole dishes start with the "holy trinity": sautéed celery, bell pepper and onion.
And good food is a good reason to party. For example, Scott, Louisiana, the "Boudin Capital of the World," just west of Lafayette, stages the annual Boudin Festival.
Boudin? "Boudin is a unique Cajun specialty, a familiar recipe that has been passed down from one generation to the next," explains the festival's website. "It's basically a combination of rice, a special blend of seasonings, and traditionally pork, but you may also find Boudin made with shrimp, crawfish or even some alligator, and rolled up in sausage casing." This popping-eating-dancing fest made the top 20 events compiled by the Southeast Tourism Society in 2016.
Speaking of zingy cuisine, tabasco sauce was invented on Avery Island, 28 miles south of Lafayette. The 70,000-square-foot Tabasco Pepper Sauce Factory, run by the founder's great-grandson, spews out 700,000 bottles of the signature sauce daily — a tangy elixir that "excites the appetite, promotes digestion, and is pronounced by connoisseurs to be the finest condiment in the world." It's made from capsicum peppers using the founder's patented 1868 recipe.
Visitors can watch a conveyor belt of bottles jiggle along being filled and capped before heading off to 160 countries. The tasting bar tempts with flavors like garlic, chipotle and habanero. The tabasco name? A Native American word, it means "land of the hot and humid."
Friendly small towns, azaleas blooming year-round, crawfish boils, praline-flavored bacon, shrimp freshly plucked from the water, mysterious swamps, live oaks draped in dangly Spanish moss, zydeco spilling out of dance halls — it's all in Cajun country, where the natural, cultural, culinary and musical combine into a really good time. Let the good times roll!
If you go
Visit www.lafayettetravel.com for a trip planner, lodging, events, food and swamp tours and more.
Lafayette is 153 miles west of New Orleans, a 2.5- to 3-hour drive. In late January and early February, round-trip flights from Baltimore-Washington International Airport to New Orleans range from $285 to $450; from Reagan National, $220 and up.
Spring and fall are the best times to visit weather-wise, with average daytime temperatures in the 70s and 80s. In February and March, the average temperatures are from the mid-40s to 70s.