From the Publisher
Goodbye to a quiz whiz

Back in 2005, "It's Academic" host Mac McGarry ferried me around the NBC channel 4 studio, introducing me to news anchors and other luminaries before settling back to talk about his more than 40-year career as host of the high school quiz show for a Beacon cover story on him. In the weekly show, teams from three local schools compete with lightning-fast velocity to answer questions ranging from history to literature to math.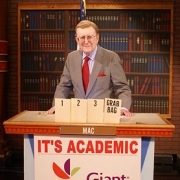 So I was saddened to hear of McGarry's death yesterday at age 87. The Potomac resident retired from the show in 2011 after 50 years as host.
I had so enjoyed hearing his stories about the show and some of the before-they-were famous guests, including Sandra Bullock, when she was a student at Washington-Lee High School in Arlington, when the show added cheerleaders and school bands in the 1970s. Donald Graham, the Washington Posts' former chief executive officer and movie producer Bruce Cohen were contestants.
One of McGarry's favorite moments: "Who did Napoleon defeat at Waterloo?" the quiz master asked. "Duke Ellington, a student shot back, when he no doubt meant the Duke of Wellington. "That really stopped me," McGarry recalled. "I was worried I was going to start laughing and not be able to stop."
The show's enduring popularity propelled it into the Guinness Book of World Records as the world's longest continuously running TV quiz show.
"It's really a challenge to keep up with the 17-year-olds," he told me. "But I guess it keeps you young."