Arts
Grandmother's kids books focus on family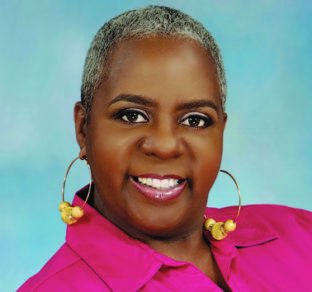 Daneace Terry Jeffery's series of picture books about a young biracial girl named Ella are loosely based on her own granddaughters. The Howard High School teacher is also at work on a book titled, After Your Hero Dies, inspired by the death of her nephew in a naval accident.
Photo courtesy of Daneace Terry Jeffery
As is the case with most grandparents, Daneace Terry Jeffery's grandchildren have her wrapped around every one of their adorable little fingers.
But unlike most grandparents, Jeffery has made her grandchildren the stars of a series of children's books. Her "Ella Books" are loosely based on Jeffery's two oldest granddaughters.
The third of Jeffery's projected five-book series, Another Me, has just been published. It is the story of 4-year-old Ella, who is anxiously awaiting the birth of her baby sister.
The excitement of having a little sister or brother can be overwhelming for any child. But for Ella, there is the additional uncertainty of who her sister will look like. Ella, you see, is biracial.
Jeffery, 58, lives in Pigtown in Baltimore and teaches at Howard High School in Howard County. An avid reader since she was a child, growing up in Detroit, Jeffery couldn't wait to share her love of books when her first granddaughter was born.
But when she went to the bookstore, she couldn't quite find what she wanted.
"There were books about being black, books about being white, and even books about being biracial," said Jeffery. "But those identities were the focus of the book. I wanted a regular book whose main character just happened to be biracial."
Inclusive characters
Since Jeffery couldn't find what she wanted, she set out to write a book for her granddaughter herself. Her first book, Ella's Bubbles, was about a 3-year-old who desperately wants to learn how to blow her own bubbles. It's not until her granddad comes up with a clever way to teach her how to blow bubbles that she conquers her goal.
Jeffery's second book, Grandma's Two, continues the adventures Ella as she visits her two grandmothers — one of whom is black and lives in a city, and one of whom is white and lives in rural West Virginia. Though her two grandmothers live different lives, Ella loves them both, and learns family lessons from each of them.
Jeffery, the mother of two adult sons, has five biracial children, three of whom are also Muslim. "I decided to write my own books because I wanted my grandchildren to have positive images of characters that resemble them," she said.
"All of my books are based on my actual grandchildren and family," Jeffery continued. "I intentionally chose to showcase a mixed-race family because the world is changing, and all children need to see that change in the media as well. It's so important for biracial kids to see themselves in a positive light."
The next book in the series will focus on Sophia, Ella's little sister, and her active imagination. The fifth and final book will introduce Ella and Sophia to their Muslim cousins (Jeffery's three other grandchildren).
A book for military families
Jeffery will also be working on a book of a more serious nature, this one for adults. Her nephew, Xavier Martin, who lived in Halethorpe, was one of seven American sailors to die last June when the USS Fitzgerald collided with a container ship off the coast of Japan.
After Your Hero Dies will relate the story of what actually happens when a family member in the military is killed while serving his or her country.
"I had no idea what it takes to support a family in times of tragedy," said Jeffery. "The organizations, the individuals, the military….So many of them we'll never meet, or be able to thank them in person."
In addition to her teaching and her writing, Jeffery is also a cheerleading coach and judge, traveling the country on weekends to judge cheerleading competitions.
Jeffery is looking forward to retirement, when she can spoil her grandchildren non-stop. But that's still seven years away. So for the time being, Grandma's just going to keep writing.
Jeffery's books are available at Barnes and Noble, on Amazon, and through her website, www.ellabooks.weebly.com.
She will sign her books at Greetings and Readings in the Hunt Valley Towne Center from 1 to 2:30 p.m. on Feb. 3.