Travel
Hawaii's green island soothes the mind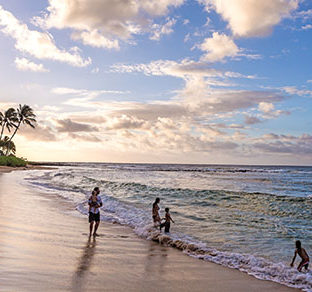 Spending an evening on a Kauai beach, or watching a sunrise over the water, make for a bucket-list vacation that doesn't require a passport. Kauai's picture-perfect gardens, slow pace and mellow residents can make visitors never want to leave Hawaii's "green island."
Photo by Hawaii Tourism Authority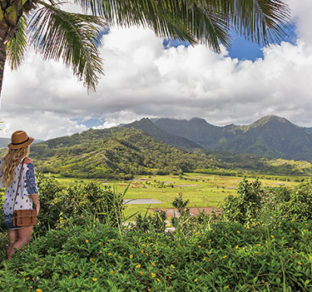 Tropical rainforests cover much of the lush Hawaiian island of Kauai. Not surprisingly, its vistas have served as the backdrop for dozens of Hollywood films, from South Pacific to Pirates of the Caribbean.
Photo by Hawaii Tourism Authority
There is a saying that Hawaii is not a state of mind but a state of grace. I found that to be true during five perfect days in Kauai (Ka-wai'-ee, rhymes with Hawaii) last winter.
People often tell you about their favorite vacation spot, describing it as heavenly. But none of the typical descriptors fulfill their promise as does Hawaii.
It's not just sun, beaches and surf. The native Hawaiians are mellow, the pace is slower than the mainland, and the air is magical.
Of the Hawaiian Islands, Kauai is called the "green island." And green it is — lush, abundant, fertile with flowers, plants and trees in abundance.
On our first day there, we arrived weary, jet-lagged and a bit cranky. But the easy smiles and patience of the airport staff, and the soft breezes blowing through the airport, softened all that.
We drove to the Pilli Mai Condo complex next to the expansive Kiahuna golf course. One of the first things I noticed was the abundance of roosters, hens and chicks that roam wild everywhere. The story is that Hurricane Iniki in 1992 blasted winds of up to 225 mph across the island, freeing chickens who happily multiplied in the wild.
My favorite part of this resort on Poipu Beach was the proximity of a hiking path that stretches for about a mile north and a mile south. The path is delineated by a low wall of volcanic black rock leading all the way to the ocean.
Walking this trail at dawn, listening to the morning songs of the birds, passing open meadows and patches of forest with tiny yellow birds (saffron finches) flitting about, and watching a slow, sweet sun rising, was my favorite morning treat.
At the end of the path, you can get a latte at a coffee shop or check out the Whalers General Store. Across the street, walking through the Kiahuna Plantation Resort with its orchid garden and fish pond, you'll find Poipu Beach.
Thankfully, local laws guarantee free beach access to all. If you are up for it, you can connect with a surfing instructor there who will take you out past the reef and teach you to surf Hawaiian-style.
In February, the weather was perfect, with highs in the 70s. The ocean was still chilly for me, but my family found Poipu Beach great for swimming and snorkeling.
They saw eels, multicolored fish and a whale far off in the distance, its plume marking its route. A monk seal clambered up the beach and made itself comfortable next to us.
Later in the day, we drove to old Koloa town, where we bought groceries at the Safeway grocery store. Shipping goods to Hawaii inflates the cost; I was in sticker shock when I realized I had bought five bags of groceries for $400!
We ate pizza and drank mango martinis that night at the Volcano Pizza restaurant across from Poipu Beach.
Cave adventure
Twenty miles east of Poipu Beach is the spectacular Makauwahi Cave Preserve. This mammoth, two-story cave on the ocean exceeded all expectations.
One of the Pirates of the Caribbean movies was filmed here. When Captain Jack Sparrow leaped from a high cliff, it was from the top of the Makauwahi Cave.
An off-road vehicle is your best bet for driving there, as the rocks can tear up the bottom of a low-riding sedan. On your way, you will pass the CJM Country Stables, where you can rent horses to ride along the beach.
A bit of an uphill hike through woods brings you to a stone wall with a small, triangular opening at the base. Taking a leap (crouch?) of faith, you must crawl on your hands and knees into the cave.
After about 15 feet, you can stand and find yourself inside a huge open area with tall palms reaching to the sky, surrounded by three-story cliffs. There is a feeling of having found the Lost World — and that at any moment, a pterodactyl might fly overhead and sweep you off your feet.
The cave is considered to be the largest fossil area on the island, with 10,000 years of animals, plants, seeds and leaves preserved in its layers of sand, soil and sediment. There is also a preserve here where you can get eye to eye with several giant land tortoises.
After that challenging hike, we visited Uncle's Best Shaved Ice in the shops at Kukuiula shopping center on Poipu Road and ate mounds of pina colada shaved ice with a huge scoop of creamy, cold, vanilla ice cream on top.
Historic 'Wild West' village
On day three, after a late brunch and dip in the pool, we drove the winding, scenic road up to the old town of Hanapepe. Hanapepe is called the "smallest big town in Kauai" and is known for its art galleries, bookstore and swinging bridge.
The charming town resembles a movie set for a Western, with wood frame houses dating back to the 1880s. The Hanapepe River passes through town, crossed by a 185-foot-long rickety footbridge. It's only three feet wide and sways wildly, providing plenty of thrills.
The view is gorgeous, though, with fish jumping in the river and the sun streaking the cliffs with gold. If you make it across, peruse the Bridge Art Gallery on the other side.
The town bookstore, called Talk Story, is a delightful escape with an eclectic collection of art, gardening, non-fiction and fiction, and mystery books. It even has the robots from the 1990s TV show "Mystery Science Theatre 3000."
Talk Story has a unique collection of Hawaiian cultural items, too, including books written in the Hawaiian language. It's the kind of bookstore you could spend a week in.
Art galleries abound here, with paintings and photography of Hawaii and beyond. A cluster of restaurants just down the road serves Hawaiian pork ribs, salads and rice bowls.
Garden tours
Think Jurassic Park without the dinosaurs, and you can picture Allerton and McBryde Gardens in Koloa. The two gardens together comprise about 380 acres of flowers, fruit orchards, forest, jungle, water features including waterfalls, streams, a gazebo and pool, ancient palms, enormous Moreton Bay Fig Trees, and monstrous tropical plants that look like they might eat you.
Jurassic Park was, in fact, partly filmed here. National Geographic Traveler calls this place one of its "50 Places of a Lifetime." A three-hour adventure of riding (a bus) and walking is well worth the $60 fee. The visitors center sign reads: "relax, connect and be inspired," and I was.
Back in Koloa we stopped at the Koloa Jodo Mission to view its traditional Japanese temple, whose lovely garden is known for its collection of lotus and water lilies.
We had dinner at the Bangkok Happy Bowl and listened to a Hawaiian soft rock band while sharing four dishes: Bangkok coconut curry noodles, a Poipu Bowl, a cashew dish and fried rice.
Ziplining and Lydgate Beach
Three people in our family wanted some action, so on day five, we went ziplining in Koloa. I watched in awe as they flew away over ravines and streams. They found it "absolutely exhilarating." Ziplining is safe even for children.
Wanting a different beach experience that afternoon, we drove 34 miles south to Lydgate Beach. Fallen trees are carried here from an inland river, creating "the Driftwood Beach," where you can find fantastic creations of ocean-sculpted wood.
Two huge enclosed ponds protect you from the big waves, are full of colorful fish, and are perfect for safe swimming.
We finished the day at the Roy Yamaguchi Eating House back in Koloa. Sizzling tataki ribeye and locally grown tomato and mozzarella salad. Yum.
There is much, much more to do on Hawaii's green island. Perhaps the best way to see the mountains, hidden valleys and waterfalls that dot the island is by helicopter. Most of these tours are based at the airport in Lihue.
In addition, boat tours provide views of inaccessible cliffs and oceanfront caves. There are snorkel and scuba tours to enjoy the vast diverse creatures hidden in the ocean.
In Hawaii, it's possible to be outdoors from sunrise to sunset with ideal weather most days of the year, which to me would be a perfect life.
Others in my party remarked they felt 10 years younger after a week here. My visit was far too short. But when I need to, I can return to the state of grace that is Hawaii, if only through my memories. Aloha, heavenly island.
If you go
Round-trip flights from D.C. to Kauai start at $830 on American Airlines.
Kauai resorts range from Marriott and Sheraton Grand Hyatt to lesser-known and less expensive hotels. Poipu Beach is sunny year-round, while the Princeville area on the north side is a lush, occasionally rainy area.
For more information, visit gohawaii.com.