Features
He teaches life lessons so kids can thrive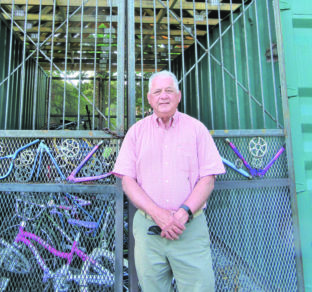 This bike repair shop created by Bob Argabright is named after his late friend, Charlie Thomas. Argabright engages in numerous other volunteer projects for 30 to 40 hours a week, including a school tutoring and mentoring program he developed, and taking students on field trips.
Photo by Glenda C. Booth
During his working career, Bob Argabright, 76, was a "turnaround specialist" with the Chesapeake Packaging Corporation. When an operating unit had problems, the packaging company sent him to trouble spots to find solutions.
Today, Argabright is a turnaround specialist of a different kind. Almost every day since his 2004 retirement, he has gone from his condominium in The Bluffs to "a different world" — Richmond's southside, a community of working class and public housing homes around Oak Grove Bellemeade Elementary School.
He is on what he calls his "ministry" for the children there, most of whom are minorities. "Mr. Bob! Mr. Bob!" they call out when he arrives. The kids light up, and he lights up too: "Hello Princess. There's little Reuben. There's little Bradley," first names flowing like melting chocolate.
Helping disadvantaged youngsters was never in his retirement plan, but it has become his life. "I don't have to go to church on Sunday," he explains. "I've been on my ministry all week."
He's clearly on a mission, multiple missions in fact, to give these youngsters a belief in their own potential, a feeling of belonging, and a sense of opportunity and hope. "We all need a sense of belonging," he maintains.
His mantra: "Your life does not have to be determined by your ZIP code. These kids were born in 23224. My kids grew up in 23229, where they got exposure and resources."
Drawing on a network of governmental, corporate and nonprofit groups, Argabright is bringing resources to these youngsters — from field trips, to bicycles, to butterfly kits; material resources, human resources and most of all, hope.
"We've got work to do," he insists. "Sometimes it's hard to sleep. It never stops."
"Bob is one of those rare individuals who has a vision for how to improve the lives of our kids," said Ann Jurczyk, Virginia Director of Outreach and Advocacy, Chesapeake Bay Foundation. He has "the tenacity and people skills to bring that vision to fruition. He inspires all who work with him."
Some question why he devotes 30 to 40 hours a week to a community that his friends visit rarely, if at all, and too often stereotype as dangerous. But that doesn't faze Argabright. "It's much more rewarding than the corporate world I came from," he insists.
He's hit a few bumps. He's heard an occasional kid remark, "Mr. Bob, you'll come and go like all the others who've come here." But he's determined to prove them wrong — and he has a 14-year record so far.
"I won't let kids come to school and not grow," he said. "If you're going to create future stewards, you do it with kids. You can't do it with 35-year-olds.
"We have to teach them life skills, give them opportunity. If kids cannot read by third grade, that's a predictor of prison."
He sees potential in every child, his "precious cargo." Highlighting one commonality with his career, he said, "It's all people business, how to communicate with everyone."
A caring whirlwind
Argabright got involved through his church, Trinity United Methodist, and the Micah Initiative, which pairs 130 faith communities with Richmond Public Schools.
He directs his energies primarily to two public housing communities: Hillside Court, with 402 units, and Afton Court, with 40 units, both near a commercial strip of U.S. 1.
"Mr. Bob" has in effect become a surrogate father for Oak Grove-Bellemeade students. He sees them as talented kids with appetites to learn and cultural assets. Given support like Argabright's, these are kids that can thrive.
"They don't see black and white skin. They see love," he said. One child told him, "You're not white. You are light skinned." He prays that he'll wake up one day speaking Spanish, but it hasn't happened yet.
Argabright is involved in numerous organizations that do good works. He chairs the board of directors of Ground Work RVA, which supports inner city and out-of-school youth by teaching them job skills.
Then there's Richmond Thrives, a group that focuses on community engagement in the U.S. 1 corridor — an economically-challenged strip of former tobacco barns associated with Phillip Morris, once a major Richmond industry.
With Richmond Tree Stewards, he helps plant and maintain trees.
He's also cultivated a network of city council members, the school board, local leaders and corporate donors — plus over 100 partners, like Eagle Scouts, faith groups, nonprofits and schools — to help in his efforts.
Getting kids outdoors
When city officials debated school boundary changes, three options involved bussing students out of their community. Argabright and parents argued that it is healthier for kids to walk to school.
The bussing plans failed, but community members had to ensure a safe path. Argabright led efforts to create a walking and bike path with landscaping and signage. They won a $350,000 grant from the Virginia Department of Transportation to replace a washed out pedestrian bridge.
In the 6.4-acre Bellemeade Park, he's enlisted teams to plant trees, and convinced Davey Trees and True Timber to help prune trees and donate wood chips. He organized youngsters to get ivy off trees, spread wood chips and maintain trails.
Agrabright helped create a school butterfly garden. He also gives children "butterfly kits" of larvae and caterpillars, so they can watch butterflies develop and then monitor them in the school garden.
He's especially proud of his bicycle project. He's distributed over 800 bicycles to southside youngsters that he got from the Police Department's lost and found, and from more affluent parents who upgraded their children's bikes. He also obtained a $1,000 donation from the Richmond Area Bicycle Association to buy 18 bikes.
But Argabright doesn't just hand the bikes over to youngsters. They have to take some responsibility.
He and a friend, the late Charlie Thomas, built a bike repair shop from metal shipping containers obtained from the Port Authority. He persuaded teenage welding students at the Richmond Technical Center to custom design the shop's gates, incorporating used bike sprockets, pedals and handlebars.
Teaching youngsters how to repair and maintain their bikes involves collateral lessons. If youngsters want to use the shop's tools, they have to bring a bag of recyclables.
"Giving them something without having them give something back is not the answer," he said.
He established a school tutoring and mentoring program for 40 Hispanic kids to improve their language skills in English and Spanish.
He founded the School on Wheels with two buses lent by Immanuel Pentecostal Church to take kids on field trips to places like the James River Park system and an organic farm. Argabright pays for the gas.
He's not stopping there. He's now developing RVA Basics for 300 preschoolers in Hillside Court to teach them school readiness skills, such as how to sit still or hold a crayon. The program will also encourage parents to read to their children.
Success stories
Argabright brags about Bobbie Taft, a young woman reared by her dad after her mom died when Bobbie was 9. She's now going to Maggie Walker Governor's School for gifted students.
Why did he support her and her dad? "Kids can be brilliant, but they need support and exposure. Their world is small. I can expose her to a bigger world."
Another success story: Argabright worked with Groundwork RVA, partnering with the National Park Service, and arranged for Devon, then a ninth grader, to spend a summer volunteering in Grand Canyon National Park. The next year, Devon worked for the Youth Conservation Corps at Grand Teton National Park. Now a high school graduate, he works at the Marriott Hotel and Einstein Bagel.
Argabright is married to Vickie, also age 76, but one week older, he chuckles. They lost two sons to cancer, both at age 38.
He earned a number of accolades in his professional career, including Richmond History Maker, the North American Manufacturer of the Year, Industry Innovator of the Year, Maryland Award for Human Resource Excellence, and the Positive Employee Practices Institute Showcase Award of Excellence.
But Argabright scoffs at those, commenting, "No one will remember that. Once you retire and someone calls you at your former job, the switchboard operator will say, 'Bob who?'"
His volunteerism has won kudos from the Virginia Mentoring Partnership, Richmond City School Board, Richmond City Council, Family Lifeline, and the Daughters of the American Revolution. The Virginia legislature commended him.
But for Argabright, it's not about the spotlight or the awards. "My legacy is with the kids, what lives on through these kids," he said.
How does he do it? "One thing led to another. I didn't have a grand plan." But bottom line, "I can't walk away," he said.
When one of his sons died, "Mr. Bob's kids" made cards and delivered them in a teddy bear's pouch. One card said, "I know you are angry at God. You and God are gonna work things out. I love you more than cornbread."
From all those "Mr. Bob, Mr. Bob!" greetings, that's clear.