Arts
Heated book on climate change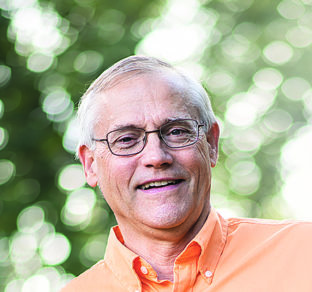 Columbia resident Ned Tillman's first novel, The Big Melt, follows two teens as they confront climate change in their Maryland town. Tillman, a former member of the Howard County Environmental Sustainability Board, has also written two non-fiction books about environmental issues.
Photo by Christopher Myers
"I really believe it is the greatest challenge of this century — that our children and grandchildren will suffer significantly in their lives if we do not act."
That's the message that geologist, environmental scientist and author Ned Tillman, 68, would like to convey as he writes, speaks and takes whatever steps he can to help slow down what he believes could become a calamitous change in the Earth's climate.
Tillman has lived in Howard County for 40 years, the last dozen of those in Columbia. He has led environmental and energy companies, and was an earth science consultant at the Johns Hopkins Applied Physics Laboratory.
In recent years, he authored two award-winning works of nonfiction dealing with the environment: The Chesapeake Watershed: A Sense of Place and a Call to Action and Saving the Places We Love: Paths Toward Environmental Stewardship.
But in an effort to reach a broader public (and the leaders of the future), he has written his first novel, The Big Melt. He says the self-published book is principally aimed at middle and high school students, but he also invites Beacon readers to give the 237-page soft-cover book a look.
"While I hope teenagers will read and be inspired by the book, I think older readers would love it," said the author.
Finding truth in fiction
Why the switch from nonfiction writing? Dipping into a bit of literary theory, the lifelong scientist said that the "lies" of fiction can sometimes get to greater truths.
Tillman believes fiction can help save the Earth, noting that that literature "certainly has, going back to Uncle Tom's Cabin" — the 19th century novel credited with having had a profound effect on anti-slavery attitudes.
His novel is set in the town of Sleepy Valley, and is "based on my experiences living in Maryland. It could be anytown U.S.A.," he said.
In the book, few, if any, citizens of the town are aware of the dangers of global warming. But when the protagonists, Marley and Brianne, wake up the day after their high school graduation, they find a series of climate catastrophes have turned their lives and the lives of everyone in the town upside down.
The two youngsters, according to the book's blurb, "struggle to find their voices and their purpose for living while attempting to save their family and friends, their town, and civilization as we know it."
Tillman noted that he started writing the book two years ago, the week after the supposed once-in-100-years flash flood hit Ellicott City in July 2016. (The historic city was flooded again by a second monster storm just this May).
"When I was writing the book, I was careful about putting in too much hyperbole and exaggeration. But nature was doing more extreme things, and I had to keep upping the ante," he said.
Among other things, he said, was adding to the plot how the pavement of the streets of Sleepy Valley was starting to melt — something that actually has occurred in India and Australia.
"As far as a rogue climate is concerned, surrealism is turning into realism," Tillman.
Proceeds from the book's sales will go to environmental groups in the area, he added.
In one scene in the novel, Marley, the young man, dreams of himself as a prophet "in a long white robe, a graying beard and leather sandals, walking through the Dust Bowl deserts of North America…handing out clay tablets on which '10 Steps for a Cooler Planet' had been inscribed."
Those 10 steps, Tillman says, could and should be adopted right now in real life to help fight the currently predicted weather meltdown. They include reducing energy use, switching to solar or wind power, and planting trees. (See below for all 10.)
Calling on local government
Tillman is a former member of the Howard County Environmental Sustainability Board, which assists in implementing the county's environmental agenda.
So, how is our local government doing in trying to battle climate change?
"It is not doing enough," he said. "There are businesses and communities that are ahead of others in trying to stall climate change, but we need a lot more leadership, at all levels.
"Our county is kind of stuck in the mud," Tillman claims. "We have a climate action plan, but it is not being pushed too much."
In response to Tillman's criticism, Howard County Executive Allan Kittleman said in a written statement; "We just hired the county's first full-time energy manager, who is already working closely with our facilities and highways staffs to reduce energy demand and thereby reduce our greenhouse gas footprint.  She is also reviewing the climate action plan."
The new position was assumed in August by Leah Miller, who had previously served as Montgomery County's sustainability program manager. She has also worked for the Izaak Walton League of America, a national conservation organization.
Renewable energy advocate
Tillman, meanwhile, asserted that one of the most crucial steps that governments, and individuals, can take is to "use the energy from the Earth to heat and cool houses and buildings."
Tillman said he has been using wind and solar energy for the last 10 years, and his energy bills have either been lower or remained the same as before he switched from fossil fuels. Making the switch "is very easy to do," he said.
Currently, these methods can have significant up-front costs and are not always as affordable as traditional energy. But an article in Forbes magazine earlier this year said that, according to a report from the International Renewable Energy Agency (composed of more than 150 member countries), "the cost of renewable energy is now falling so fast that it should be a consistently cheaper source of electricity generation than traditional fossil fuels within just a few years."
Only weeks ago, the United Nations' scientific panel on climate change issued a report painting a dire picture of the immediate consequences of climate change. The report says that avoiding the damage requires transforming the world economy at a speed and scale that has "no documented historic precedent."
The Intergovernmental Panel on Climate Change (IPCC), a group of scientists convened by the United Nations to guide world leaders, predicted a world of worsening food shortages and wildfires, and a mass die-off of coral reefs as soon as 2040.
The report "is quite a shock, and quite concerning," said Bill Hare, an author of previous IPCC reports and a physicist with Climate Analytics, a nonprofit organization. "We were not aware of this just a few years ago."
The authors found that if greenhouse gas emissions continue at the current rate, the atmosphere will warm up by as much as 2.7 degrees Fahrenheit above pre-industrial levels by 2040, inundating coastlines and intensifying droughts and poverty.
Tillman said that he first got wind of global warming back in 1967, when he was a freshman at Franklin and Marshall College in Lancaster, Pa., where he was taking courses for his earth science major. He went on to earn a master's degree in earth and environmental science from Syracuse University.
He noted that the use of energy was a headline-grabbing topic during the years of President Carter, and was back in the news at the turn of the new century through the environmental activism of Vice President Al Gore.
In his view, it should once again be considered a — if not the — major issue facing Americans, as well as the rest of the world.
"It's not too late to act," Tillman said. "My hope is that we can slow down global warming enough so that we can still produce food, reduce major floods and fires, and control invasive species from wreaking havoc on our natural support systems.
"The greatest challenge of this century," Tillman reemphasized, "is how we cool down the Earth."
---
Tillman's 10 steps to a cooler planet
Reduce energy usage: insulate, drive less, use hybrids and electric vehicles.
Switch electricity supplier to 100 % solar or wind.
Buy sustainable products to incentivize businesses to make more of them.
Plant native trees and shrubs.
Support local and national environmental nonprofits.
Reduce meat consumption and food waste.
Encourage businesses and governments to support solar and wind energy

 development.

Encourage energy efficiency upgrades in all buildings and vehicles.
Support the expansion of interconnected green infrastructure networks.
Implement a national "carbon cap and dividend" policy or a "carbon tax" to pay for hidden costs to society of using dirty fuels.