Features
Helping immigrants feel at home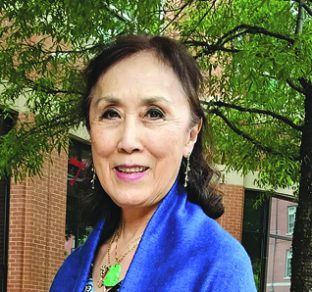 To help combat isolation among older Chinese immigrants, Vivien Hsueh started the Chinese American Senior Services Association (CASSA). The all-volunteer organization has grown from an initial 35 members a dozen years ago to more than 3,000 today, who participate in exercise and dance classes, a lunch program and more.
Photo by Stuart Rosenthal
When Vivien Hsueh arrived in Pennsylvania from Hong Kong with a full scholarship to Harcum Junior College in the early 1960s, she found herself one of the only Asians there, and 8,000 miles from anyone she knew. As she went on to study the nascent field of computer science, her choice was rarer still — a woman in a field nearly completely occupied by men.
So Hsueh (pronounced "shay") knows what it's like to flounder at first in an alien culture. But she says her struggles pale in comparison with those of older adults from China who immigrate to America to be with their families. Most do not try to learn a tongue-twisting new language like she did, and cannot get a driver's license. The only people they know here are their children and grandchildren.
"They are very isolated. Most came because of their children, and take care of the grandchildren," said Hsueh, who is 76 and lives in Rockville, Md. "But then the grandchildren get older, and these seniors still don't speak English. They still don't have friends; they don't socialize."
Creating gathering places
Resolving to combat this isolation, about 12 years ago Hsueh started asking recreation centers in Montgomery County if they would open their doors to a daytime program for older Chinese immigrants.
"It was very hard at first, because no one knew us. We had no power and didn't know where to ask for help. Finally, I connected with the Recreation Department.
"I said, 'Your centers have almost no one using them in the daytime.' At first, they were very reluctant. But I said, 'These are our tax dollars. You already have people manning the place, the lights are on. You should let us use it.'"
Hsueh's persuasive powers prevailed, and she was allowed to use Plum Gar Neighborhood Recreation Center in Germantown, Md., for the initial 35 members of the Chinese American Senior Services Association (CASSA).
Today, more than 3,000 local Chinese Americans participate in the completely volunteer-run organization at five centers. It provides Chinese lunches, tai chi and other exercise, cooking and English classes, local and international travel opportunities, and more. The most popular offering? Ballroom dance.
The lifetime CASSA membership fee is $5, and a $2 donation is requested for each lunch. The food is provided by local Chinese restaurants.
When Chinese seniors participate in CASSA, "they find people who speak the same dialect, and they become friends. They exchange recipes. They even use WeChat [a popular Chinese social media platform] to communicate when they aren't together," Hsueh said.
According to the 2010 Census, 35,818 people of Chinese descent of all ages live in Montgomery County. The American Community Survey component of the census found that there are 26,883 people of Chinese descent in the state of Maryland who speak Chinese at home and said they speak English less than very well.
Honored for her work
In recognition of her accomplishments, last month Montgomery County officials presented Hsueh with the Roscoe R. Nix Distinguished Community Leadership Award.
The annual award was established by County Executive Ike Leggett in 2012 to honor the late community icon Roscoe Nix, who gave a half century of service to Montgomery County, including as president of the Montgomery County branch of the NAACP and as a member of the Montgomery County Board of Education.
"Montgomery County is one of the world's most welcoming and age-friendly communities because of the commitment of people like Vivien Hsueh," Leggett said in presenting the award. "She saw the problem of isolated immigrant Chinese seniors, and she did something about it. Vivien has brought happiness to thousands of Chinese seniors."
Two other county residents were honored with the Nix Award as well. Mark Bergel, founder of the poverty-fighting nonprofit A Wider Circle, is a champion for those most in need. A Wider Circle has provided 180,000 children and adults with basic household furniture and other items, workforce readiness, and long-term support.
The third award winner, Sol Graham, founded the biotech company Quality Biological Inc., and has been a role model for minority business leaders. Graham and his wife, Dorothy, have established scholarships at Montgomery College to assist students studying business, science and technology.
A volunteer effort
At a recent picnic, dozens of members of a chapter of CASSA called "Golden Sunset" gathered in a local park to socialize under a red and gold banner with its Chinese characters.
"Even though the sun is setting [in the group's name], it is still a powerful symbol to the Chinese," said Vincent Tung, 69, who volunteers with CASSA as a translator. "It's a positive image."
And Hsueh has been a very positive influence herself, he said. "If it weren't for her, older seniors would be hibernating in their homes. They are now more healthy and engaged, both physically and mentally. She has done so much. I wish I had her energy."
Ching Wang, the president of Golden Sunset, said he appreciates the efforts of the volunteers. In all, 250 people volunteer with the CASSA groups. "We are all volunteers. It's very egalitarian," he said.
The all-volunteer component is purposeful and not just a way to keep CASSA affordable, Hsueh said. "In China, they may have been professors or big shots in the government. But because of the language difficulties, they can't do any of it here. It doesn't mean they lack knowledge or experience.
"But [if] you put them in an environment where they can communicate, they volunteer. They may have organizational skills or managed people before. Volunteering for them is a win-win. They feel they are needed. They are not just feeling useless."
Hsueh herself is using some of the skills she honed working in computer technology at Geico, where she was the company's first Asian female manager. She followed that stint with a long career at IBM, as a senior manager in IT systems engineering.
During that time, she raised her two daughters, and now has four grandchildren.
In addition to CASSA, Hsueh participates in a wide range of other volunteer work. She is lobbying to have the county's Ride On bus service offer their free rides to seniors starting at an earlier time, in part so CASSA participants can get to the centers in time to order lunch and participate in all programs.
She also serves on an advisory roundtable assisting Montgomery County Council Chair Roger Berliner, co-chairs the civic involvement committee for Age Friendly Montgomery, and is a lay leader with the Jewish Council for the Aging. She formerly served on the county's Commission on Aging.
This month, she is starting a weekly group called Let's Share, open to seniors of any nationality. It will include seminars on a wide range of topics, from health to travel, followed by fun social activities, including karaoke. She hopes members will step up to present some of the seminars themselves to help improve their public speaking skills.
As if all this weren't enough, building on the success of CASSA, Hsueh recently began a similar type of program for older immigrants from India.
With such a full schedule, it would seem Hsueh barely has time to catch her breath between activities. In what spare time she has, she likes to stay active with tai chi, Chinese dance and line dancing.
Staying busy is a way of life for Hsueh. "It keeps me young," she said.