Cover Stories
Helping those with disabilities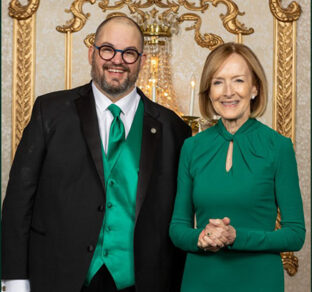 Judy Woodruff, retired PBS news anchor, and Dr. Matthew Ramsey, president and CEO of Target Community and Educational Services, attended a gala to celebrate the 40th anniversary of the Maryland-based nonprofit. Woodruff's son is a client of Target, which provides housing, job training and other services to adults with developmental disabilities.
Photo by Kelly Heck Photography
In 1983, a group of Maryland parents who wanted better services for their children with intellectual and developmental disabilities founded a nonprofit called Target Community & Educational Services.
The late Milton M. Harris of Lutherville was one of those parents. He and his wife, the late Mary Charlotte Wooden Harris, sought a better life for their youngest daughter, Linda Ann, who was born with intellectual challenges.
The Harrises longed for an environment where their daughter would be able to grow and develop into the free spirit that she became, thanks to her 30-plus years as a client of the Westminster-based Target Community.
It was thanks to the Harris' hard work and commitment — not only to their daughter, but to the entire group — that the Target program has survived and thrived throughout its 40 years of existence.
Recently, Target held a gala event for staff, clients and their family members to celebrate the organization's 40-year anniversary.
A special guest at the gala was Judy Woodruff, beloved longtime anchor of PBS NewsHour, and her husband, Al Hunt Jr., journalist and panelist on CNN's The Capital Gang.
Their son is one of 300 clients who benefits from Target's services, which include group-home living arrangements and independent employment services. Jeffrey Hunt, now 43, lives in one of Target's seven group homes in Carroll County.
"He's doing remarkably well," Woodruff told the Washington Post in 2020, noting that her son has a job and friends. "He manages to have a remarkably positive outlook."
Harris family's story
Linda Ann Harris also lives in one of Target's group homes in Maryland. She and her only sister, Dr. Mary Harris Kesselring, Ph.D., a Westminster resident, also attended the gala in March. [Ed. Note: Writer Tim Cox married Dr. Kesselring in 2021.]
Their father was instrumental in making sure that Target, in its infancy, was well funded with financial endowments to sustain the organization's future. Though she cannot cite an exact figure, Kesselring notes that her father's financial contributions were "quite significant."
Kesselring and her sister, who are about 18 months apart, attended elementary through high school together.
"Those were tough times for Linda and I," Kesselring recalled. "Grade-school kids were relentless when it came to teasing me because of Linda's obvious intellectual shortcomings…but our parents didn't really know to what extent or how cruel our neighborhood and area school kids could be," she said.
Kesselring eventually married a West Point Army officer and became the mother of three sons. When her children were young, her then-husband was stationed overseas and constantly faced deployment or relocation. She was grateful for Target, since she would be ill equipped to be her sister's caregiver.
"It would not have been fair to Linda, nor to my young children," Kesselring explained. "[Linda] wouldn't have had a chance to enjoy the long-term living arrangements that she has enjoyed while existing in the Target environment," she said.
Fortunately, Target provided Linda an opportunity to live with two housemates, overseen by two professional caretakers. Each of the nonprofit's seven group homes is located in a safe community, and has the appearance of a typical single-family house.
In her decades as a Target client, Linda has been trained to work in food service, home maintenance and basic assembly roles.
How Target changes lives
With more than 230 employees, Target provides personalized care to 300 clients and their families, half of whom are from the Baltimore and Washington, D.C. metro areas.
"Our mission is to empower individuals with disabilities to live whole and productive lives through quality, community-based residential, educational, vocational, recreational and family-supported services," said Dr. Matthew Ramsey, president and CEO of the company. "Each member of our community is unique and valuable."
With offices in Westminster and Gaithersburg, Target provides not only group living but job services, finding paid employment or internships. In addition, Target provides adult day services and post-secondary education training.
Target's services are not free, but the state of Maryland provides its clients with funding through the Maryland Developmental Disabilities Administration (DDA) and/or Medicare.
"We work collaboratively with families to organize services," Ramsey said. "Our commitment to family involvement is one hallmark of the quality of our services."
Graduate students act as staff
Since its inception in 1983, Target has maintained a close relationship with McDaniel College in Westminster. In fact, in addition to his role as leader of Target, Ramsey is a faculty member of McDaniel College and acts as adviser to students in its Human Services Management master's degree program.
Graduate students in the program complete a two-year live-in internship at one of Target's facilities in Westminster or Rockville, Maryland.
The program was established by Target's original CEO and president, Dr. Donald Rabush, who had the creative foresight to develop relationships with McDaniel students who are studying to become Community Living Managers (CLMs).
The students serve as home-based care managers of Target's disabled clients in exchange for free college tuition, room and board, health insurance, and an annual stipend.
Rabush worked to "give special-needs individuals the maximum amount of independence and personal pride…while training the counselors who assist them to attain a lifetime of service in the field," according to Ramsey.
Friends of Target
In a statement, Ramsey offered kudos to a community of parents, including the Harris family, who worked to ensure Target's 40-year success.
"As these early advocates fought for their children's rights, resources were made available to offer the kinds of services Target offers today.
"Additionally, families closely connected to Target helped shape our agency and programming through direct services. These 'friends of Target' provided financial support, volunteer efforts, fundraising, and state and national advocacy," Ramsey said.
In a sense, the organization was built on parental love.
"Milton Harris was a parent who worked relentlessly for his daughter's needs, and generously gave his time, talent and social capital. Without friends like Mr. Harris, Target could not provide the quality services our individuals enjoy today."
For more information about Target Community's programs, visit targetcommunity.org or call (410) 848-9090.