Features
His job is preventing dementia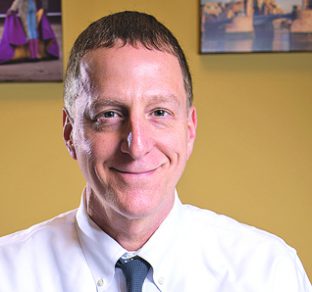 Dr. William Mansbach has developed a screening tool to help professionals assess a person's risk for dementia. He advises people to start improving six main areas of their health — from stopping smoking to engaging in brain games — which he believes reduces the risk of Alzheimer's and other dementias.
Photo by Christopher Myer
"We have to start in our 40s, at least, if we want to have any hope of lowering the overall personal risk for Alzheimer's and other dementias."
That is the advice of Dr. William Mansbach, a geriatric neuropsychologist who lives and works in Columbia. Mansbach has a national reputation in the fight against the disease, and is a member of the Governor's Alzheimer's Council of Maryland.
That we have any ways at all of lowering our risk of the disease is a good thing. And we owe thanks to Mansbach and his team of some 35 medical professionals and researchers for developing a new program aimed at helping to prevent — or at least postpone — the occurrence of dementias, including Alzheimer's Disease.
The new program is called ENRICH, and its acronym espouses six "brain-healthy habits":
Exercise daily;
No smoking;
Routinely add cognitive stimulation that is challenging;
Improve mood;
Control hypertension and heart rate, and maintain
Healthy weight and body fat.
Don't wait to start
While it's never too late to start, it's clearly true that the earlier we do so, the better.
According to the Alzheimer's Association, our risk of developing the disease doubles every five years after the age of 65. It is estimated that one in nine Americans 65 and older currently has Alzheimer's, as do nearly one-third of those 85-plus. Because they live longer, women constitute nearly two-thirds of all victims.
And the cost of dealing with dementia affects not just the patients and their families, but all of us. A 2013 study by RAND Corp. found that the cost of treating dementia diseases in the nation ranges from $157 billion to $217 billion annually — more than the cost for treating heart disease or cancer. That amount, which mostly goes for institutional or home-based care, could double by 2040, RAND found.
"If we can lower the dementia risk simply by having the patient practice brain healthy behavior years before — if we can delay the onset even by five years — that would mean tremendously lower health costs," Mansbach said.
He strongly recommends that people start practicing this behavior when they reach their 40s, because that is the age when "the game changes" health-wise. "Blood pressure problems, for instance, begin for many people in their 40s," he said.
He also noted that findings show that those who have reached their 80s dementia-free will probably not develop Alzheimer's disease. "That form of dementia usually starts in the 70s," he said.
"Most people can function with a mild memory deficit or forgetfulness. It's part of getting on," said the 58-year-old genetics specialist, who has spent exactly half his life treating patients and "now more than ever" doing research in this field.
Assessing the risk
In 2006, Mansbach developed the BCAT (Brief Cognitive Assessment Tool), which is now reportedly the most widely used method that geriatric physicians and others use to decide whether the brains of their patients 50 and older may have "crossed over" into dementia. The test takes under 15 minutes.
The results are followed, if needed, by a rehabilitation program that includes a brain rehabilitation program and exercise memory books.
In an accompanying exercise book, for instance, you could assess how well your memory is working by answering questions devised through neuroscience research.
You would find your memory is still good if your brain can do the following: remember a new phone number or an address, follow directions ("Make a left at the traffic light, the gas station is on your right"), remember a person's name just after you met him or her, and make a mental math calculation, such as quickly figuring if you have enough money to buy a store item.
The Internet plays an integral part in getting Mansbach's programs underway. The BCAT is administered by a healthcare professional via a telehealth visit, which means the patient signs up via the Internet to have a live administrator in another location guide him or her through the process. The telehealth "visit" could last about 30 minutes, which would include an emailed written report that could be sent to the patient's physician.
"A BCAT is a screening tool, a starting point for a full diagnosis," said Mansbach. The test also assesses whether more serious treatment might be necessary.
The process, which costs $89, is not covered by Medicaid or Medicare, but Mansbach said he was "sure" that it would be covered in the next two or three years. For more information on the BCAT approach, visit www.theBCAT.com.
Healthy habits
The ENRICH program — which Mansbach noted is based on scientific literature and the opinion of medical experts — has grown out of the BCAT. It is more of a prevention tool that Mansbach believes could help both those over and under 50.
Here are some of the goals and facts of the six ENRICH-proposed "habits to reduce dementia risk":
1. Exercise: Moderately intense exercises (based on your medical status) should be performed at least five times a week, for 30 minutes.
2. Stop smoking: Once you stop smoking, your heart rate begins to drop after only 20 minutes; risk of a heart attack begins to drop after two weeks to three months without smoking; during that time your lung function begins to improve. One year after quitting, your added risk of a coronary heart disease is half that of a smoker's, and after 15 years, your risk is the same as a non-smoker's.
3. Mental stimulation: Progressively more difficult brain "exercises" should be practiced at least five times a week for 15 minutes each time. These exercises could be found in such books as The BCAT Working Memory Exercise Book.
4. Mood: The chronically depressed are more likely to get dementia, so treatment is critical and should include some form of psychotherapy.
5. Hypertension: Blood pressure must be brought under control, since hypertension is one of the beginning factors that could develop into brain disease. Also, a chronic irregular heart rate "is associated with memory loss."
6. Healthy weight: Links have been founds between adult obesity and Type 2 diabetes, and between Type 2 diabetes and dementia. Efforts should be made to keep your body mass index (BMI) within the normal range for your height and weight.
Assess your risk online
An ENRICH "calculator" that helps measure how well these six brain-healthy habits are being practiced is available free online at www.ENRICHvisits.com. Mansbach stresses that "the ENRICH calculator score is a helpful indicator, but not a diagnostic tool."
His PowerPoint presentation notes: "Your score is intended to give you information about risk, so that you can practice lifestyle habits that may lower risk of dementia, slow down cognitive decline, or improve cognitive performance."
From your answers to six questions, the calculator deems whether you are at low, moderate or high risk for dementia, regardless of your age.
The questions include how often you work-out physically, how often you do mental exercises, whether you are a smoker, whether you have been depressed recently, what your systolic (top) blood pressure number is, and the score of your body mass index, as calculated by your height and weight.
Of his career devoted to doing research and treating older adults, Mansbach said, "You certainly learn a lot about life."